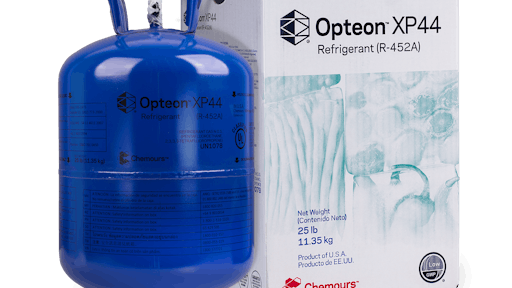 The Chemours Company
For a discussion about cold chain transportation trends and outlooks to be complete, it must include an exploration of the refrigeration systems used in trucks, trailers and containers. Like many aspects of the cold chain, transport refrigeration has undergone, and will continue to experience, significant changes because of the critical role it plays in transporting food safely from production facilities to consumers. Key players in the industry are invested to ensure progress—for businesses, the industry and communities.
For OEMs, facilities managers and other businesses, choosing a refrigerant and system makes a great impact across the board—from energy savings to the bottom line, as well as their ability to expand their customer base.
The Big 3 influences
No. 1 is the environment and the many states, national and global initiatives and regulations at work to protect it. For the past 35 years, this has been one of the most significant and most talked about influences, driving changes in the refrigeration industry. Everyone along the cold chain and in the HVACR industry in general experienced this in 1987 when the Montreal Protocol drove the global phaseout of chemicals that depleted the ozone layer. In the refrigerant realm, these were namely chlorofluorocarbons (CFCs) and hydrochlorofluorocarbons (HCFCS). Science got to work, creating hydrofluorocarbon (HFC) refrigerants that did not contain chlorine atoms. For years, these alternatives did the job by offering zero ozone depletion potential (ODP) and comparable performance, however, another major change was presented in 2016 with the Kigali Amendment—ratified by more than 130 countries. The amendment focused on phasing down HFCs due to their high global warming potential (GWP). Research and development led to the next solution -- hydrofluoroolefin (HFO) refrigerants -- which performed just as well, had zero ODP and offered significantly lower GWP than their predecessors. The Jan. 1 launch of the EPA's HFC phasedown—implemented under the American Innovation and Manufacturing (AIM) Act—spurred more change. With the Kigali agreement and the AIM Act, HFC refrigerants are quickly making their way to being legacy refrigerants for transport and beyond.
It is also worth noting that, in addition to disapproval of CFCs, HCFCs and HFCs, approval of HFOs has a hand in the industry seeing more of these refrigerants coming into use. The EPA's Significant New Alternatives Policy (SNAP) program is responsible for listing acceptable substitutions for less environmentally friendly refrigerants and offers motivation for OEMs and businesses to start using them sooner than regulations may require it. Pertinent to refrigerated transport are the listing of R-449a, R-452a and R-513a HFO refrigerants as acceptable substitutes for HFCs in new and/or retrofit refrigeration systems.
The second ever-present influence in refrigerant development and use is the responsibility of refrigerated transport to uphold the integrity of every product. This means ensuring food safety and quality at every step. The challenge is intensified by many consumer trends. Today's consumer demands their foods faster, fresher, perfectly ripe and in a greater variety— wherever they are. They want more organic options and fewer preservatives. Moreover, because foods are becoming increasingly varied and specialized in terms of ideal cooling criteria, so is the cold chain journey. Timing and temperature must be more precise than ever to uphold the integrity and deliver products business and consumers will continue to purchase.
The third main influence is the bottom line. Delivering goods that sell and help grow a business requires more than having refrigerants that keep products fresh and support environmental sustainability. A refrigeration system must sustain a business, too. Refrigerants must perform reliably, economically and efficiently at the needed capacity. The system must offer lower energy consumption, emissions and operating costs; provide optimal safety and flexibility; and deliver on total cost of ownership. Supplies for operation and maintenance must be readily available. The system must be able to achieve all this while being able meet the vast diversity of refrigeration needs—from farm to fork.
Solutions at work
Thanks to ongoing investments, the chemistry behind today's refrigerants has been developed to respond successfully to these influences and support transportation and other cold chain industries in successfully making the necessary transitions. Speaking specifically to refrigerated transport, more and more OEMs are putting their trust in HFO blend refrigerants such as R-452a and R-513a for refrigerated and frozen transport in trucks, trailers and containers. HFOs and HFO blends offer environmentally sound—and compliant—replacements for HFCs like R-404a, R-507, and R-134a in new transport refrigeration equipment or existing system retrofits. HFO blend refrigerants like R-452a and R-513a check off all the boxes for high performance, reliability, safety and efficiency. R-452a is especially gaining traction in U.S. refrigerated transport applications—having already been widely adopted in Europe and elsewhere. Companies who recently adopted R-452a as its standard and aim to have it in use in all of its truck and trailer units by mid-year 2022 are leading the way to the HFO transition.
On the horizon
As history shows, the influences on refrigerated transport systems create a continuum of changes that drive progress. As the world learns more about the impacts of chemistry and technology, products evolve. Ongoing collaboration with chemical innovators and manufacturers enables better solutions that meet the needs of society and the planet. So, while R-452a and R-513a are doing the job today, next-generation refrigerants that are just as effective in terms of their capabilities and offer an even lower GWP, are already in development and coming into use. It's well known that the transportation sector has been a top contributor to global warming. But, by using the right solutions for refrigeration, this sector is starting to decrease that carbon footprint, which is a trend that we expect will continue.