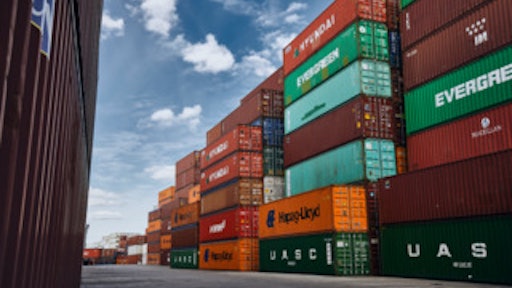 Digital Container Shipping Association (DCSA)
In the past two years, a series of disruptive events has caused ripple effects across global supply chains. The global pandemic, Ever Given Suez Canal blockage and lorry driver shortage contributed to container ships being held up awaiting permission to dock, backlogs at ports and shipping fleets out of position, creating logistical issues for shippers of food products. In the early days of the pandemic, demand for some food goods soared as consumers succumbed to panic buying, and it wasn't long before lorry driver shortages compounded transportation issues.
Industry analysts predict the disruption ripple effect to continue well into 2022. While there are a number of issues at play, the current state of supply chain logistics is exacerbated by the current state of container shipping, which still relies heavily on manual and paper-based processes. This lack of digital maturity decreases container visibility, which creates costly inefficiencies and causes unnecessary delays across the end-to-end container journey.
Some public and private entities have been collaborating in recent months to identify how digitalization and standardization can help tackle these supply chain challenges. The FLOW (Freight Logistics Optimization Works) initiative launched by the U.S. White House and Department of Transportation and the Maritime Transportation Data Initiative from the Federal Maritime Commission (FMC) are good examples of a diverse set of stakeholders, including shippers, ports, terminals, carriers and Digital Container Shipping Association (DCSA), coming together to identify a common approach to digital data exchange.
Container shipping lags behind more digitally advanced industries
Digital transformation in industries such as banking, telco, entertainment, retail and media didn't happen overnight, but it did happen decades ago. As a result, these industries were able to weather the COVID-19 pandemic with minimal, if any, disruption to global operations. And whether another global pandemic or some other catastrophe occurs, it behooves the container shipping industry to follow their lead. Of course, digitally transforming an industry as complex as container shipping will take a concerted, whole-industry effort, starting with the existing technology infrastructure.
Currently, container shipping lacks end-to-end interoperability because it lacks a common approach to technology. This makes information exchange between parties unnecessarily difficult and aggregation of data challenging.
Take the booking process for example. Critical information such as arrival times and available space is often unreliable. And during the container journey, tracking and tracing a shipment is difficult because transport chains often appear as "black boxes" to cargo owners. Containers are lost from view until they arrive at certain points. Details regarding a container's whereabouts come through in number of forms—emails, websites, text messages—which then have to be sanitized and aggregated by the user. Not only does this lack of visibility build high costs, inefficiencies and waste into the supply chain, it leaves cargo owners unable to effectively manage exceptions, which can leave retailers with undesirable, fluctuating inventory levels.
Better data access = improved visibility
Currently, digital communication between stakeholders is predominately through electronic data interchange (EDI). EDI streamlines information exchange, but it is a technology that originated in the 1960s and is designed for one-way communication from one machine to another. Food manufacturers and retailers, or their logistics partners, must implement multiple interfaces to exchange data with the numerous ocean carriers they use to transport goods.
This makes it expensive and time-consuming to set up, support and maintain communications with ocean carriers.
The application programming interface (API) is the modern standard for interoperable digital communications. It is a set of programming instructions and data exchange standards that allow different web-based systems to communicate with each other in real time. APIs can handle billions of interactions every day.
APIs are the linchpin of digital transformation for digitally mature industries, enabling virtually all online interactions, from ordering a pizza to paying bills. The 2-way, real-time data exchange enabled by APIs—based on standardized language and data definitions—is what's needed to increase visibility into container shipping processes and events.
In addition, with APIs, shippers can subscribe to automatically receive updates from carriers as status changes, making exception management more efficient than processing batches of EDI messages at fixed intervals.
The pressing need for track-and- trace standards
Shipping is about more than transportation; it is about asset management. Good asset management requires shippers and BCOs have accurate, timely data about their shipments. And while it isn't possible to eliminate delays and disruption altogether, when incidents do occur, their impact can be more effectively mitigated if stakeholders have access to the information they need when they need it, enabling them to make data-driven decisions about their shipments.
Industry-wide alignment and interoperability are the first steps to ensuring that shippers have continuous access to high-quality data.
DCSA digital standards are designed to create an interoperable container shipping ecosystem by establishing consistent vocabulary, common process flows and API-based interface standards for some of the most urgent and impactful needs in the industry, including track and trace.
DCSA track-and-trace standards enable data to be communicated in a way that is understandable and usable for everyone in the supply chain regardless of choice of carriers or technology platforms, across multiple modes of transportation. With standards-based APIs, shippers can easily track shipments across carriers, receiving data in a consistent format when and how they want it. Seven of the DCSA member carriers have already adopted the DCSA track-and-trace standards.
By working toward the widespread adoption of these standards, DCSA's aim is to advance the industry significantly in terms of visibility and real-time responsiveness, along the lines of what you see in more digitally advanced industries.
Mitigating supply chain risk in food transportation
Timely notification of exceptions is imperative for food logistics. Particularly with perishable goods, it is important that shippers and other stakeholders are able to adapt to the unexpected by making alternative operational plans.
The global pandemic, Ever Given Suez Canal blockage and recent lorry driver shortages were unparalleled events for the supply chain, but disruption can occur at any time for many reasons including weather events, supply shortages and upsurges in demand. Mitigating the impact of disrupting events requires standardization and digitalization of data and processes to provide universal and continuous access to accurate, real-time data.