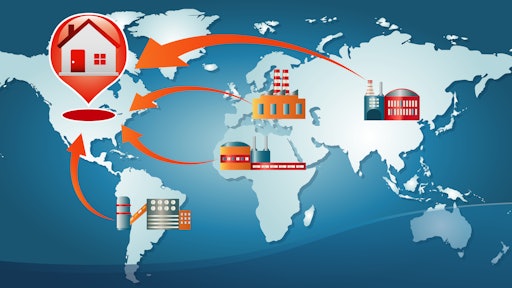 melita
Many folks in the cold food chain experience anxiety about having/not having access to food at a reasonable price globally.
Indeed, growers, distributors and retailers are experiencing challenges with downstream consequences for companies, consumers and vulnerable populations.
In addition to the ongoing war in Ukraine, rising inflation and persistent supply chain disruptions, high fuel prices are costing retailers and increasing food prices for consumers. When coupled with employee shortages, rising fertilizer prices and other disruptive events, it's clear that food logistics providers face many challenges today and for the foreseeable future.
These unique problems are also an opportunity for the food industry to modernize and enhance capacity to meet shifting consumer, ecological and bottom-line demands. More specifically, food logistics providers must tap digital transformation to increase their resilience and adaptability in challenging times.
Here are three ways to begin embracing that priority today.
Develop real-time delivery feedback
Many shipping organizations still rely on outdated inventory tracking to navigate complicated supply chain arrangements, calling in locations and trusting drivers to maintain temperature-sensitive commodities.
Today's digital tools can inform the entire food ecosystem as everything from Internet of Things (IoT)-enabled temperature monitors to location-based app data informs real-time delivery feedback to enhance shipping outcomes. In the United States alone, up to 40% of the food supply is wasted, and supply chain mishaps account for 40% of that total.
Equipped with real-time product and process feedback, companies can make more responsive decisions that keep food fresh with on-time delivery and distribution practices.
For example, many people are comfortable using mobile technologies to schedule transportation, including booking flights, scheduling rides and facilitating food deliveries. This methodology and workflow can also support food logistics, allowing growers and distributors to procure shipping and transportation from anywhere.
Ultimately, shipping success is predicated on predictability and execution. Real-time delivery feedback will let food logistics providers remain agile as they respond to this uniquely difficult moment for the food supply sector.
Simplify shipping processes
The food supply chain is complicated, including dozens of steps and touchpoints before reaching end users.
In other words, for food to make it from farm to table, it must successfully navigate many complicated and interrelated processes and workflows that threaten to undermine delivery and distribution.
Artificial intelligence (AI) is streamlining these trends, supporting the food production cycle with order executions, shipping acquisitions, scheduling conflicts and delivery confirmations. This reduces manual data import, decreasing days of work to just a few minutes.
Simplifying shipping processes through digitalization also creates new data sets that can be tapped to empower better decisions. As a McKinsey & Company analysis identifies, food logistics providers can upgrade their supply chain by
●    integrating data sets to expand real-time monitoring
●     creating model scenarios and simulations
●     optimizing decision-making capacity
●     automating response decisions.
Today's food supply chain is complicated, so even marginal process improvements can profoundly impact overall effectiveness.
Train and support teams
Change can be hard, especially for an industry worried about losing jobs and opportunities to technological disruption. That's why companies need to keep people aligned, empowering them with the skills and insights needed to thrive in a modern shipping ecosystem. As the overall industry talent base also looks to grow by attracting and attaining a new generation of workers, it will be essential to innovate and transform the field to adopt the digital-driven processes, technologies and overall ways of working that young workers expect in order to do their jobs with immediacy, quick access and efficiency.
Leaders need to lead by example, committing to digital transformation while guiding teams to long-term, sustainable success.
At the same time, with people leaving their jobs at a historic rate, food logistics providers need to incentivize their people to stay. While this includes competitive pay and benefits, flexibility and work-life balance, it also includes connecting people to their purpose. As one employee study powerfully proclaims, "Help your employees find purpose – or watch them leave."
In a very real way, food logistics providers play a pivotal part in feeding the world, ensuring that affordable, nutritious food is available for everyone. Helping people recognize and connect to his mission and purpose can help motivate upskilling and encourage retention.
As companies grapple with shifting operational realities and digital transformation, high turnover can significantly hinder their effectiveness, making training and supporting their teams even more important.
Balancing priorities to improve outcomes
Food logistics providers face critical challenges on many fronts. The world is counting on their success. Balancing inflation, consumer demand, and surging consumer demands won't be easy, but digital transformation can help, providing the tools, process refinements and priority adjustments that improve outcomes for everyone.
When food logistics providers succeed, everyone wins. That's the outcome worth pursuing today and in the future.