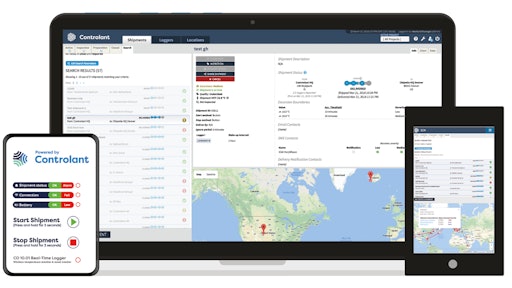 Controlant
Considering that the best supply chain is invisible to consumers, the last year will be remembered as the year the supply chain became a primary focus of the world. It was also a common topic of conversation within households, as shoppers began encountering empty shelves at the grocery stores.
The Coronavirus disease (COVID-19) pandemic demonstrated that supply chains were challenged by the lack of collaboration, visibility and agility to quickly pivot after the unforeseen shutdowns and shortages within the food industry and beyond. It became evident that having the right supply chain partners could make or break a company. Now is the time to build collaborative partnerships with companies that are aligned with your goals.
COVID-19 disruptions to the food supply chain
Like the rest of the world, the food supply chain has faced considerable challenges during the COVID-19 crisis, especially in those first few months when there was much uncertainty. For example, when meat processing plants began to shutter their operations after COVID-19 infected many workers, this situation created employee shortages, disrupted the food supply and forced many organizations to source foods and ingredients from new suppliers and vendors. The pandemic was a variable that many in the food industry were not prepared for, and work continues to solve the issues brought about by it.
There are variables that food supply chain leaders can manage and prevent, like actively reducing product loss in the supply chain. In a post-COVID-19 environment, if businesses lose a shipment due to a temperature deviation or product tampering, getting a replacement load may not be as fast as it was pre-pandemic. Preventing those situations is a better strategy to consider than reacting to a problem after an incident has occurred. With preventive and predictive data provided through real-time insights, companies can quickly pivot to prevent product loss and determine optimal routes, as well as find additional supplier partners, distribution centers or third-party logistics (3PL) providers.
The importance of supply chain technology and data
The right technology can unify manufacturers, 3PL providers, distribution centers and suppliers within the end-to-end supply chain through the modern control tower and its real-time data. Stakeholders can increase their responsiveness to problems by having access to information when an issue arises. It also lets food supply chain partners own their data as a single source of truth, reducing their dependency on outside sources. Collaborative information sharing is critical to mitigating global supply chain risks as the world moves into a post-pandemic phase.
Because of the food industry's tight margins, any technology adoption must show true value and tangible return on investment—whether that's a warehouse management system or real-time supply chain temperature monitoring. Additionally, in July 2020, the Food and Drug Administration announced the New Era of Smarter Food Safety Blueprint, which proposed goals for food suppliers and manufacturers to improve their tech-enabled traceability, predictive analytics, response times to outbreaks and reduction in food contamination.
With a modern control tower, as soon as a problem is identified within the supply chain—like a temperature deviation or product quality concerns—the organization can actively intervene. That may mean contacting the 3PL, the carrier or the warehouse to let them know that there's an issue happening right now and something needs to be done to mitigate that risk and potential waste.
Many food suppliers have struggled to modernize and embrace technology. However, it is control tower technology that will ultimately enable safe distribution and transport of food and other perishable goods to consumers, minimize the effects of future disruptions and let internal and external partners reach quality goals.
Building an interconnected vendor network
Now is the time to learn from the disruptions caused by the pandemic and utilize this significant opportunity to build an interconnected network of vendors that all have access to control tower data and the insights that they provide. The ability to increase responsiveness and execution moving forward will be imperative to building resilient supply chains. An end-to-end supply chain control tower unites all partners across multiple organizations and platforms, allowing each organization to align insights, goals and success measures.
The modern control tower is fully automated, including business, logistics and quality release processes, to name a few. It includes immediate communication and data sharing among all stakeholders. The control tower uses escalation dashboards to automate processes according to predefined business rules set by the customer. For example, not just monitoring temperature and geolocation, but also if a pallet has been split up or arrived at the wrong location.
The control tower allows all cold chain partners—3PLs, distribution centers, carriers, and manufacturers—to act on their aligned goals, thereby mitigating risk and reducing waste. Partner relationships are assets in gaining a competitive edge, maintaining business continuity during disruptions, and ultimately, increasing consumer safety and satisfaction.