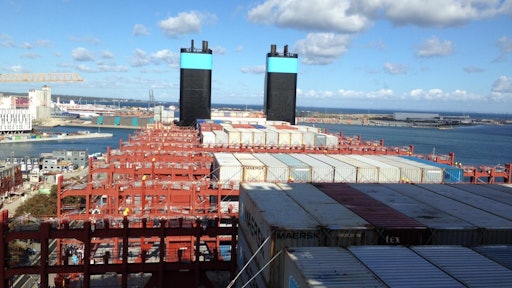 The Agriculture Transportation Coalition (AgTC) has announced its support for the Ocean Carrier Equipment Management Association (OCEMA) terminal weighing approach outlined in its June 17 statement and the recent communication of the G6 carriers to their marine terminals regarding a compliant VGM solution for both local and IPI cargo. The AgTC urges prompt implementation by all terminals nationwide.
The G6 announcement calls for terminal scale weights for locally received cargo to be received and accepted by the carriers as the VGM equivalent, with the expectation that the terminals will facilitate this process. This method complies with the U.S. Coast Guard Equivalency set forth in the Marine Safety Information Bulletin of April 28, 2016, stating that for purposes of determining VGM, current terminal weighing equipment/practices used to comply with federal and/or state laws are acceptable for SOLAS compliance.
The G6 has also developed an on-dock rail procedure that is compliant with the equivalency and SOLAS requirements. The G6 solution utilizes the shippers' certification of cargo weights tendered to the railroad, as required by the Intermodal Safe Container Transportation Act. The carriers will marry shippers' weights with the associated container tare weights pulled from the carriers' own equipment fleet registers, to arrive at the VGM, which will be electronically transmitted to the terminal by the ocean carrier.
Editors Insight: The different players in the global supply chain are working together to see that a workable system for complying with the SOLAS rule is in place, which demonstrates a partnership approach. Many shippers are still concerned that they will be able to comply with the rule, which requires container weights to be verified before they are loaded for ocean transport.
Logistics software suppliers have introduced various systems that allow shippers to provide the weights in a timely manner.
In some cases, cold storage operators will have to provide the VGM data for containers at the completion of packaging, the Global Cold Chain Alliance (GCCA) noted in a recently released guidance document on SOLAS. 6-27-16 By Elliot Maras