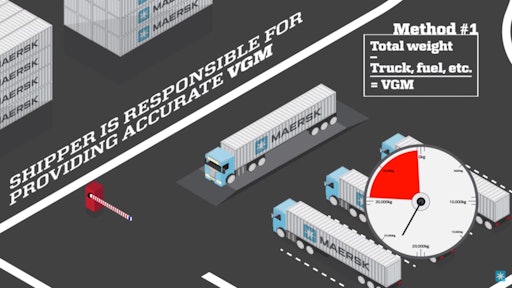 Maersk Line expects a "bumpy" six months after a new international regulation requiring the weight of all containers to be verified before they are loaded onto a ship comes into force on July 1, according to Vincent Clerc, the Danish carrier's chief commercial officer in a LinkedIn post.
The customer benefits of a properly implemented and enforced regulation are important to have in mind, especially these last hectic days before go-live, Clerc noted. "We are committed to making the process as easy as possible – but we also anticipate the next six months to be bumpy."
When analyzing root causes for such accidents, it is clear that significant vessel instability has been caused by actual weight exceeding the declared weight by several hundred percent. For a few containers this might not be an issue, he noted, but when it is the case for more of the cargo, the risk of major container stack collapses or a serious vessel accident increases significantly. 
"At Maersk Line we support the commitment to safety and are well prepared to assist our customers in meeting the new global safety requirements. We fully believe that the shipping industry should up its game, and provide customers with the contemporary service they expect and ensure the safety of the people who deliver the service. This also goes for VGM."
Maersk has a Youtube video explaining the SOLAS regulation.
To make the customer experience better when taking on the SOLAS Amendment, Maersk recommends three steps:
Provide your VGM at the time of creating your shipping instructions
Submit your VGM electronically to avoid manual mistakes
Submit your VGM free of charge – on mymaerskline.com
To read more, click here.
Editor's Insight: Congratulations are in order to Maersk Line for providing some excellent information on what has been a very confusing issue for the food export trade. The video on VGM posted on Clerc's LinkedIn page gives a fair and easy-to-understand overview of the SOLAS requirement.
There is a lot of uncertainty about how the rule will be enforced and who will be responsible for complying with it. There is also a good chance that as enforcement begins, some shippers may not supply the necessary VGM weights in a timely manner, causing some backlogs.
Logistics software suppliers have come up with systems that will allow shippers to provide the weights in a timely manner.
Cold storage operators are likely to be requested to provide the VGM data for containers at the completion of stuffing, the Global Cold Chain Alliance (GCCA) noted in a recently released guidance document on SOLAS. 6-20-26 By Elliot Maras