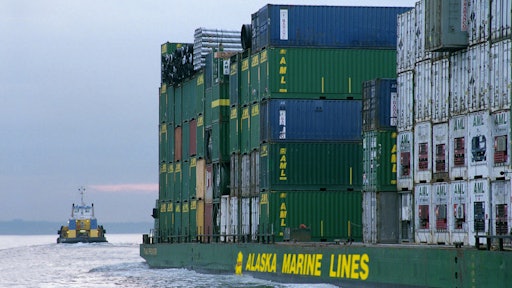 Commercial fishing is a labor intensive and oftentimes dangerous endeavor, particularly in areas such as the waters off the Alaskan coastline. Yet, seafood is a cornerstone of Alaska's economy. It accounts for roughly 20 percent of the state's basic private sector economy and is the leading foreign export.
Lynden is a third-party logistics provider with expertise in seafood logistics and a long history serving Alaska.
Bill Johansen, president of Brown Line LLC, part of the Lynden family of companies, notes that, "The transportation of fresh seafood is challenging as we are at the mercy of Mother Nature. Volumes can fluctuate dramatically and operationally we need to be fluid and flexible to respond to ever-changing conditions."
There are other variables too, he says, such as the return rate for each fishery, adjustments to fishing quotas, and bad weather that could prohibit boats from fishing. Moreover the fishing season itself can fluctuate significantly from one season to the next, says Johansen.
"The salmon season kicks off with the Copper River opening in May, and other species—Pink, Coho, Chinook, Sockeye and Chum salmon—run through early September. Some species may vary by over 100 million pounds from season to season."
This is one more reason that "the impact on transportation and logistics providers can be substantial," he says. "If you moved 300 containers to an area and the fish do not arrive, you have the cost of relocating the equipment to another area. If the runs are larger than anticipated, there is an urgent need to provide assets and resources to support the fishery. The Lynden family of companies work together to support the fishery wherever and however they can. While fish can be frozen, the highest value is to sell fresh, so any inability to provide adequate support negatively affects the fishing community."
Learning From Experience
According to Johansen, "Lynden has the advantage of pioneering transportation in Alaska, and we have evolved over the years in concert with Alaska's growth and needs."
For example, "We have custom designed and built trailers and rail barges to address the specific needs of our Alaskan customers. Tractors, trailers, aircraft are all designed to be compatible with whatever the conditions mandate. Heavy haul equipment to hovercraft vessels provides options to deal with the challenging environment Alaskans face daily," says Johansen.
Furthermore, "Lynden has a seafood team that is comprised of experts from various Lynden companies that work together to plan for each upcoming season," he says. "Experience, historical data, and fish forecast coupled with meetings with processors to identify their needs are the methodology we apply to each season."
However, "At the end of the day fish are a fickle bunch, and may choose not to cooperate with our well-laid plans," Johansen says.
"This is when things get interesting. The ability to move large amounts of equipment quickly, secure airspace, provide lift with Hercules aircraft are just a few of the moving parts that are necessary to remain flexible in the seafood transportation business. Once the product has exited Alaska, Brown Line provides LTL and TL expedited team service to destinations in the Lower 48 and Canada. The product has a relatively short shelf life, so all the moving parts must function in unison to provide quality product to the end users."
Johansen says that over the years, the company has developed processes that provide solutions to nearly every scenario imaginable.
"Managers are experts in the areas they oversee. We have barge operations, loading crews, local and long-haul drivers, dispatchers, air crews, air support staff and air freight forwarding personnel that make up the Lynden team," he says.
It's not just an extensive and multi-model fleet, but software and technology too that helps Lynden support its seafood customers.
"We keep seafood customers connected 24/7. Our online systems give customers the ability to control information about their shipments. Lynden's EZ Commerce system allows customers to manage the shipping process online by requesting quotes, pickups, tracking and tracing," says Johansen.
"Seafood customers can obtain detailed information and see a time-sequential view of the progress of your shipments every step of the journey from origin to destination. Tracing includes status reports, as well as links to images of signed delivery receipts, Bills of Lading and other valuable documentation."
Innovative Ocean Container Transports Live Lobsters
In April, CMA CGM Group introduced a new generation of ocean container, called AQUAVIVA, which is designed to transport live lobsters in their original water conditions to maintain their natural habitat.
The containers are a result of 4 years of research and development between CMA CGM's reefer teams and EMYG, an international engineering company specializing in professional water filtration dedicated to the carriage of live seafood.
Previously, lobsters were carried either frozen by ocean transport or alive and on ice by airfreight. With AQUAVIVA, the lobsters are carried in optimal conditions during the entire transportation process in their original water, from the fishing area until arrival at the wholesaler or restaurant.
According to Alexis Michel, CMA CGM's senior vice president, group procurement, containers logistics, intermodal & reefer, "Filled with sea water maintained at the right temperature using CMA CGM's reefer technologies, these new containers recreate the lobsters' living conditions and natural habitat. Each animal has its own space, just like they would while resting under a rock on the ocean floor."
CMA CGM is launching AQUAVIVA in North America and Europe first. The collaboration between the carrier and its partners will continue to be developed in order to allow for ocean transportation of other live seafood.