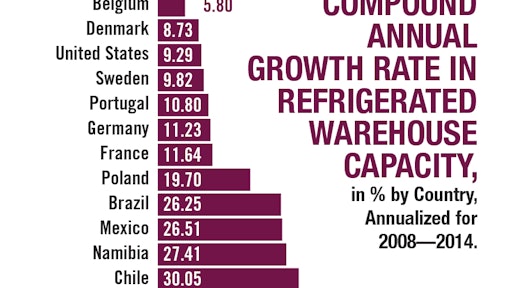 Anyone with their ear to the ground for the last six years knows that if there was a global recession, you wouldn't know it from global cold chain activity.

The Global Cold Chain Alliance's recently-released Global Cold Storage Capacity Report by the International Association of Refrigerated Warehouses (IARW) provides a lot of data that confirms the cold chain has been on a significant growth curve during the "Great Recession," and is expected to continue despite economic stagnation in some parts of the globe. The total capacity of refrigerated warehouses was estimated at 552 million cubic meters worldwide in 2014, an increase of 92 million cubic meters (20 percent) over 2012.

The primary data source was a survey administered in spring 2014 by the GCCA staff.

For companies looking to learn about growth opportunities in the global cold chain, this report provides an excellent analysis of cold storage capacity worldwide. The IARW has been collecting and analyzing data on the global cold storage industry since 1998. This report provides industry growth trends, market development indicators, and market comparisons.
Companies planning for growth are oftentimes confused by the large amount of information available from government sources, associations, private marketing firms and consultants. This GCCA report offers a good starting point, as it highlights key considerations such as the number of existing cold warehouses in different countries, the growth of warehouse space, population densities, population incomes and quality of transportation systems.
A business planning tool
Whether you are a retailer, foodservice operator, wholesaler, 3PL, material handling equipment provider, supply chain software vendor, distribution systems integrator or a consultant, this report includes useful market insights and quantitative data to assist in business planning.

A food processor looking to expand but uncertain what geographic markets offer the best opportunities will find it helpful to know how much cold storage capacity exists in the 31 countries studied, the amount of cold warehouse space compared to urban population, how much cold storage capacity has increased in the last four years, the level of personal, disposable income, and how fast the population's income is changing.

While construction of refrigerated warehouse space was notable in several markets, particularly in South America and India, part of the increase was due to more comprehensive reporting. Approximately 17 million cubic meters of additional refrigerated warehouse capacity has been added to the GCCA database from countries that are covered by the 2014 survey for the first time: Egypt, Iran, Kuwait, Libya, El Salvador, Afghanistan, Dominican Republic and Oman.

One theme that emerges from 42 pages of analysis and charts is that substantial export opportunities exist for cold chain service providers.

Noting that roads, bridges and ports must be accessible for cold chain service providers to expand, the report references the transportation quality index published by the World Economic Forum (WEF). A 1-percent increase in a country's score in the WEF transportation index will deliver a 6- to 8-percent gain in capacity of refrigerated warehousing.
Through its Human Capital Report, the WEF provides a long-term insight into how well countries are utilizing their human capital and maintaining workforces that are prepared for the competitive economic environment. For example, Switzerland's score of 6.51 indicates a better quality of domestic transport than other countries, albeit closely trailed by Finland, Japan, Spain and United Arab Emirates.

Countries leading refrigerated capacity growth since 2008 are Turkey, India, Peru, and China. These countries have each expanded refrigerated warehousing by 35 percent or more annually over the last six years. India, China, and Turkey have the highest long-term growth rates.

Capacity in 13 countries grew faster than 10 percent annually since the financial crisis of 2008.
India surpasses the U.S.
India has surpassed the U.S. as the country having the greatest amount of refrigerated warehouse space. The revenue of India's cold storage businesses is approximately $8 billion and revenue is growing at a pace of 25 percent per year.

Household income is cited as the main driver for market penetration of refrigerated warehousing worldwide. The report presents a comparison of warehouse capacity and growth in consumers' incomes. The increase in household purchasing power is accompanied by changes in preferences favoring large-scale shopping formats such as supermarkets and hypermarkets.

The rapid pace of cold chain development in the large emerging markets – Brazil, Russia, India, China, South Africa and Turkey – corresponds with opportunities for 3PL expansion.
Countries with high per-capita levels of refrigerated warehousing – Netherlands, Ireland, Denmark, Great Britain, United States, Germany, India, Canada, and Uruguay – are significantly involved in foreign food trade.

In the U.S., despite growth in gross capacity, the number of refrigerated warehouses fell slightly to 1,497 from 1,528. In 2013, there were fewer warehouses in the smallest size category, those less than 70,801 cubic meters, compared with the previous U.S. national survey. However, the capacity gained from an increase in the number of larger warehouses was greater than the capacity lost from the decline in smaller warehouses. Thus, there was a net increase in gross capacity.

Because the report sheds light on the relationship between reliable transportation systems and market growth opportunities, readers will gain a stronger understanding of the need for the cold chain industry to participate in public policy initiatives. Hopefully, readers will recognize the need to support for trade association lobbying and research.

Any company participating in the global cold chain faces challenges in such a fast changing industry. The GCCA report can help a company organize its growth strategy. The report is free to GCCA members. For information, visit www.gcca.org or call 703-373-4300.