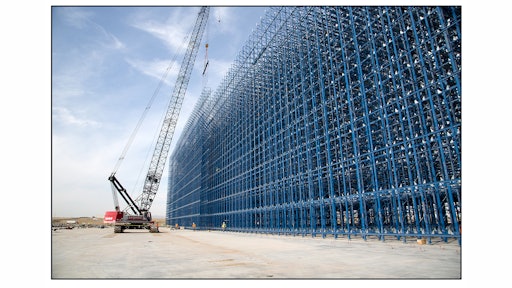 The pace of expansion in the cold chain sector remains full speed ahead. A number of significant developments are supporting growing fresh and frozen food shipments, both within the U.S. and internationally. Containerized ocean carriers are adding more reefer capacity while cold storage providers continue building out their network, particularly near key ports.
Preferred Freezer Services (PFS) is one company in the midst of expansion domestically and abroad. The New Jersey-based cold storage provider added to its presence in China with the opening of a third facility in Tianjin last year. Two other facilities are located in Shanghai and another Asian facility opened in Ho Chi Minh City, Vietnam in 2010.
In June, PFS opened its seventh cold storage facility in California, a 250,000 square-foot facility in San Leandro, which is near the Port of Oakland. The facility features an oversized truck yard, 23 dock doors, and three different temperature zones to accommodate a range of products under one roof.
"Our existing and new customer demand in San Francisco Bay Area for additional cold storage space has continued to grow over the last three years and we are thrilled to finally be able to meet those requests," said CEO John Galiher.
The company expanded in South Florida with a new Miami facility in July, bring the total number of facilities in the state to four. Boasting 9 million cubic feet of storage space, the facility is located near all major roadways and can perform on-site inspections as well as packing and labeling services.
PFS's newest project got underway this spring in Richland, Wash., the first PFS cold storage facility in that state. Once it is completed in 2015, it will be the largest public refrigerated warehouse in North America and the largest single cold storage facility built at one time in the world, according to the company.
Specifically, "The completed facility will stand at 120 feet tall. It will cover 455,000 square feet with 313,000 square feet dedicated to automated freezer space," said PFS. Furthermore, the freezer facility will be automated with robotic cranes rather than human-operated equipment.
The new facility is sited near an existing railroad spur. The track system will provide 207 miles of pallet support and will have the capacity for 50 rail cars per day.
Meanwhile, South Carolina's Port of Charleston is betting additional cold chain capacity will help it attract more business and heat up competition with its rival, the Port of Savannah. In September, AGRO Merchants Group opened a new cold storage facility near the Port of Charleston that offers 121,000 square feet with 14,000 pallet positions along with USDA meat import and export inspection services and eight 24-hour blast freezing cells. The new facility more than doubles the cold storage capacity in the Charleston market.
"In some respect, we are taking a risk by coming to a market like this because we are putting a lot of pallet positions in a space that's going to be competing with a more mature market in Savannah," said Chris Hughes, president of AGRO Merchants Group, in an interview with Charleston's The Post and Courier. "But I happen to think that, because of all the things the port has to offer here, and the fact that our customers have told us, 'Hey, we really want to be in Charleston,'…we think it's a really good spot for us."
Indeed, the Charleston area is seeing an uptick in cold storage projects. New Orleans Cold Storage received $12 million from the South Carolina Ports Authority towards an expansion project of its facility in North Charleston, while Lineage Logistics announced in June that it plans to move forward on a 340,000 square-foot refrigerated warehouse project in Palmetto Commerce Park, located near the Port of Charleston.
Jim Newsome, president and CEO of South Carolina Ports Authority, noted, "The Port is experiencing strong growth in the refrigerated container business, the addition of Lineage's cold storage and blast freezing facility provides Charleston with the increased capabilities necessary to meet the needs of this important cargo segment."
Lineage is just as busy on the U.S. West Coast. In March, Lineage and Baker Cold Storage broke ground on a new facility near the Los Angeles-Long Beach port complex, which is slated for completion next spring. The facility will eventually accommodate roughly 54 million pounds of food, with 2 million pounds of food transloaded daily.
Last month, Lineage opened a new 226,000 square-foot facility in Santa Maria, Calif., that spans more than 10 acres and supports the region's agricultural production.