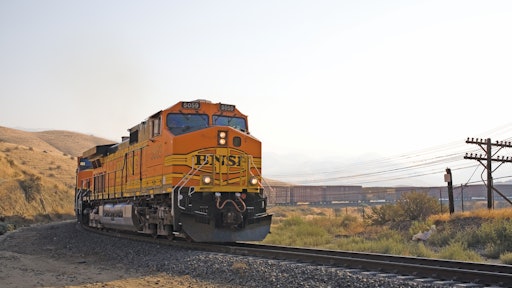 A number of new rail services targeting refrigerated food shipments have been announced in recent months, including one from McKay TransCold. We asked the company's national sales manager, Joe Lombardo, to give Food Logistics the scoop…
FL: We've seen a proliferation of rail services targeting food shippers lately, several of which are launching in early 2014. What's happening in the marketplace that's driving these new services?
Lombardo: In general, the marketplace is becoming more accepting of rail service as a very real answer to long hauls over 700-800 miles, depending upon the specific lane. With the new driving regulations that went into effect in 2013, it's not possible to be as cost effective to truck long distances. Some companies will hold pricing for as long as possible, but in the coming 12-18 months those prices will need to go up. Regional trucking can more easily adapt and absorb the changes. The bottom line is that in the face of this new opportunity, railroads have been stepping up and adapting.
Our relationship with BNSF Railway has been mutually beneficial. As a small trucking company and brokerage, we had a lot to learn about railroad. The flip side was that BNSF was very open in understanding what we had to say about truck logistics. This new kind of collaboration is more prevalent now.
Shippers are also becoming more savvy about their transportation spend. Originally driven by the down economy, shippers were pushed to think outside the box—to try to break down the silos separating transportation and warehousing, for example. Once they are able to look at the big picture and understand that it's not just about cost between point A to point B, but the overall supply chain, they become empowered to make real changes that affect their bottom line positively.
FL: Equipment utilization and avoiding deadhead miles is important for any transportation provider. How does McKay TransCold address this in their business model?
Lombardo: McKay TransCold came from the trucking world and deadheading is not in our DNA. Traditionally, rail has been more of a one way service. We wouldn't have started this service to move products one way. We always look at the round trip, of both the train and the trucks servicing the train. This was why the refrigerated boxcar model was so appealing to us. Intermodal is popular and the majority of freight traveling on rail is intermodal. But with boxcars we get truckload flexibility with rail economics.
Considering that the trucks picking up at our docks are standard over-the-road refrigerated trailers, they don't need to get any equipment back to our yard. Because intermodal equipment needs to deadhead back to the yard, the dray only goes out on average 200 miles. Whereas, our trucks can deliver out to 400-500 miles from the hub and find another back haul to come back to the yard, or triangulate and come back after a couple loads. We think there's a large advantage to not be tied to that equipment.
Intermodal is still a very important and effective tool, as is traditional trucking. We just feel that if a customer wants to have options at the end of a line haul—which is often the case pertaining to food—we can provide that flexibility better with boxcar service.
FL: What are some other features of McKay TransCold's new service that differentiates it from competitors?
Lombardo: The big companies like Wal-mart, Sysco, Costco, etc. have led with their ideas on forward distribution. But it's also possible for smaller companies to take advantage of a similar model with higher cost savings, as some of the warehousing cost is already rolled into the transportation when using our forwarding DCs.
One of the biggest differentiators is our emphasis on our hubs as forwarding distribution centers. There are a couple ways to look at it. First, if a company normally moves products from the West Coast to the Midwest and lands it in storage, it might make more sense to ride the train from California to Illinois and land it in our storage. The difference is that the customer has no pallet in-and-out charge. That charge is rolled into the transportation cost—a cost that is already lower than standard trucking.
By riding the train and landing in our cold storage—attached to the rail cross dock, the customer forgoes the otherwise $12 per pallet (in-and-out). That's approximately $250 per truckload of savings for those products that normally go in to storage at some point during the supply chain.
We have also created an innovative racking system that allows us to double-stack pallets. It's adjustable and lightweight. The patent pending in-car racking system allows us to create a rock solid environment where minimal dunnage is required, providing a safer ride.
McKay TransCold puts an emphasis on working with customers and examining their entire supply chain to see how best our services can reveal savings over the entire network. We can get that truckload effectively from point A to point B, but we are not just about that. We are able to offer more options using our dedicated unit train of boxcars and landing at our hubs that function as mini-DCs.