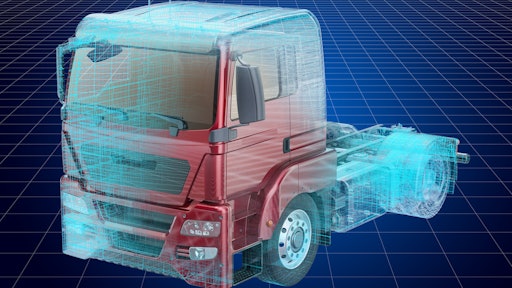 Getty Images
In just a few short months, the Coronavirus disease (COVID-19) pandemic has transformed how supply chains run. Companies are adapting to a new remote work environment, and the crisis has come with a surge in shipping demand as well as constrained capacity, causing rate spikes across the industry. From February to March alone, the average rate to hire a truck on the spot market increased 6.1%. Against this backdrop, digital freight management solutions are becoming even more crucial to ensure shipments are completed in a timely and cost-effective way. Those needs are even more critical for food manufacturers, where freshness and timing are imperative.
While cloud-based logistics management has been on the rise in recent years, the COVID-19 crisis is now creating a sharp divide between haves and have-nots when it comes to technology. Cloud-based technology is increasingly becoming a must for logistics providers, with at least 30% of shippers saying they expect 3PLs to provide these IT capabilities. As a result, logistics providers that depend on antiquated solutions to manage shippers' loads are now struggling to meet customer demands – partly because of systems and processes that were not designed for users to work remotely. These providers are failing to provide on-time communication and accurate visibility, resulting in missed freight exceptions, poor transportation management and unhappy shippers.
With about 50% of companies already using resources like big data analytics and cloud-based tools, according to Dresner Advisory Services, logistics companies will need to find a way to catch up as an industry. The COVID-19 pandemic is revealing the importance for shippers to partner up with logistics providers who invest in cloud-based collaborative transportation management systems (TMS), as well as automated tools, to ensure shipments are handled efficiently and effectively, every time.
Here's how digital tools can optimize supply chains through COVID-19 and beyond.
Booking loads from anywhere
With capacity tight, finding reliable, cost-effective carriers for every shipment is a challenge. It's also complicated by the fact that many of us are working remotely. A logistics provider that offers cloud-based mobile tools can make it easier to connect with shippers in real time, directly from your mobile device. When evaluating solutions, look for providers that offer mobile apps to keep your team and carriers connected. This not only streamlines the cumbersome rate shopping process, but can also ultimately shave down transit times during this busy period for shippers.
2. Managing loads in real time
"Real-time visibility" has been an industry buzzword for years, but not all real-time solutions are created equal. Especially now, it's important to have transparency in operations and stay connected with your drivers. Artificial intelligence (AI) systems are becoming the new standard: They not only allow you to see freight moving in real time, but also allow you to create a digital paper trail of their whereabouts directly in the platform.
If your provider says they offer real-time tracking, be sure to ask how they facilitate this type of visibility. For example:
Does the logistics provider have an artificially intelligent algorithm that can identify whether the truck driver is falling behind their schedule without human intervention and notify the correct users immediately?
How exactly can an algorithm trigger this event?
How is this truck plugged into the TMS?
Is the truck driver plugged via mobile application, ELD, text message tracking, or internet of things device tracker placed in the trailer?
Is the integration robust enough? Can the logistics provider demonstrate on a case-by-case scenario?
Being prepared to ask questions and discuss your shipping needs will allow you to pick the best logistics provider based on their experience with managing relevant, evolving tools like AI.
3. Efficient, contactless billing
Maintaining a cloud-based digital trail for payments isn't just more efficient – it's safer during COVID-19. In addition to real-time visibility, explore whether your logistics provider offers digital billing capabilities. It eliminates the need to manually exchange paper to keep workers safe, and it provides a record you can easily access digitally to review payment status.
A digital approach to management
Achieving excellent supply chain management will require the use of AI-based systems, cloud-based technology and workers collaborating in a way that truly benefits the greater good of the business. As the world adapts to the new normal of COVID-19, these types of tools will be useful even beyond the current crisis. By choosing a logistics partner that has these tools and resources at their fingertips, you can continue to grow your bottom line and keep operations running smoothly – even in the midst of a pandemic.