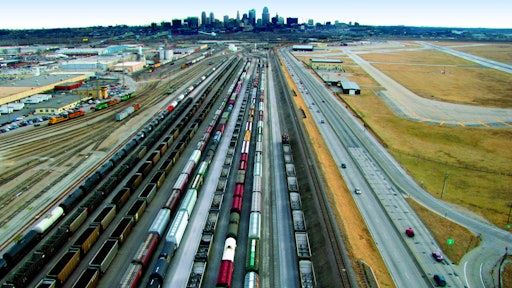 KC SmartPort
When you think of Kansas City, Missouri, chances are corn fields come to mind. Maybe you think barbecue or jazz, but logistics surly isn't your first thought. The metropolis in the center of America's heartland, however, has quickly grown into one of the nation's largest hubs for transportation and logistics operations.
In 2018, the Kansas City region experienced unprecedented industrial growth, with 5.1 million square feet of new industrial space and 4.2 million square feet under construction (Q4, 2018). The area is home to many large global brands that have either relocated or expanded, including Amazon, Dollar Tree, CVS Health, Overstock.com, Turn5 and Hy-Vee Aisles.
In addition, the region has seen a transportation and warehouse employment growth rate of 3.5 percent for nearly a decade, and 10 new freight-based companies have created nearly 1,000 jobs.
Several key components combine to make Kansas City a world-class logistics hub, which include:
The largest rail center in the United States by tonnage
A business-friendly Foreign Trade Zone program that can activate space in under 45 days
Located at the intersection of four of the nation's major interstate highways (I-35, I-70, I-29, I-49)
Access to the Kansas City International Airport, which moves more air cargo each year than any air center in a six-state region
Located on the largest navigable inland waterway (MO/MS River system)
All five U.S. Class 1 rail lines (BNSF, CP, KCS, NS and UP) intersect in Kansas City
KC SmartPort, a regional economic development group, has led the growth initiative, working to bring freight-based economic development to the area.
"When you think of what we call freight-based economic development—companies that have significant inbound and outbound freight—over 50 percent of the decision of where to put a new facility is transportation costs," explains Chris Gutierrez, president of KC SmartPort. "And with all four modes of transportation here and significant connections to markets and ports, that transportation cost advantage for us is significant. We also tout more lane miles in the highway, per capita, than any other metropolitan area."
In addition, KC SmartPort's pre-existing industrial space (40 million square feet built since 2012) is attractive in an economy where speed to market is essential when companies decide they need a new facility.
"Having available buildings and development, vertical-ready sites, is an advantage for us to win those," Gutierrez adds.
An Opportunity Lies in Food
KC SmartPort has seen significant growth in three manufacturing sectors: automotive, precision and food, with the latter offering the most opportunity for growth over the next few years. According to Gutierrez, the hub has about half a dozen food-related projects in the pipeline, which he describes only as regional distribution centers or manufacturers.
"We've got a good base of food technology here. And then of course, the central location really benefits those companies to locate here," he notes.
Currently, Bimbo Bakeries, Frito-Lay, General Mills, KC Sausage, Hostess, Tyson Foods, Mars and many more have operations at KC SmartPort.
Gutierrez says much of the hub's efforts over the next few years will continue to focus on identifying food-related companies that are developing new food technology and products that will require additional manufacturing and/or distribution space.
"Marry that with e-commerce and food on demand, and we're going to see more growth," he says. "It's a small, single percentage of grocery chains that really have an online network. We're going to see that continue to grow, and I think Kansas City's going to benefit from that."
The E-commerce Uptick Has Just Begun
E-commerce giants such as Amazon and Jet.com have already found a home in Kansas City. One of Jet.com's three U.S. facilities is located in the region, and Amazon has five or six—one of which is its new Amazon Flex, an Uber-type delivery service that allows private citizens to deliver packages for them through a mobile app.
"That facility is here for that same-day-type delivery," says Gutierrez. "And within the last mile or e-commerce, we've got solutions and transportation options to meet those needs."
Most e-commerce deliveries today move at the speed of two days or less, and according to Gutierrez, in two days, Kansas City can reach 85 percent to 90 percent of the U.S. population.
Investments in the region by UPS and FedEx to grow their ability to deliver those packages in a timely fashion also makes Kansas City attractive to e-commerce companies.
In addition, having all four modes of transportation at one hub gives the shipper or the BCO a choice.
"They can look at all four modes of transportation as they plan their supply chain, and it helps them in negotiation with the transportation carriers that they have options," says Gutierrez.
In the coming year, KC SmartPort will continue to position itself as an e-commerce hot spot.
"While e-commerce is a leading sector for leasing industrial buildings around the country, it really hasn't grown to the level we think it's going to grow, both B2C and B2B. So, we're going to continue to see that effort here," adds Gutierrez.