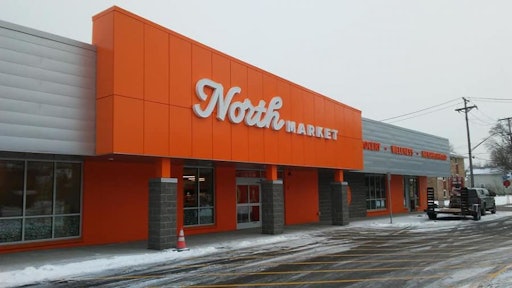 Over the last few decades, the community of North Minneapolis has been one of the most chronic food deserts in the country. A community of 67,000 ethnically and economically diverse residents, the area numbered 30 convenience stores and only one full-service grocery store. People were seriously deprived of fresh food choices and wellness services, impacting the rise of illness and disease. 
Minneapolis-based Pillsbury United Communities (PUC), a 139-year-old nonprofit driven to create social change for underprivileged and impoverished populations, set out to change that—for good. In a two-year joint venture with many community partners, including corporate funders, architects, developers, food merchants, brand strategists and environment designers—and most importantly the North Minneapolis community—a seedling of an idea became a transforming experience culminating with a mandate to provide everyone with the healthy choices they deserve.
At PUC, we believe that change happens best when the people affected are engaged and able to be part of the process. That engagement took root when KNOCK Inc., a Minneapolis-based full-experience creative agency, was chosen to brand a new grocery store and wellness environment that would become a hub of accessibility and sustainability for the community. The collaboration among PUC, KNOCK and other operational partners made it possible to overcome the typical obstacles that food deserts face and work together to find a solution by facilitating stakeholder research.
With, Not For
PUC and KNOCK believe that true empathy and understanding happens when one is "with" the people, rather than "for" them—an important distinction that best defines an equitable relationship and acknowledges social innovation. Truly grasping the complexities of the problem was the first step to addressing the solution. Luckily for us, we have a history with the community and were able to identify populations who best represented the area. Our methods were varied to inspire more layered feedback—from large community center meetings to smaller group settings to one-on-one interviews.
Through all of our stakeholder research, we discovered two main drivers in the process: Those who want more organic and healthy choices (about 20 percent) and those who want everyday foods with an emphasis on affordability (about 80 percent). It's a problem that we could tackle by creating strong and nuanced relationships with our distributors. From these efforts, the North Market store was born.
Since the store launched in December 2017, we continue to monitor the shifts in that 80-20 equation. As with any grocery store, wide-ranging need can be difficult to respond to. Our staff at North Market works diligently to accommodate suggestions, receiving feedback through social media, at the store and through drop boxes.
Product, Price, People
North Market operates much like a regular independent grocery store, but as a nonprofit grocery option, we uphold a special commitment to our neighbors to offload costs. We keep costs manageable by taking control of the supply chain and distribution. Having various players is important to meeting demand. It boils down to this: If our distributors can ensure quality, availability and affordability, we get it. If not, we try to offer alternative suggestions to our neighbors so the need can be met some other way.
We also intentionally work with local vendors for produce and meats specifically, to help stimulate North Minneapolis's economy and to fulfill PUC's mission of being true advocates of the community. Our entrepreneurial spirit allows smaller brands to coexist at North Market.
A Model for Good Living
Identifying a community as a food desert doesn't necessarily mean that people are starving. They're eating something—whether that be unhealthy food near to them or better food that's an hour away. Either way, these people have developed a habit that is incredibly tough to break. So, creating a remedy for a food desert needs to be as easy as possible for the community to champion.
The branding work from KNOCK to transform our environment to one that is destination worthy, informative, inspiring and deeply appealing to the specific community the store serves has bridged the gap from the North Market being a theoretical solution to a functional marketplace.
Ultimately, it's about more convenience, better options and lower pricing. To meet all three comes down to trusted relationships. You need to be vigilant in asking the right questions and finding the right distributor for your product mix.