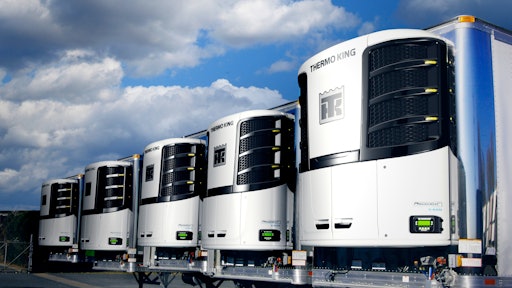 While reefers have been fundamental for transforming commercial shipping of perishables around the world, today, refrigerated transport is poised to disrupt barriers to delivering fresh nutritional food to the nation's most vulnerable—the nearly 41 million people in the United States who struggle with hunger, according to Feeding America.
The number of families facing food instability is staggering, coupled with the reality that nearly $220 billion dollars of food is thrown away in the United States each year. Thermo King, a manufacturer of transport temperature control solutions for a variety of mobile applications and a brand of Ingersoll Rand, recently introduced a breakthrough social initiative, We Move Food, centered on a mission to make it easier and more affordable for Feeding America food banks to safely transport fresh food to families who need it most. By providing funding for mobile food pantries and special pricing on refrigeration products and services, food banks will be able to access food deserts—areas where nutritional options such as fresh fruits, vegetables and dairy products are not easily available— to serve some of the hungriest cities in the United States.
Historically, the cost to purchase, run and maintain a refrigerated trailer has been an insurmountable barrier for nonprofit food banks in their quest to recover perishable foods from grocers, retailers and restaurants. Transport refrigeration assistance can go a long way in food recovery to give more families access to fresh and nutritious options.
However, access to transport refrigeration solutions is only one factor impacting food instability and food waste in the United States. Food banks around the country rely on unsung heroes—truck drivers— many of whom volunteer their time and talents to recover perishable food and safely deliver it to communities in need. Drivers play a pivotal role in keeping perishable options fresh and safe for consumption because they know how to properly load and run a refrigeration unit to recognize alarm codes. These professionals truly are in the "driver's seat" when it comes to providing more people greater access to food that has the potential to build healthier families and communities.
Unfortunately, today more and more families rely on food banks or similar services for assistance, whether it's temporary or a long-term strategy for food shortage. Companies that have a commitment to sustainability share a responsibility to do more for the most vulnerable among us. Whether it's collecting food from a local farm or reclaiming food from restaurants, transport refrigeration plays a vital role in helping food banks obtain food and making sure it arrives safely to Americans' tables.
Dane Taival is the vice president and general manager for the Transport Solutions North America business, a unit of Ingersoll Rand and strategic brand known as Thermo King. Taival leads an organization of more than 1,600 employees throughout North America and has responsibility for setting and executing the business strategy and ensuring delivery of its operational and financial commitments.
Companies in this article