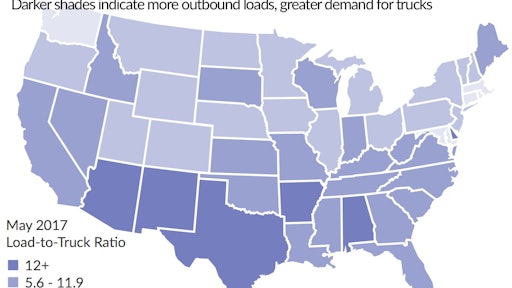 The robust supply of van and refrigerated truckload freight in May and June, combined with higher spot market rates and load-to-truck ratios, are signs that the freight recession is over.
Compared to April, van freight volume was 16 percent higher in May, while refrigerated freight volume was up 19 percent.
And compared to May 2016? Van freight is up 86 percent, and reefer is up 87 percent.
Spot truckload rates rose, too. The average van rate in May gained 2 cents to $1.69 per mile compared to April and was up 15 cents year-over-year. At $2.02 per mile, the reefer rate was 8 cents higher compared to April and up 13 cents compared to May 2016.
Driven by an abundance of produce, freight volumes show no signs of abating. By the middle of June, the national load-to-truck ratio was the highest it's been in three years, and the reefer ratio topped 10.0, meaning there were 10 loads on the DAT network of load boards for every posted truck.
Regionally, California continues to set the pace for reefer activity, and Texas, the southeast and Plains states are in that 12.0-plus load-to-truck range. Reefer carriers should stay busy until at least the Fourth of July, when freight volumes typically begin to taper off until November and December.