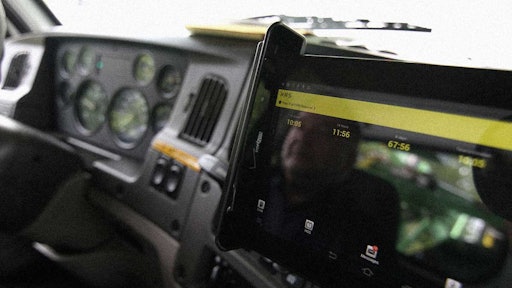 Not only does the rapid speed of innovation and technology continue to push telematics to new levels in the food and beverage sector, but with new governmental regulations seemingly being proposed every day, the role that telematics plays in managing a fleet is set to increase in the coming years. Given the fact that most f&b fleets are not using telematics, supply chain decision makers need to get up to speed on what this technology can offer them.
Food Logistics recently asked telematics executives to provide their insight into what the challenges in the market will be, what they are currently experiencing in the field as the electronic logging device (ELD) mandate draws near, and how real-time information has become crucial in the global food supply chain.
One size, solution does not fit all
In a market with hundreds of providers and endless solutions, food and beverage (f&b) fleets are finding that reliable, imbedded solutions are starting to give ground to more portable and smartphone/tablet-based options.
Telematics experts offered different ideas about the merits of imbedded and portable solutions.
"Imbedded will be your tried and true system since they stay with the units constantly reporting location, temperature, fuel, etc., and alleviates the customer from further hassles of misplaced equipment and possibly theft," says Chris Gilham, senior systems support specialist at Alpharetta, Ga.-based Cooltrax. "Portable leaves you open to the problems an imbedded system alleviates, and in a fast-paced environment like this (f&b), we see many people turn their heads trying to keep up with portable systems. Smartphones are a great option, but when you are reading temperatures directly from a reefer, their still has to be some sort of imbedded technology to send you that information."
Even though it has some drawbacks, portable systems are gaining market share because they are convenient and cost-effective solutions that meet the demands of today's pace and style of business, according to Jon M. Van Winkle, vice president of product management at XRS Corp. in Minnetonka, Minn.
"Our customers – including Sysco, US Foods, Dean Foods, Gordon Foods – are looking for 'mobility' solutions that meet the needs of drivers doing work in and out of the cab," says Van Winkle. "At the moment, Android-based tablets and smart phones are the most common platform. However, Windows-based, ruggedized handhelds are becoming more common in the food services space. iOS/iPhones are beginning to make their way into the industrial market, too."
As the need for mobility increases and handheld and smartphone solutions continue to gain popularity, the bottom line still follows the cliché that every telematics situation has its own ideal solution.
"There are various operational needs even within a food or beverage fleet. Sometimes, even within the same customer, a portion of their fleet may need something slightly different than the rest of the fleet," says Eric Witty, vice president-product management, Cadec Global, Inc. in Manchester, N.H. "So I don't think there is a one-size-fits, all and we try and encourage fleets to understand both their in-cab and out-of-cab needs to see what technology fits the highest priority problems they are trying to solve and pick the one that best fits and has the power to expand and adapt to their future needs."
"It really depends on the use case," says Kelly Frey, vice president, product marketing at Calif.-based Telogis. "For a company-owned truck in service in the fleet for six, seven years, an imbedded system makes sense because it can come right from the manufacturer. But if you're dealing with an older fleet, or one that doesn't have an imbedded solution, it's easy to put a tablet-based or portable-based solution in there."
Real-time: the real deal
One area telematics experts are unanimous is the importance of real-time or instant information is to food and beverage customers.
"Real-time is the expectation for all fleets in today's technology age where there is so much information at our fingertips," says Cade Global's Witty. "Faster, more accurate, real-time decision making based on real-time data can avoid delivery delays, HOS (hours of service) violations and other operational issues and therefore increase efficiency and reduce costs."
Reducing inventory loss is another important asset of real-time communication, according to Ryan Driscoll, marketing director at Phoenix, Ariz.-based GPS Insight.
"Real-time data is crucial for food and beverage businesses, says Driscoll, "Knowing the temperature inside the trailers in real time is imperative for these businesses because spoilage can cost thousands of dollars per delivery. Telematics can alert management and drivers in real-time when the temperature in the trailer is too low or too high so that they can address the issue immediately."
Real-time telematics solutions also aid in the safety and traceability of the global supply chain, a point Krystine Hiew, sales and marketing coordinator at Ontario, Canada-based Geotab Inc. emphasizes.
"Food and beverage companies not only have to prove that their products are safe, high-quality, or compliant with regulatory requirements, they need to ensure that their suppliers' products adhere to these criteria as well," says Hiew. "Reasons why real-time data is so important include determining unplanned or missed stops on the fly; off-route notifications on the fly; dangerous driving or accident notifications; expected arrival at customer locations; over/under temperature notifications in real time indicating an issue with the reefer or doors; and even alerts indicating long customer stops."
With the increased importance on food safety and complete traceability in the entire supply chain pushing companies to demand information at a second's notice, there's no doubt real-time telematics will play a bigger role in the way companies throughout the f&b sector achieve these goals.
Are You ELD-Ready?
Even though the regulations on the electronic logging device (ELD) mandate aren't even finalized, and with the hours-of-service rules and other governmental mandates being added and dropped every other session, telematics providers have been forced to stay on their toes to stay ahead of the regulations.
So how prepared are most fleets to comply with the ELD mandate that becomes effective in 2016? Their answers vary.
"We are seeing mixed results in this area," says Geotab's Hiew. "Some fleets have been using ELDs for some time, others are just implementing now, and still others will wait for the last possible moment. From a telematics perspective, what is different today than it was five years ago, is you rarely need to sell the benefits of an electronic logging solution – these are well understood by fleets today."
"Even if the regulation does go through in 2016, and it looks like that's a big if right now as this keeps getting pushed out," says Frey of Telogis. "Most of the large fleets have been preparing for this for years now. Everybody is aware of it, unless you've had your head in the sand. I'd be surprised if most fleets aren't prepared for it."
"I will say that many will be probably be scrambling to purchase equipment when that time arrives," says Cooltrax's Gilham. "Many companies will be making uneducated purchases and not fully testing their options and the capabilities. It seems the lowest cost wins right now, but the lowest cost may not give you the support and education needed to properly use the information you get from this technology and put it to good use and save your company thousands of dollars."
Some of our experts even speculate the ELD mandate may help drive f&b fleets that don't currently have a solution into a shopper in the telematics market.
"I would say that less than half of all fleets are prepared to be in compliance at this time," adds Driscoll of GPS Insight. "That's not to say that they won't be by 2016, but that would mean that this year we will see a huge spike in telematics and ELD adoption in the food delivery and transportation industry."
For More Information:
Cadec Global Inc., 800-252-2332, www.cadec.com
Cooltrax, 877-667-6868, www.cooltrax.com
Geotab Inc., 877-436-8221, www.geotab.com
GPS Insight, 866-477-4321, www.gpsinsight.com
Telogis, 800-787-2337, www.telogis.com
XRS Corp. (Omnitracs), 800-795-9282, www.xrscorp.com