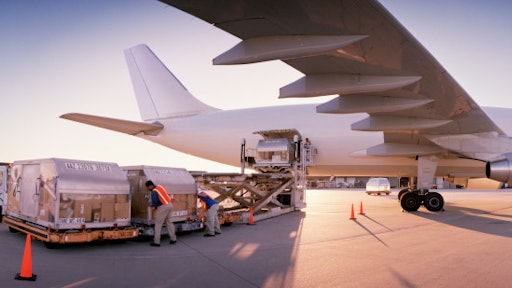 Following a sharp fall in freight prices, air cargo companies are set to trim their fleets and jobs further to battle overcapacity while looking for new partnerships and products to carry, industry executives and analysts say, according to Reuters.
Global trade volumes fell for the first time since 2009 by 1.7 percent between the final quarter of 2015 and the first quarter of 2016 and the International Air Transport Association has lowered its growth forecast for air freight demand in 2016 to 2.1 percent from 3 percent.
And while the impact of Britain's Brexit vote on the U.K. air freight market remains uncertain, prices for air freight generally are down about 15 to 20 percent compared with last year due to capacity outstripping demand by a factor of three.
"It's a landslide," Lufthansa Cargo CEO Peter Gerber said on Tuesday. "With prices falling so quickly, we have to cut costs."
Freight carriers are also seeking new types of business or focusing on higher-margin areas, such as delivering pharmaceuticals.
Lufthansa Cargo, for example, says it is looking at dealing with customers directly, rather than via the freight forwarders that currently account for up to 95 percent of its business.
And it has been in talks with online retailers such as Alibaba and Amazon.com, which have been reviewing their logistics chains to ensure goods can be sent to customers more quickly and reliably, although nothing has been agreed.
Seeking more control over its deliveries, Amazon in March signed a deal to lease 20 Boeing freighter aircraft to handle more of its own deliveries in the United States.
Lufthansa Cargo also plans to launch a new "basic" product in the autumn, for customers looking to transport standard shipments at a lower price and will target Lufthansa airline passengers too, offering them the chance to book freight directly, for example, to bring their motorbike with them for a foreign road trip.
Freighter fleets are also increasingly competing with the belly space in passenger planes, as travel demand booms and new planes provide more space in their holds for cargo.
Over the past decade, passenger revenues have doubled, while cargo revenues are expected to fall back to where they were 10 years ago.
As a result, Japan Airlines and Thai Airways have completely stopped operating freighters, as has British Airways-owner IAG, which carries much of its freight on its scheduled passenger services as well as sharing some freighter capacity with Qatar Airways. Others have held on but continue to feel the impact.
"Talking to other airlines they say the current numbers for their cargo business are very tough and their forecasts for the cargo business are also tough as well," Osamu Shinobe, president and CEO of All Nippon Airways, which has a cargo joint venture with Lufthansa, said in Dublin last month.
Singapore Airlines cargo division, which has cut its freighter fleet down to nine Boeing 747-400Fs from 17 a decade ago and has plans to cut two more, lost S$50 million ($36 million) in the 12 months to 31 March, up from S$22 million a year before.
Meanwhile, Lufthansa's cargo arm is in the black, but profits will drop significantly this year from 74 million euros ($83 million) in 2015 and it now plans to cut up to 800 staff worldwide, or about 17 percent of its workforce.
It has grounded two McDonnell Douglas MD11 freighters this year and has been reviewing its fleet.