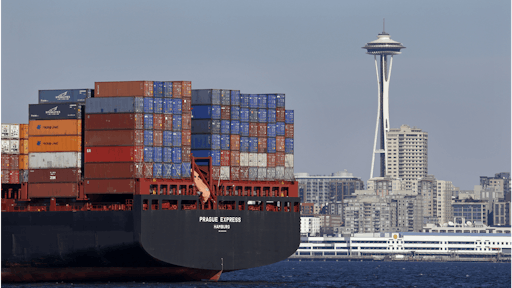 The West Coast ports of Seattle-Tacoma, Wash., and Oakland, Calif., saw August import volumes rise in double digits over last year, according to The Wall Street Journal.
The Northwest Seaport Alliance, which includes the ports of Seattle and Tacoma, received 113,972 loaded 20-foot equivalent units, a standard measure for container cargo, in August—a 31 percent improvement over the prior-year period's loaded imports. Oakland saw loaded import container volume jump 15 percent over last August to 82,492 TEU.
Empty export containers more than doubled at the Washington ports to 44,393 and rose 15.6 percent to 41,659 in Oakland—likely because of a lack of demand from weak foreign economies as well as a seasonal repositioning of containers to accommodate extra holiday volume in the coming months. Loaded exports were up slightly in Seattle-Tacoma and remained essentially flat in Oakland relative to last August.
The healthy performance that suggests the Pacific ports may have finally worked through major delays and congestion that plagued them during and after protracted labor negotiations with the West Coast dockworkers union over much of the past year. Last week Los Angeles and Long Beach, the nation's largest container ports, also reported an August jump in cargo volume.
Major Atlantic and Gulf Coast ports of Charleston, S.C., Norfolk, Va., and Houston also saw improved import performance in August—a sign that this year's peak shipping season, kicking off now, could be one for the books. According to analysts, U.S. ports likely will see imports rise even more in September with the arrival of goods from China that were shipped after the country devalued its currency.
http://www.wsj.com/articles/west-coast-ports-see-rise-in-august-import-volumes-1442530583?mod=djemlogistics
Editors Insight: This report expands on an earlier report this week documenting the West Coast ports' recovery. The full benefit of this recovery will take some time to take effect throughout the food supply chain. Cold storage providers on the West Coast have already reported improvement.
The cooling of the global economy has not dampened global trade activity significantly, especially for the food supply chain. Terminal operators and ports continue to invest in new facilities, anticipating continued global trade growth. The re-opening of an expanded Panama Canal in 2016 is expected to bring more activity to East Coast ports, which are already experiencing record activity.
In the next year, the food supply chain could face a shortage of storage capacity near ports. Unforeseen factors such as weather delays and port strikes would create additional delays.
Global food trade has a promising future, but growth will not be smooth. Food supply chain players will have to stay up to date on market conditions and be prepared to adapt to unforeseen circumstances. 9-18-15 By Elliot Maras