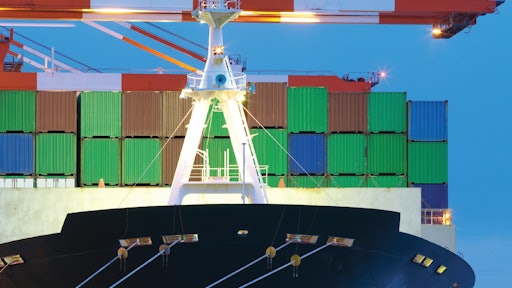 The ports of Los Angeles and Long Beach, Calif., maintained the first and second spots, respectively, as the leading U.S. ports despite volume losses caused by labor disputes in 2015, according to the Datamyne U.S. Port Report ranking the top 20 U.S. ports by volume of imports. The report profiles each port with statistics on the mix and value of imports, leading importers and carriers, as well as gains or losses over the previous year.
"This year's report reflects volume losses at the West Coast ports during the 2015 labor disputes and slowdowns, and reveals which ports may have reaped the benefits in higher inbound volumes," says Datamyne CEO Brendan R. McCahill. "We designed the report as a handy reference for port authorities, carriers, logistic providers, importer and shippers – indeed, anyone with an interest in U.S. ports of entry for oceangoing imports."
Twenty-Foot Equivalent Unit (TEU) volume at the Los Angeles port declined 2.8 percent in 2015 to $238.854 billion, which included 4.252 million TEUs and a total of more than 2 million shipments. Volume at Long Beach increased by 0.3 percent with a total 3.53 million TEUs at a value of $59.142 million, which included 1.611 million shipments.
For a PDF of the report, click here.