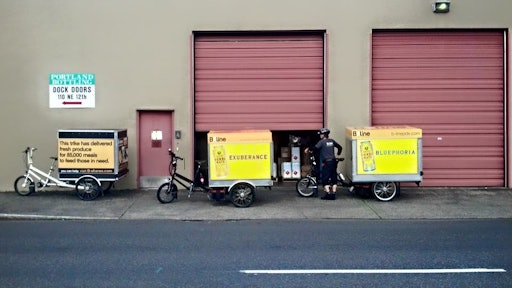 B-Line Sustainable Urban Delivery's fleet of mostly human-powered tricycles delivers thousands of pounds of produce, office supplies and other products to downtown restaurants, food outlets and offices every day in Portland, Ore., according to the Portland Business Journal. On the return trip, its trikes haul unused produce and hard-to-recycle office materials for processing.
The company recently said it is teaming with nonprofit Ecotrust to operate warehouse, processing and cold storage operations at The Redd on Salmon, a new food hub being developed on two blocks in the Central Eastside Industrial District. Ecotrust conceived the project to help bridge the gap between regional food vendors and downtown customers.
Franklin Jones established B-Line in 2009 after identifying an opportunity to disrupt distribution in the city's central business district. He'd noticed white delivery trucks parked all over town, dropping off small loads here and there.
To read more, click HERE.