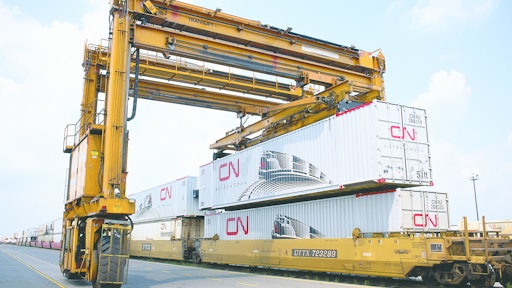 Canadian National (CN) Railway  Co. announced a $20-million investment in the expansion of its cold supply chain capacity to help producers and distributors of chilled or frozen foods grow their businesses in North American and overseas markets.
JJ Ruest, executive vice-president and chief marketing officer, said: "CN was the first railway to introduce highway-to-rail conversion of reefer service in transborder markets. Our high-quality cold supply chain service has been embraced by the marketplace.  We are now adding capacity to grow and help Canada's food processing industry gain and maintain access to new domestic and international markets."
To accommodate growth, CN is acquiring 200 more domestic, 53-foot temperature-controlled containers, which will add to the current fleet of containers circulating inside North America.
CN is also acquiring 32 electrical generators to move 40-foot international marine reefers to and from CN-served ports on CN intermodal trains. The power packs provide economies of scale by connecting up to 17 international marine reefers at a time.
CN, in collaboration with other railroads, offers cold supply chain rail services between Canada-United States-Mexico, as well as between Canada and overseas markets.
Barry Sutton, vice-president, international sales, for Maple Leaf Foods, said: "Food safety is always a top priority for us. We follow world-leading food safety practices to ensure our consumers can enjoy our products with confidence. CN shares our food safety vision. Through collaboration, CN has created a robust supply chain backed by high food safety standards. CN's transportation leadership and expertise give us peace of mind knowing that our products will make it to our customers nationally and internationally, safely and on time."
CN has harnessed innovative technologies to ensure that food security and integrity is maintained. Robust remote monitoring of interior container temperatures, a dedicated reefer desk team and superior exception management services are key elements of its operational and service excellence for the cold supply chain.
Allan Walker, director, Canada and export customer service and logistics for McCain Foods (Canada), said: "McCain Foods is pleased with the CN announcement. Adding more capacity addresses a critical supply chain need and helps meet our goals in providing quality products to our customers in an efficient and environmentally friendly manner."
Ruest said: "CN's cold supply chain service offers the food industry a quality and cost-effective alternative to highway trucks and gives producers pursuing overseas opportunity a great tool to expand market share. CN is growing with its customers, aiming to help them compete more effectively in their own markets."
Companies in this article