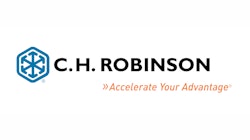 Walmart Stores, Inc. has recognized C.H. Robinson with the retail leader's first-ever "3rd Party Logistical (3PL) Carrier of the Year" award for 2014 noting contributions for outstanding service, effective communication, and providing solutions and innovations in a changing industry.
"C.H. Robinson has consistently provided Walmart with exceptional service, maintained excellent safety standards, and proven their leadership in the transportation industry," said Kevin X. Jones, vice president of inbound transportation for Walmart. "They are essential to accomplishing and exceeding our important goals. In turn, we are able to translate the efficiencies into everyday low prices for our customers."
"C.H. Robinson anticipated challenges due to weather conditions and the team went to work immediately," said Rob Kinsella, strategic account manager at C.H. Robinson. "By utilizing tools and programs customized to Walmart's business we were able to assist with surge capacity and supply chain resiliency during the polar vortex, and throughout 2014's extremely tight transportation market."
The honor is designated to companies who provide support to Walmart stores, Sam's Clubs, and distribution facilities throughout the U.S.
"Our more than 20 years of collaboration with Walmart has created solid relationships throughout the company—from analysts to presidents—enabling the kinds of strategic conversations and thoughtful planning that assists Walmart in achieving their goal of everyday low costs," said Kinsella.
An official celebration of the award is scheduled to take place in May, when executives from Walmart will visit C.H. Robinson's Eden Prairie, Minn., headquarters.
"It's satisfying to celebrate this win with the entire C.H. Robinson team, as it's an effort that comes from across our entire North America network," said Kinsella. "To accomplish what we do for a company like Walmart, it takes a lot of hard work and commitment from a lot of people."
Companies in this article