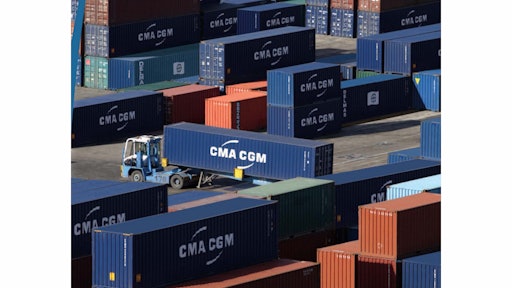 Short-sea operator MacAndrews is to call four times per week at the Port of Liverpool instead of three, having added a fourth vessel to its Bilbao service, according to the Peel Group, a United Kingdom-based infrastructure, real estate and investment company.
As part of the upgrade, MacAndrews' new Loop vessel, the Flintercape, will also make Liverpool its first call after departing from Bilbao, Spain, providing a strong platform for container deliveries throughout the week. MacAndrews will offer four departures per week from Bilbao arriving in Liverpool on a Monday, Tuesday, Thursday and Friday.
Patrick Walters, group commercial director of Peel Ports, said: "This is a very good result for us, with one of our long-term customers expanding its services, and we're grateful to MacAndrews for continuing to place its faith in the Port of Liverpool as a reliable and cooperative partner in its growing operations. It's this clear shift of logistics and distribution patterns towards the nearest port to market that underscores the reasons why we are investing £300 million in our new Liverpool2 container terminal. This will allow us to handle the largest current globally operated container vessels, bringing U.K. distribution cargo closer to its destination."
Geoff Smith, managing director of MacAndrews, said: "The Port of Liverpool provides a strong link in the U.K. consumer supply chain, and is an increasingly important entry port for refrigerated container movements of fresh produce to supermarket distributors. In addition to the growing volumes of general containerized cargo, it is this increasing sector of the market from Southern Spain into the northern half of the U.K. which is driving the expansion of MacAndrews' services into the port."
This is the second recent expansion in services via Liverpool, with Metro Shipping confirming last week that it had relocated some services on behalf of Beneficial Cargo Owners, including retailers shipping goods from the Far East, from southern ports to Liverpool. The move was in response to increasing costs and delays resulting from traffic congestion and driver demand in the south.
MacAndrews is a provider of ocean and land transportation services, specializing in 45-foot high cube pallet wide containers, serving niche, core geographical sectors of the U.K. and Ireland, Spain, Portugal, Holland, Poland, Scandinavia, and Russia. The company
employs over 200 staff and has a container fleet in excess of 9,000 TEUs in a wide array of sizes and configurations, with particular emphasis on the short-sea, intra-European multimodal market. MacAndrews is part of the CMA CGM Group, the world's third largest container shipping company.
The Port of Liverpool currently handles a diverse range of cargo, including bulk solids and liquids, RORO and containers.