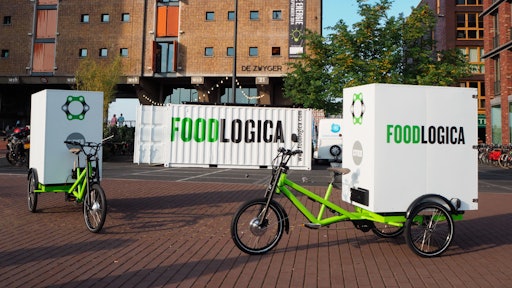 By delivering local food products to cafes, restaurants, and catering businesses with solar-powered electric cargo trikes, Foodlogica aims to clean up the last leg of the local food transport system, according to treehugger.com, an Internet news source for environmental issues.
Both the demand for, and supply of, local foods has been rising dramatically the last few years, which adds to the resiliency of local food systems, as well as reducing transport-related emissions in that sector. However, one of the bigger sticky points of local food logistics is the dependency on diesel trucks for final delivery to the customers, which adds to the already polluted air in the city. But a new program in one of the world's leading cycling cities, Amsterdam, is working to change that, by offering tailored delivery services using solar-powered cargo trikes that promise "no emissions, no congestion, no pollution."
The Foodlogica system, a spin-off of Cities' Farming the City project, seeks to provide clean, reliable, and effective local food deliveries in Amsterdam, by providing food producers with a zero-carbon transport option for destinations of up to 100km away.
To read more, click HERE.