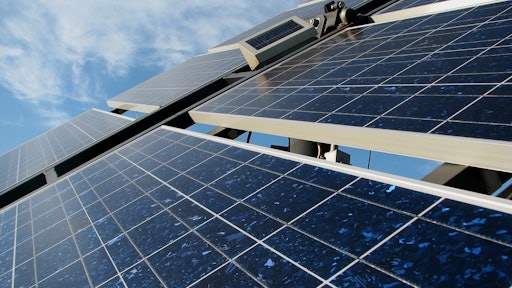 Photovoltaic module (PV) solar installations are steadily proliferating in Jordan, with the residential and commercial rooftop sectors expecting to see a significant rise in 2015, according to planetsave.com, an environmental news website. Already the leader in the Arab world for utility-scale solar PV installations, Jordan also anticipates an additional 200 MW going online in 2015 as many medium- and large-scale solar farms are currently being installed. However, the solar explosion ready to launch in the Hashemite Kingdom of Jordan will best be viewed from the rooftops.
Trina Solar Limited, a Changzhou, China-based provider of photovoltaic modules, recently signed a contract with Fresh Fruits Co., a food storage and logistics company in Amman, Jordan. The 2 MW rooftop solar power plant on the company's stores and warehouses can produce an estimated 3,200MWh every year while preventing around 38,400 tons of carbon dioxide emissions per year.
Under the contract, Trina Solar was responsible for the engineering, procurement and construction of the project, using Trina Solar TSM-PC05A Honey 260 Wp high-efficiency modules. According to a Trina spokesperson, these are especially well adapted to dry and high temperature environments prevalent in Jordan and across the Middle East.
Omar Hashlmon, general manager of Fresh Fruits Co., said, "Our business of operating cold stores is an energy intensive operation. This project will significantly contribute to a reduction in our annual electricity expenditure. It will also be a sound investment for our company due to the expected quick recovery of the initial investment thanks to favorable renewable energy policies enacted by the local government."
To read more, click HERE.