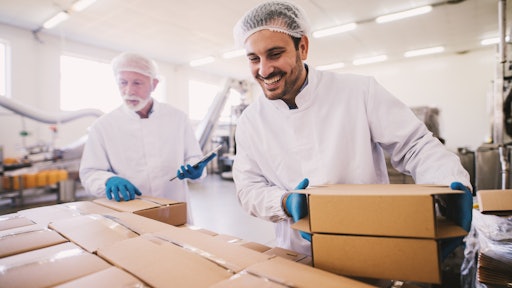 dusanpetkovic1/stock.adobe.com
Foodservice is not exactly a completely different industry post-COVID-19 lockdowns, but many new behaviors, concepts, trends and features are embedded in the sector. These changes, which happened in a faster succession than evolving trends in an industry usually happened due to the pandemic, require third-party logistics (3PL) providers in this area to act differently when it comes to operations and planning.
Heading into the second half of 2022, the foodservice industry sees relief from COVID-19-related restrictions and demand is up, according to a report from International Foodservice Distributors Association (IFDA). However, due to inflation menu prices are higher than ever, and with a possible recession looming, this high demand may slow. In addition, disruptions in the supply chain still continue to cause shortages in various food sectors. And according to a survey from Carl Marks Advisors, supply chains are unlikely to stabilize until at the earliest, the first half of 2024.
Another interesting trend in the industry is the growth of grocery retailers adopting foodservice features inside stores, likely due to customers getting accustomed to takeout during lockdowns and a higher demand remaining post lockdown. This means 3PLs are responsible for controlling shipments of industrial fresh ingredients to stores, restaurants and cafeterias. Last year, a study from the USDA Expenditure Series showed that food sales were exponentially increased, due to pent up demand and planned celebrations, up to $166 billion in July of last year. Today, COVID-19 concerns are even lower. While spending was down to $158 billion in September 2021, that figure still represents a 22% year-over-year increase.
Additionally, plant-based and natural products are more popular in dining, adding significant pressure to perishable shipping. Consumers now care more about the social and environmental ethics in relation to the food they consume as well, which means supply chains need to keep in line with this while handling this greater demand at the same time.
This makes temperature control more important than ever.
"Reefer trucks are being used in creative ways; protecting product from freezing during winter and from overheating during summer," says Elizabeth Goulding, director of CTM operations, Coyote Logistics. "Proper temperature control is critical for many food products, and it's something we work closely with our customers and network carriers to maintain through the shipping process."
Temperature control is key for not only food waste and product loss but also for food safety.
"Bugs and pests are an ongoing variable when it comes to food safety," adds Goulding. "On occasion, we'll see product and even trailers being disposed of if there's even a small potential of infestation. This is primarily done to reduce the risk of spreading that infestation throughout a receiver. On the temperature control side, temp tales are used to track that refrigerated products remained within the appropriate temperature range for the duration of the transit. These steps can help maintain food safety throughout the shipping process."
Changes in capacity
In 2022's first quarter, three of the largest foodservice distributors saw strong sales in addition to positive hiring. According to Foodservice Equipment and Supplies, SYSCO saw 43.6% sales increase up from same time in 2021, while US Foods increased 23.9% in net sales and Performance Food Group jumped a total of 82% in net sales.
The growth that the foodservice industry sees means a change in processes and in capacity for 3PLs and their transportation companies.
"We've seen two major changes," Goulding continues. "The first is that we no longer have 4+ pickups on loads to limit the time any product is on any given trailer. We've also seen that reefer LTL carriers have increased their max weight and cube capacity in order to service more freight. This has been critical in the tight market today."
However, numerous "black swan" events limited capacity in the past two years, while at the same time an expert column from Sleek Technologies by VP of sales Mike Paul shows that refrigerated truckload frigerated truckload capacity load-to-truck ratio has actually decreased from 12:1 to 8:1 year-over-year, confusing thins even more.
Reasons for this are due to production capabilities in key refrigerated markets. For instance, Paul cites the Florida citrus production cut by 3 million boxes and the pork industry in the United States down by 65 million pounds. At the same time, the beef industry is likely to see a jump in production by 195 million pounds. This only confuses the reefer 3PL market even further due to problems with planning and location.
"These fluctuations and decreases will likely end up resulting in additional capacity being available in regions that would otherwise be inundated with loading docks full of products like citrus and pork," Paul says.
Partnership cultivation
The 3PL industry in the foodservice area adopts a few other new trends, according to experts from Food Service Direct, including a few differences between broad players and pure players.
"Traditional broadliners focusing more and more on core SKUs, while Pure players like Food Service Direct balances the operator needs by closing the gap on the slower moving, long tail SKUs," says Mete Gumus, CEO of Food Service Direct. "These slower moving SKUs are processed and shipped centrally from pure player warehouses through parcel or LTL shipments
"Pure players are now offering better payment options vs broadliners," he continues. "Broadliners typically offer 10-15 payment terms or cash on delivery terms. Pure players offer more diversified payment options like 30-day terms, credit card, PayPal or no-interest installment options."
Another interesting popular trend arising in this industry is the growth of business-to-consumer (BTC) type of experience into the business-to-business (BTB) space.
"Operators are used to benefit things like loyalty programs, personalized suggestions, superior customer experience from their personal shopping experience," Gumus adds. "These benefits are now being offered in B2B environment."
It is programs like this that can drive strong partnerships, which is vital in the shipping environment of today where numerous disruptions continue to appear and cause unexpected problems. Gumus also believes that these disruptions push strong growth numbers for centrally operated and flexible pure players, as well as food manufacturers working closer with pure players than three years ago.