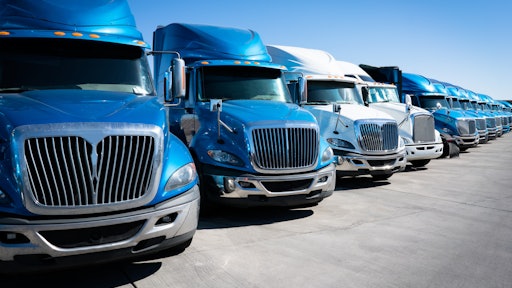 5m3photos/stock.adobe.com
Resiliency seems to be a keyword in today's supply chains, especially for the 3PL sector. While Allied Market Research recorded the global fleet management market as valued at $19.47 billion in 2020 and expects it to climb to $52.5 billion by 2030, a CAGR of 10.6% from 2021 to 2030, this does not mean the industry is free from problems.
It is true; there is significant growth and potential in the industry but continued ups and downs and uncertainty since COVID-19 warns to proceed with caution. Freight rates see continued instability and as of late, are falling. Additionally, the significant increase in fuel prices, especially diesel, which most of the industry runs on, adds stress to fleets. Many smaller fleets also maintain older vehicles and the older a vehicle is, the less fuel efficiency.
Unfortunately, investing in newer fleets and equipment to combat these issues is not as easy as it sounds as well due to the rising manufacturing costs of these products. It now costs companies considerable budget to invest in newer machinery and trucks.
"Just a few years ago, a truck cost $120,000 – today, that same truck costs $160,000," says Chris Orban, vice president and business area manager, supply chain insights at Trimble. "Resources are expensive, and so are people. Not to mention fuel costs, trailer costs, warehouse space and more. It's true that you could potentially do more with more resources, but it's going to be more expensive as well."
Additionally, the steady and extremely high freight demand of last year is not likely to repeat this time around, simply because cultural and supply chain events caused an unusual spike in demand. Unlike traditional slow increases, this was an unprecedented example.
While some may think investing in electric vehicles could solve the problem of higher fuel prices, many small or legacy fleets still use traditional diesel machinery and trucks because of cost and installation problems involved with switching over. It is much easier for big name logistics companies like Amazon to integrate electric and emerging strategies and technologies into their operations.
"There's no question that resiliency needs to be a strategic pillar for any 3PL fleet, but that resiliency doesn't need to come at the cost of a company's financial wellbeing," says Steve Whaley, director of autogas business development with the Propane Education & Research Council. "As fleets consider the resiliency of their energy source, they need to be aware of the upfront and long-term expenses they may face to avoid a costly setback."
Another concern for fleets is the idea of safety. According to GPS Insight, fleets see an average of 4.5 accidents per driver per year, with over a third of those attributing fault to the driver. The top motivation behind the need to address safety concerns was to reduce fleet maintenance costs.
With all these concerns on managers' minds, how do 3PLs stay on top of fleet resiliency today?
Here are the top 5 suggestions from experts in the industry:
1. Know your costs
There are serious fluctuations in the cost of every aspect of fleet operation today. To stay resilient during this pivotal evolutionary period of the supply chain through cost monitoring is imperative. Costs to consider include driver pay, insurance, debt service, fuel, maintenance, working capital financing and much more. Fleet managers must pay attention to next year projections, whether costs are likely to fluctuate up or down and determine what costs are controllable. According to George Thorson, president & CCO at Triumph Business Capital, managers should input information into a cost-per-mile calculation to see what rates can run and still cover other fixed expenses. Then, if possible, negotiate some lanes with a shipper or broker, sign contracts and have a portion of your revenue not subject to the variance of the spot rate market.
"This is the real importance of a resiliency plan — know your costs: cost of driver pay, cost of insurance, cost of debt service, cost of fuel, maintenance, and cost of working capital financing," he says. "Which are going up or down in the next year? What can you control, what can you hold down?"
2. Be flexible
It is vitally important to be flexible in today's logistics environment to stay resilient. There are constant changes in not just prices, but also regulations, best practices and so much more. For 2023, 3PLs must have flexibility in setting contract rates. In the eyes of the shipper, 3PLs benefit unreasonably. While this might not be accurate, due to the large spread between contract rates and spot rates, shippers still want a payback and want to be sure they are not being price gouged during a tough time.
"Competition will be fierce," says Thorson.
3. Build a network of trusted partners
One of the keenest best practices to come out of the worst parts of the lockdowns from COVID-19 and further Black Swan events was the need to build a network of trusted partners. For both shippers, carriers and 3PLs, when times were constrained, companies went to the partner company they trusted most. 3PLs can learn from this today and create a strong partnership network to last eternally, not just for the pandemic.
It can be tempting to post all loads and on a load board for the lowest bid. However, this leaves open opportunities for carriers with lower standards, safety practices and other risks that create potential backlash. Double-brokering is also apparent today. 3PLs that know their carriers well have less of a chance of getting re-brokered, according to Thorson.
4. Have a plan – find inefficiencies
Data and analytics are extremely effective for 3PLs today. For resiliency efforts, companies should have a clear plan and tap data to find inefficiencies that may cause greater overhead, open operations up for numerous issues and slow down output without even being aware. This is even more important in the food industry as products can easily spoil with added hidden obstacles.
"This data is absolutely critical in the cold chain to ensure food safety, and in a connected supply chain, we can ensure that a perfectly good load of produce is meeting all temperature requirements during transit and doesn't end up sitting in a trailer or at a dock for a moment longer than it needs to," says Orban.
"3PLs should be planning now to find ways to capture this data and work toward a willingness to share information and connect data between their partners," he adds. "As an industry, we are inefficient, and I think most of us are willing to admit that. So instead of being competitively inefficient, let's find ways to be cooperatively inefficient and find ways to work together to be more efficient. There's plenty of margin on all sides to go around."
New communication tools and data analytics make true visibility in operations more real than ever, which is vital for resiliency. It is important to tap data and communication tools to better bridge gaps in the transportation area. For instance, working through these tools to ensure the warehouse is ready to receive at the very same time the delivery driver arrives. GPS, sensors and even messaging can work to bridge these gaps.
5. Don't just buy more things
Last year, profits were at a record high due to unprecedented demand. For many shippers, 3PLs and transportation companies, it was difficult to keep up with that demand. For those struggling with how to maintain quality and output at the same time, it seemed that the answer was to buy more equipment, add to fleets, etc. However, buying more equipment for the sake of it will not automatically solve the labor problem and other operational issues. Also, the record high of profits from last year was likely due to black swan events due to current events. While the cold chain space is expected to remain high in demand, that unique spike in demand from the past year is just that; unique. Transportation operations who are quick to invest in adding to a fleet may see extra overhead soon when demand slows.
In years past, this was the traditional method of planning, simply by adding more physical resources such as more refrigerated trailers, trucks, generators and other equipment. However, it is imperative to make informed decisions today, especially with so many resources at managers' fingertips that give insight to important questions.
"Perhaps you do need more trucks, or to build larger warehouses, but it's worth taking a step back to ask if that actually solves your problem," says Orban. "If you buy more trucks, do you have enough drivers to take them where they need to go?
"In our current environment where 'stuff' and labor are harder to come by, there is a trend in thinking toward increasing efficiency and a focus on removing friction points versus simply adding more 'things' to the equation," he adds. "Supporting better connectivity, transparency and data-sharing with your partners – and even competitors – can help bolster fleet resilience in meaningful ways.
"For example, instead of relying on a particular warehouse as your sole distribution point, perhaps a 3PL should build partnerships with other organizations or think about setting up a more regional supply chain."
For true longevity and resiliency in the supply chain, 3PLs need to focus on the future while keeping an eye on today. The more you know, the more you can prepare. This makes a modern strategy vital in today's modern world.
It will always be incredibly important to budget correctly and have a clear view of costs and projections as well as contingency for fluctuations in those costs. Because these costs as well as processes are often in such flux, agility is also key, combined with a network of reliable partners to make that flexibility possible.
Through the use of data, it is now possible to truly find inefficiencies in operations to better prepare for the future and hold up against the unexpected. And, honing that information to budget for truly useful business additions instead of simply adding more physical resources in the hopes to keep up with demand will be vital.