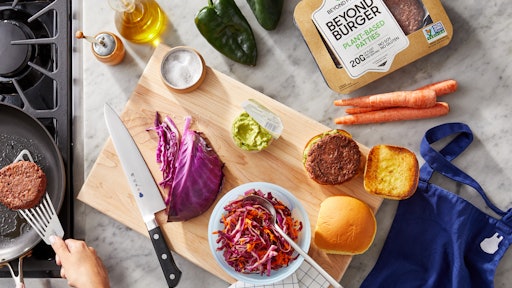 Blue Apron
Alternative meat lovers rejoice, Blue Apron will begin offering Beyond Meat options in its recipes in August.
The meal kit company will start offering Beyond Meat recipes in its signature two-serving plan starting next month with summer burgers. Consumers can begin placing orders for the new recipes now through the company's website and mobile app.
"We know a growing number of customers are interested in plant-based proteins, whether as an alternative to meat, a desire to explore a new ingredient, or an opportunity to make more sustainable food choices," says Linda Kozlowski, Chief Executive Officer, Blue Apron. "We are proud to introduce Beyond Meat products to our menu, beginning with its flagship Beyond Burger. Blue Apron recipes are designed to evoke a sense of discovery and, as a meal kit partner, we have a unique opportunity to teach our customers how to cook a wide variety of cuisines with plant-based protein."
The first Blue Apron x Beyond Meat recipes will feature Beyond Meat's new, meatier Beyond Burger, a four ounce patty with 20 grams of plant-based protein that contains no GMOs, soy, or gluten. Recipes include Caramelized Onion & Cheddar Beyond Burgers with Garlic Green Beans the week of August 19 and Jalapeño & Goat Cheese Beyond Burgers with Corn on the Cob the week of August 26. Blue Apron will continue to feature Beyond Meat products on future menus as part of its commitment to bring home cooks a diverse selection of ingredients, flavors, and cuisines.
"We love delighting our customers with distinct flavor combinations and new ingredients to make home cooking memorable and fun," said John Adler, Vice President, Culinary, Blue Apron. "Our first two Blue Apron x Beyond Meat recipes were inspired by our most popular burgers, using the Beyond Burger as well as seasonings, sauces, and produce that put an interesting twist on this classic summer meal. We look forward to bringing home cooks more recipe creations that feature Beyond Meat's innovative and delicious products."