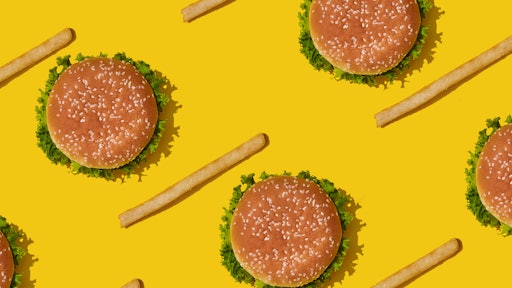 Case shipments of plant-based protein from broadline foodservice distributors to foodservice operators increased by 20 percent in the year ending November 2018 compared to year ago with all Census regions showing double-digit growth, reports The NPD Group. The West Census Region represents the most planted-based volume and case shipment growth followed closely by the South Census region.
About a quarter of the U.S. population claim that they eat and drink plant-based beverages and foods as well as animal protein on a regular basis as it is perceived to be better for you. There are also plant-based fans who have concerns around animal welfare and they want to know how products are brought to market.
Burgers represent the largest plant-based foodservice category and have year-over-year double-digit growth in pounds shipped to foodservice operators. Although plant-based burgers are popular across demographics, an analysis done with NPD's receipt mining service, Checkout, shows that smaller, more affluent ($100,00 and up) households are the top buyers of plant-based burgers.
"Plant-based proteins are no longer just a meat replacement, it's now its own category," says David Portalatin, NPD food industry advisor and author of Eating Patterns in America. "It's possible that protein overall is evolving into a category, whether animal meat, beans, nuts, soy, wild game or other proteins, in forms ranging from beverage to center-of-plate."