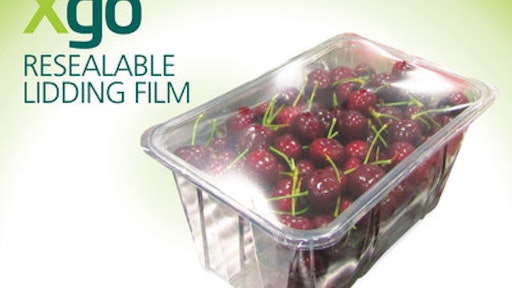 StePac is joining forces with Israel-based company Tadbik to produce the next generation of modified atmosphere resealable lidding film. The technology will extend the shelf lift of fresh cherries in aesthetic and functional retail packaging as well as reduce waste.
Tadbik created "FreshLid," a laminated film structure that is sealed to trays, during the collaboration. FreshLid enables users to repeatedly peel back for reuse. The companies used the collaboration to develop suitable condensation control properties and control film permeability to deliver optimal modified atmosphere compositions for high value fresh produce items. The packaging will be marketed under Stepac's leading retail brand, Xgo.
The packaging design effectively slows respiration and the ageing processes, and controls humidity inside the packaging and extend fresh produce shelf life.
"Successful implementation of MAP requires a holistic approach that includes an understanding of post-harvest pathology, produce physiology, cold-chain logistics and the interaction of each of these factors with packaging design," explains Gary Ward, technical development manager for StePac.
The lidding film technology provides benefits such as preserving freshness and flavor during long sea shipments, prolonging shelf life in stores and at home and maintains attractive packaging design throughout multiple uses.