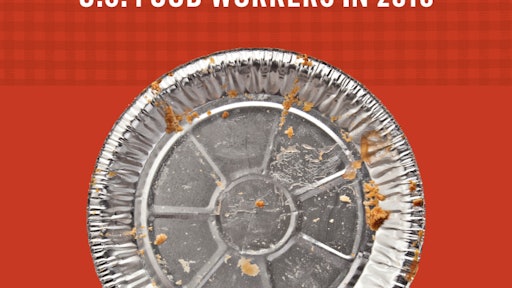 A new report entitled "No Piece of the Pie: US Food Workers in 2016," co-authored by the Food Chain Workers Alliance and Solidarity Research Cooperative indicates that despite gains in the food industry sector in recent years, there's still much work to be done particularly in the realm of fair labor practices.

The report was based on national data from the US Bureau of Labor Statistics and the US Census Bureau, as well as current discussions in academic and policy literature. It found that the food industry — the largest employment sector in the nation — also contains the greatest portion of its poor. Research for this report also included original in-depth interviews with 20 food workers across all five sectors of the food chain from member organizations of the Food Chain Workers Alliance.

No Piece of the Pie notes that the food industry has grown steadily in this country even through the Great Recession. But despite this robust growth, the median wage rose only $0.20 in the past four years. Thirteen percent of all food workers, from farm laborers to farmers' marketeers to coffee baristas, are on food stamps — more than twice the rate of any other industry. Meanwhile, the food industry's CEOs make about six times as much as its frontline workers — and in some cases much more. For instance, Starbucks CEO Howard Shultz made $336 million between 2009 and 2013.
To read more, click here.