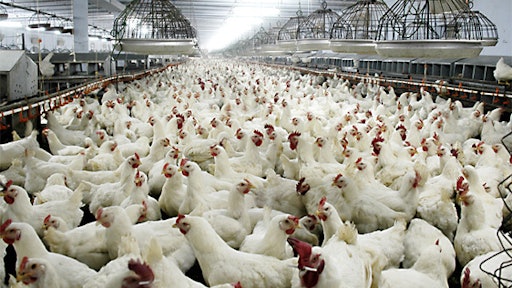 A food distributor claims in an antitrust class action that Koch Foods, Tyson, Perdue and others have conspired for eight years to reduce chicken production, pushing up the price of broiler chickens by nearly 50 percent, according to Courthouse News.
Maplevale Farms, a New York food distributor, also sued Pilgrim's Pride, Sanderson Farms and others, on September 2 in Chicago Federal Court.
Maplevale claims that since 2008 the wholesale price of broiler chickens has risen by nearly 50 percent while feed prices have dropped more than 20 percent — and not because of a free market.
"(B)eginning at least as early as January 2008 defendants conspired and combined to fix, raise, maintain, and stabilize the price of Broilers," Maplevale says in the 113-page lawsuit. "The principal (but not exclusive) method by which defendants implemented and executed their conspiracy was by coordinating their output and limiting production with the intent and expected result of increasing prices of broilers in the United States."
Broilers account for 98 percent of all chicken meat sold in the United States, and the defendant companies control 90 percent of the market, Maplevale says.
"Historically, the broiler industry was marked by boom and bust cycles where, in response to rising prices, producers increased production, which caused an oversupply and resulting decrease in pricing. However, that market pattern changed markedly in 2008," according to the complaint.
Unlike prior production cuts, Maplevale says, in 2008 "defendants cut their ability to ramp up production for 18 months or more by destroying broiler breeder hens in their broiler breeder flocks responsible for supplying the eggs defendants raise into broilers. This destruction of the broiler breeder flock was unparalleled and the consequences continue to reverberate in the broiler industry to present day."
Poultry breeders faced a similar antitrust complaint in the 1970s, when major producers set production levels and prices for broilers in a weekly conference call.
Modern technology makes price-fixing possible without phone calls.
"Producers now electronically transfer vast amounts of production data to Agri Stats which, while supposedly anonymous, in fact provide defendants with sufficient detail to determine with reasonable accuracy producer-level data on production, cost, and general efficiencies. This permits the defendants to share, on a weekly and/or monthly basis, their confidential production and pricing information, including forward-looking production information, which is easily forecasted on broiler breeder flock data that is reported and shared," the complaint states.
To read more, click here.