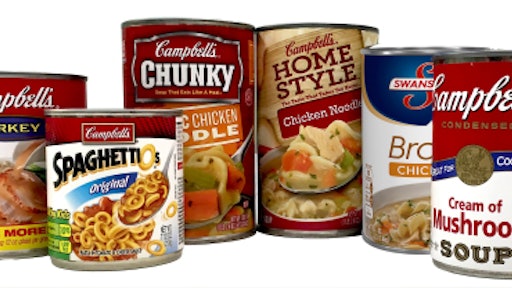 Campbell Soup Co. said Wednesday it plans to use only antibiotic-free chicken in its products, but acknowledged the change won't come quickly, according to The Courier Post in Cherry Hill, N.J.
The shift "will be implemented over the next few years," said the producer, which uses tens of millions of pounds of chicken annually.
"We won't allow antibiotics to be added to the feed, water or any commercial vaccines used by any of our chicken suppliers," said company spokesman Thomas Hushen. "We're working with our suppliers to develop a stable, sustainable supply chain."
Campbell President Denise Morrison said the planned change reflects a "real food philosophy" at Campbell, which has previously vowed to remove artificial colors and flavors from North American products by year-end 2018.
The firm also has backed mandatory national labeling of products that may contain genetically modified organisms, or GMOs.
"We believe real food should be made with recognizable, desirable ingredients from plants or animals," Morrison said during a presentation on the firm's Investor Day.
In other areas, Campbell said it's pursuing a "rapid innovation process to develop new Campbell Fresh products with the speed and flexibility of a startup. The first such product, a non-dairy milk made from pea protein, is to be marketed by early next year as Bolthouse Farms Plant Protein Milk.
The company also expects to expand store offerings "in the faster-growing health and well-being space" and to pursue a strong snacks market, "particularly in Asia."
It said Campbell would "increase the frequency and penetration of its iconic (snack) brands in their home markets – Goldfish in the U.S., Kjeldsens in China and Tim Tam in Australia – while introducing and expanding into new geographies."
Campbell also said it now expects net sales to decline by 1 to 2 percent over its fiscal year, in part reflecting the impact of a recent recall of Bolthouse Farms protein drinks. It previously expected net sales to stay flat or fall by 1 percent.
The company maintained its previous outlook for growth of 11 to 13 percent for both adjusted earnings before interest and taxes and adjusted earnings per share.
To read more, click here.