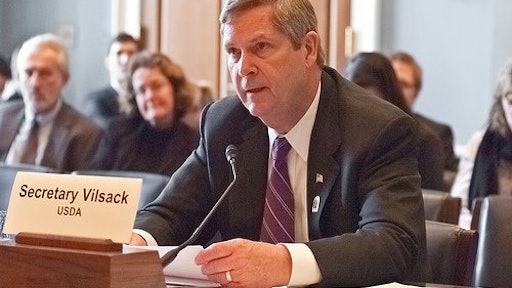 U.S. Agriculture Secretary Tom Vilsack called for a mandatory GMO labeling rule at the Organic Trade Association's annual policy summit, according to Bloomberg. In the absence of Congress creating a national standard for labeling products made from genetically modified organisms, a flawed, de facto system has cropped up, Vilsack said.
After a Senate bill establishing a voluntary labeling system fell short in March, companies including General Mills, Inc. and Kellogg Co. began labeling products on their own.
"The consumer can be easily confused because everybody might do it slightly differently and there's no standard," Vilsack said. He called for Congress to pass a national labeling bill so that consumers can better choose between products made from organic or larger-scale, traditional farming methods.
A mandatory labeling law is set to go into effect July 1 in Vermont, which could spark other states to enact similar rules. Most mandatory labeling backers and voluntary labeling backers say that a state-by-state, patchwork system would generate confusion and unnecessary costs, but so far lawmakers haven't been able to bridge the gap between the two policy positions.
To read more, click here.
Editor's Insight: Food Logistics reported last week that the National Academies of Science, Engineering and Medicine has found — based on 900 studies and reviews of the disease data out there — that there is no evidence of human health effects from the embrace of genetically modified crops. Nevertheless, many people remain skeptical about the safety of food containing GMOs, which is why food processors have begun labeling products containing GMOs and why states are proposing their own GMO labeling rules.
The food industry needs to focus on the bigger picture. A patchwork of voluntary labeling programs and state laws will incur significant costs to the food industry. The Grocery Manufacturers Association has already incurred costs trying to stop the Vermont GMO labeling law that is scheduled to take effect in July of this year.
A nationwide rule will also make it easier for supply chain service providers to collect and manage label data. 5-27-16 By Elliot Maras