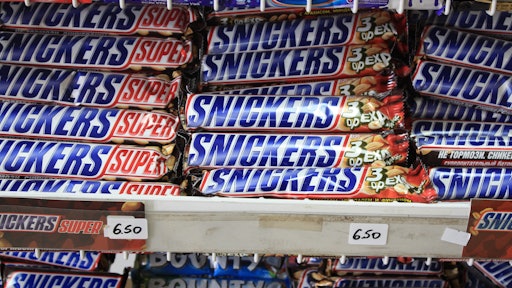 Kellogg Co. and Mars, Inc. have joined General Mills in announcing plans to begin labeling products that contain genetically modified ingredients, according to Food Business News.
Mars, Inc., McLean, Va., said it will introduce "clear, on-pack labeling" on its products that contain genetically modified ingredients nationwide, in accordance with Vermont's mandatory GMO labeling law that takes effect in July. Mars' brands include M&M's, Skittles, Snickers, Twix, Dove, Combos and Uncle Ben's.
"We firmly believe G.M. ingredients are safe," the company said in a statement on its web site. "Food developed through biotechnology has been studied extensively and judged safe by a broad range of regulatory agencies, scientists, health professionals, and other experts around the world."
Battle Creek, Mich.-based Kellogg released a statement to Food Business News revealing plans to label products to be sold nationwide as "Produced with Genetic Engineering" as early as mid-April, in order to comply with Vermont's labeling law, "until a federal solution is reached." Kellogg's brands include Froot Loops, Special K, Cheez-It, Pop-Tarts, and Pringles.
"At Kellogg, we strongly believe in transparency, and that people should know what's in their food and where it comes from," said Paul Norman, president, Kellogg North America. "We continue to strongly urge Congress to pass a uniform, federal solution for the labeling of G.M.O.s to avoid a confusing patchwork of state-by-state rules...
"Transparency is more than just a label, and we have invested in many ways to make it easy for consumers to find information about our food. Most recently, we launched OpenForBreakfast.com where consumers can ask questions about our food — including whether a particular product contains G.M.O. ingredients."
To read more, click here.