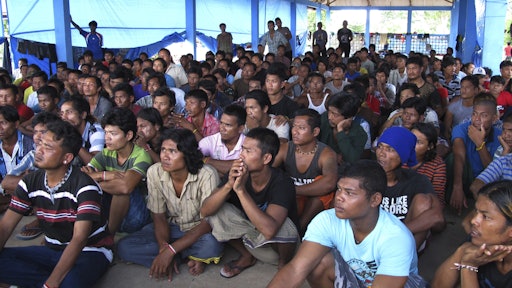 Nestlé SA has confirmed migrant workers, lured by false promises, are forced to catch and process fish that ends up in the supply chains of its global food business, according to The Star in Toronto, Canada.
Impoverished migrant workers in Thailand are lured by false promises or sold and forced to catch and process fish that ends up in the supply chains of Nestlé SA, a global food business. The unusual disclosure comes from the company itself.
In an act of self-policing, the company planned to announce the conclusions of its year-long internal investigation on Monday.
The study found virtually all U.S. and European companies buying seafood from Thailand are exposed to the same risks of abuse in their supply chains.
Nestlé SA launched the investigation in December 2014, after reports from news outlets and nongovernmental organizations tied brutal and largely unregulated working conditions to their shrimp, prawn and Purina-brand pet foods. Its findings echo those of The Associated Press in reports this year on slavery in the seafood industry which have resulted in the rescue of more than 2,000 fishermen from it. The company said it would take action to correct the problem.
To read more, click HERE.
Editors Insight: The global food supply chain leaves all players exposed to problems of unfair labor conditions. Nestle SA had no choice but to act on these reports. The food industry faces more scrutiny than ever by governments and the public at large over its practices. Vulnerabilities include unsafe food and animal cruelty in addition to unfair labor practices.
The vulnerabilities are not confined to the companies directly involved.
For those companies in the global supply chain that are not aware of these problem, don't expect the public to accept ignorance as an excuse.
Companies in the food supply chain can do their part to correct these problems. There are various organizations working to end unfair labor practices.
Such organizations include the Food Empowerment Project, EndSlaveryNow.org, Antislavery.org and Fair Trade USA. 11-24-15  By Elliot Maras