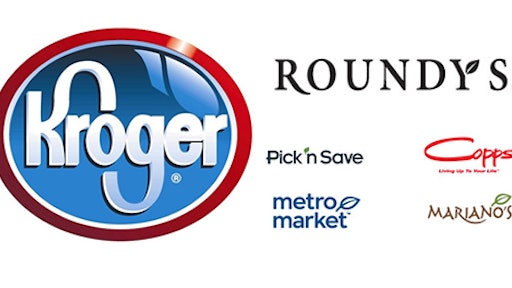 The Kroger Co. and Roundy's, Inc. announced a definitive merger agreement under which Kroger will purchase all outstanding shares of Roundy's for $3.60 per share in cash. The purchase price is estimated at around $800 million, according to Supermarket News.
The transaction price represents a premium of approximately 65 percent to the Roundy's closing share price on Nov. 10, 2015. The terms of the agreement were unanimously approved by the boards of directors of both companies.
The transaction is not subject to any financing conditions.
"Mergers for Kroger always involve both parties bringing something to the table," said Rodney McMullen, Kroger's chairman and chief executive officer. "We admire what Bob Mariano has done with the Mariano's banner in Chicago, where he has created an urban format that is resonating with customers and we expect to apply Roundy's experience to our stores in urban areas around the country. Kroger's scale and strong financial position will enable Roundy's to reinvest in its home state of Wisconsin while continuing to grow in Chicago. Together, we are committed to investing in Roundy's people, communities, stores and merchandising to deliver a fantastic customer experience that will create opportunities for associates, grow customer loyalty and revenue, and create value for shareholders."
Roundy's brings to Kroger an expanded footprint with a complementary base of 151 stores and 101 pharmacies in new geographies including Milwaukee, Madison and Northern Wisconsin, which are served under the Pick 'n Save, Copps and Metro Market banners. The merger also expands Kroger's presence with an innovative store format in the Chicagoland area, where Roundy's operates 34 stores under the Mariano's banner. Roundy's also operates two distribution centers in Oconomowoc and Mazomanie, Wis., and a commissary in Kenosha, Wis. Roundy's had revenues of nearly $4.0 billion for fiscal year 2014.
Editors Insight: This merger will strengthen Kroger Co.'s competitive position in the Midwest and points to the continuous consolidation of food retailing and the expansion of retail technology. Economies of scale have become increasingly important to the food and beverage industry as operating costs rise and companies need to invest more in automation and technology to remain profitable long term.
Look for Kroger to continue to expand its e-commerce initiative as it faces growing competition from Walmart and Amazon.
Kroger continues to innovate with food retail technology. The company recently introduced CheckList, a service that helps customers make their shopping list online and pick it up at the store without leaving their vehicles.
Another technology innovation it introduced is Checkout, which uses a scanning tunnel to read images of grocery items on the conveyor belt, according to a recent report in The Dayton Daily News.
Supply chain service providers need to be on top of the latest technologies if they want to partner with the top food and beverage retailers. 11-11-15 By Elliot Maras