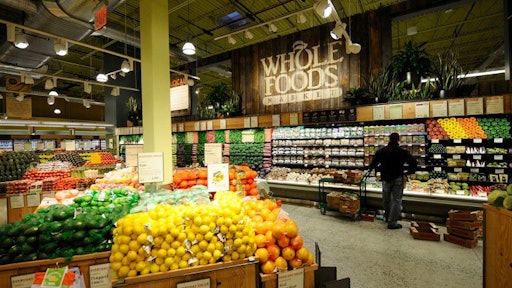 Whole Foods will no longer sell food made by prisoners, according to CNN.
The grocery chain announced the change after customers complained, saying that they were uncomfortable with the fact that products were being made with inmate labor.
Whole Foods said all such products will be off its shelves by April 2016 – at the latest.
Prison laborers produced items such as farmed tilapia, goat cheese, and farmed trout. The products were sold in stores across the country.
"We want to make sure we are in tune with our customers' wishes," a spokesman said.
Whole Foods worked with a company called Colorado Correctional Industries to source local products and ingredients. The partnership began in 2011.
http://money.cnn.com/2015/09/30/news/whole-foods-prison-labor/
Editors Insight: It isn't easy being on top in the age of heightened transparency. Whole Foods has grabbed a leadership position in the food industry by making healthy food available to consumers. The company has made its fresh and healthy food accessible to consumers by partnering with Instacart and reportedly saving consumers $1 million in one year.
But the same technology that has allowed the company to take a pioneering role has left it susceptible to unforeseen levels of public scrutiny. Every misstep makes the headlines.
Earlier this summer, the company faced a serious consumer backlash when the New York Department of Consumer Affairs found some customers were overcharged because packages were labeled with incorrect weights.
The prison labor program was an attempt to support prisoner rehabilitation and was intended to demonstrate good corporate citizenship, not take advantage of prison labor.
The prison labor program wasn't the first well intentioned program that brought criticism. Earlier this summer, Whole Foods introduced an organic rating program called Responsibly Grown, an effort to improve the credibility of products labeled as organically grown. Rating programs are fraught with complexities, and this program drew criticism from farmers who believed the methodology was misleading.
It's tough being on top in a changing business environment. As a pioneer, Whole Foods is learning some lessons that could make it a stronger company. It also provides an opportunity for other companies – including its competitors – to learn. 10-1-15 By Elliot Maras