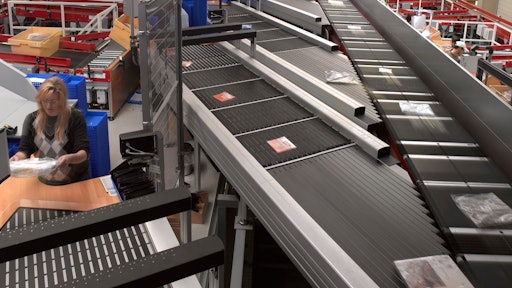 The BEUMER Group has been one of the world's leading suppliers of sorting and distribution equipment since well before the acquisition of the Danish company, Crisplant a/s.
In Booth E53 in Hall 3, the company group will be demonstrating its comprehensive expertise in fully automatic sortation systems, such as the BEUMER BS 7 BT Cross-Belt Sorter, the Double-Density Tilt-Tray Sorter and the Crisplant LS-4000 High-speed Loop Sorter.
These are used throughout the world in postal and distribution centers and enable goods to be sorted quickly and gently. This is ensured by their rapid availability and thus provides a high level of benefit for the user.
At the same time, these sorting systems have low maintenance requirements. Both the cross-belt and the tilt-tray sorter are extremely energy-efficient.
BEUMER develops belt conveyors for the conveyor and loading equipment sector which are used for transporting different types of bulk goods, even over long distances and often impassable terrain. In the palletizing and packaging technology sector, visitors will find out more about the paletpac high-performance layer palletiser which palletizes bags filled with bulk materials.
The geometrical accuracy and stability of the palletized stacks enable them to be stored without any problems and ensure that they are safely integrated into the downstream BEUMER stretch hood packaging system. This packaging solution is deployed in many different sectors - for example in the beverage and foodstuffs industry as well as in the building materials, electronics and pharmaceutical industry.
They can also be used for the final packaging of animal feedstuffs and fertilizers as well as in distribution centers for mixed picked goods for the retail trade.
For further information, click HERE.