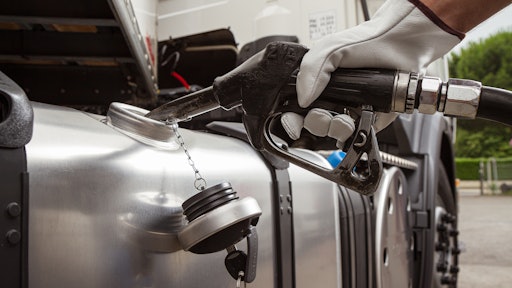 Cedric TOSONI AdobeStock_271218851
Fleet-wide average fuel economy from fleets were flat at 7.24 MPG from 2018 through 2021, after 7 consecutive year-over-year increases averaging 2%, according to the North American Council for Freight Efficiency (NACFE) Annual Fleet Fuel Study (AFFS).
The average MPG of the nation's fleet also rose from 5.98 MPG to 6.24 in the last 3 years.
"This is a significant improvement and has helped the operators of the 1.7 million tractors operating in the U.S. reduce their fuel costs," says Mike Roeth, NACFE's executive director.
From North American Council for Freight Efficiency (NACFE):
The 15 fleets in the AFFS operating 75,000 trucks saved $540 million in 2021 compared to the average trucks on the road.
Over the course of the study, five fleets have had adoption rates of more than 50%, as defined in this report, while 11 have been between 40-50%. It is important to note that no fleet could adopt all technologies on a single tractor-trailer combination, as some are "competing" solutions for a single function. The maximum adoption by a fleet would be around 65%, depending on the set of technology combinations.
The fleets in this year's study range from having about 22-59% of the available technologies in use on their tractors and trailers.
Throughout 2021, the price per gallon for diesel skyrocketed to an all-time high of $5.81 on June 20. For a point of reference, using a cost of even $5 per gallon and 7 MPG driven over an annual amount of 100,000 miles, the cost to fuel one tractor-trailer for a year would be more than $70,000. A new tractor might cost $150,000, so that tractor will spend in fuel the complete cost of the tractor in its first two years of use.
"Increasing fuel efficiency is a definite sustainability action taken by fleets today. They don't have to wait to deploy zero-emission trucks to make a difference," Roeth adds. "Given today's high fuel prices, the study findings are particularly relevant and should help fleets make the right decisions on adopting technologies and practices that enhance freight efficiency."
"In addition, we believe many of these technologies and practices will transfer to alternative-fueled vehicles where they will help extend range," says Yunsu Park, NACFE's director of engineering and the report's author.