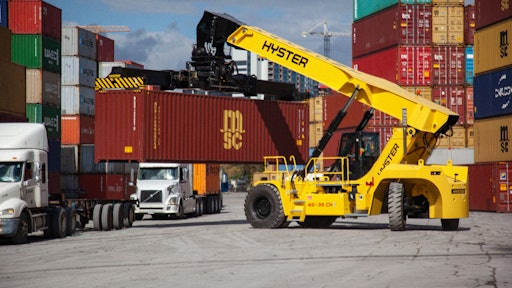 Hyster Company
Around the world, governments are pledging new commitments to reduce greenhouse gas (GHG) emissions by transitioning a greater share of energy consumption to renewable sources. In the United States, the federal government aims to cut GHG emissions from 2005 levels in half by 2030. Across the Atlantic, the European Union has set rules to achieve at least 32% renewable energy by the same deadline.
These bold targets impact port terminal operations worldwide, particularly because supply chains are an important focus area. According to the EPA, supply chains often account for more than 75% of an organization's GHG emissions. For ports to fulfill their part in meeting emissions reduction goals, they need the right power technology and the infrastructure to support it.
Zero-emission container handling equipment is emerging as a real option to help terminal operations reduce their carbon footprint without sacrificing performance.
Performance. Electric power technologies are available with the performance and charging capability to work effectively in heavy-duty applications.
Reliability. Electric drivetrains have fewer components and less complexity than combustion, offering similar or better reliability with reduced maintenance.
Infrastructure. Governments and businesses are embracing electrification as a solution for emissions-reduction and are investing in the necessary infrastructure to support it.
The move toward clean power makes more sense than ever. But, before transitioning away from tried-and-true internal combustion engines, it's important to consider all the variables that impact the viability of electrification for your operation.
Advances in electrification
Going electric was once synonymous with lead-acid batteries. While lead-acid is a time-tested technology with a low acquisition cost, a much more diverse range of electric options is now available, offering performance and a business case that is stronger than ever.
High-capacity applications in port terminals have long relied on the exceptional durability and consistent power delivery of internal combustion engines. But, now lithium-ion batteries provide an electric option capable of delivering the diesel-like performance terminal operations require – a major step forward from lead-acid batteries.
Why are lithium-ion batteries capable of providing the performance heavy-duty applications require? High-capacity trucks require a high energy draw, something lithium-ion technology can not only tolerate, but tolerate without overheating or dropping in efficiency. Compared to lead-acid batteries, lithium-ion offers far greater energy density, power transfer and service life.
Heavy-duty applications have options
Flexibility, choice and a wide variety of configurations are critical to implementing a zero-emission solution that meets both business needs and corporate responsibility goals.
Fortunately, ports have more choices than ever, with the emergence of solutions to electrify a large array of applications and capacities. For example, heavy-duty forklifts with load capacities as high as 36,000 pounds (18 tons) are now offered with factory integrated lithium-ion power – no aftermarket, third-party retrofit necessary.
From fully integrated lithium-ion power to hydrogen fuel cells, electric solutions are powering higher-capacity equipment –including container handlers. In fact, two options of electric laden container handlers and reach stackers are in development to provide performance that meets the needs of a range of port applications.
Option 1. Large lithium-ion battery with choice between conventional and opportunity charging, medium-duty cycle.
Option 2. Hydrogen fuel cell in combination with lithium-ion battery, choice between conventional and opportunity charging, heavy-duty cycle (operate full day without refill).
Regarding the hydrogen fuel cell technology mentioned above, this zero-emissions laden container handler is being developed with the support of a grant awarded by the California Air Resources Board (CARB). The hydrogen fuel cell and a large lithium-ion battery work together, with hydrogen providing a readily available energy supply to keep the lithium-ion battery charged during operation and avoid the need for high-capacity electric charging infrastructure. The truck can operate for long stretches between hydrogen re-fueling, which supports the high-power consumption and irregular break periods common in port operations. Matching performance to operational requirements in this way can expand the possibilities for electric power adoption and help enable further progress toward emissions reduction.
Clean power adoption gets even better
Electric options can reduce fuel and maintenance costs through greater energy efficiency, providing longer uptime and requiring less maintenance than internal combustion alternatives. But, the business case does not stop there.
Terminals considering the shift to electric should investigate grant and incentive programs available to help offset the acquisition costs of electric trucks, chargers and even infrastructure upgrades. Programs vary by location, but with more governments embracing electrification to meet emissions reduction goals, exploring grants, tax incentives and carbon offset credits can bring meaningful savings.
Taking your operation electric
Power sources wield a major effect on port operations every day. It goes beyond sustainability – power sources influence the utilization and efficiency of workers, operational space, time and more. Ports depend on mission-critical equipment to be reliable day-in and day-out, playing critical roles helping unload containers as soon as they arrive. But, lengthy charging processes and frequent equipment downtime or disruption can add up to bottlenecks that snowball into costly delays.
Advanced electric options like lithium-ion batteries and hydrogen fuel cells deliver on long-term value and total cost of ownership, helping reduce emissions and maintenance costs while boosting performance and efficiency. But, delivering on that promise requires the right partner. The combination of industry experience and expertise in emerging electric motive power options, including associated infrastructure requirements, can help ports navigate the myriad variables to find the container handling solution that matches both sustainability and operational goals.