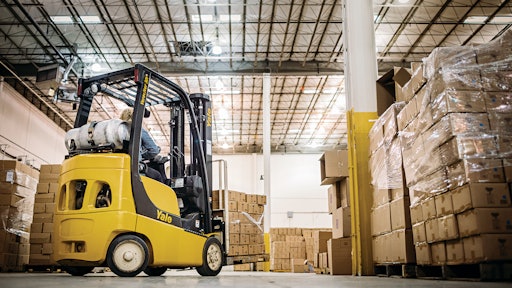 Propane Education & Research Council (PERC)
Supply chains contribute significantly to a company's carbon footprint. In fact, carbon emissions in supply chains are, on average, four times those of a company's direct operations. Reducing the carbon footprint of food and beverage supply chains is a win for the company, the end consumer, and ultimately, the environment.
As professionals in the food and beverage supply chain look to implement more sustainable practices, they should consider the equipment used to move materials—and the energy sources that power it—as they have a radical impact on a company's sustainability efforts.
Whether powering forklifts or delivery vehicles, propane offers a clean, versatile energy solution for professionals throughout the supply chain, helping to reduce emissions on loading docks, in warehouses and even in surrounding communities.
And, with propane, a cleaner fleet doesn't have to come at a higher cost. When done right, companies can see significant cost savings as a result of emission reduction activities. Here are a few propane-powered technologies to consider adopting in order to improve environmental and economic performance.
Forklifts
Behind any productive warehouse operation is likely a forklift fleet used for unloading and moving materials day in and day out. Powering material handling equipment with propane is one way for warehouse and facility managers to adhere to sustainability goals while remaining productive.
Propane is a clean, low-carbon alternative energy source that produces significantly fewer emissions than diesel and, surprisingly, even fewer total emissions than electric. Material handling professionals making the choice between electric and propane-powered equipment often rely on the fact that electric equipment produces zero emissions during operation but tend to overlook its full emissions profile.
Site-to-source emissions for electric forklifts include all the emissions created during the generation and distribution of electricity, as well as the emissions produced in the production of electric batteries. And, because the Environmental Protection Agency (EPA) considers electric batteries a hazardous material, crews can't simply dispose of them without severely impacting the environment. Plus, propane forklifts produce up to 76% fewer sulfur oxide (SOx) emissions than electric forklifts, according to an emissions analysis conducted by the Propane Education & Research Council (PERC) and the Gas Technology Institute.
The same study revealed that propane forklift engines can produce up to 94% fewer hydrocarbon and nitrogen oxide (NOx) emissions compared with diesel engines. Additionally, operating propane equipment results in cleaner air for crews, whereas diesel equipment has proven to irritate respiratory issues among employees and the World Health Organization identifies diesel exhaust as a known cancer-causing carcinogen. Because of their low-emissions operation, propane forklifts can work safely indoors (in properly ventilated environments) and outdoors as the distribution center continues to change.
Delivery vehicles
Once the materials leave the distribution center, businesses can also rely on propane as a clean energy source to power delivery vehicles. Propane autogas—the name for propane when it is used in a vehicle application—is an ideal energy source for medium-duty fleets that want to go green, but also need to consider range, payload and torque. Propane autogas offers fleets a range up to 400 miles per day and performance that can match gasoline- or diesel-fueled vehicles.
Similar to forklifts, fleet owners looking to reduce emissions with either propane autogas or electric vehicles should evaluate the site-to-source emissions of their energy source, not just what's happening at the tailpipe. In fact, a recent study from the PERC found propane-powered medium-duty vehicles (up to class 7) provide a lower carbon footprint solution in most of the United States when compared to medium- and heavy-duty EVs that are charged using the electric grid. When comparing the life-cycle equivalent carbon dioxide (CO2eq) emissions of a single medium-duty vehicle, propane autogas on a national average emits 125 tons of CO2eq less than an electric medium-duty vehicle.
In addition to being a low-carbon energy source, today's propane autogas ultra-low NOx engines are 90% cleaner than EPA standards and reduce NOx emissions by 96% compared to the best-in-class clean diesel engine. The energy source also offers near-zero particulate matter emissions, which are known to affect lung health.
Not to mention, propane autogas is also affordable, and reduces more emissions per dollar than any other energy source. When you factor in the cost of a new vehicle and the costs for fuel, fluids, maintenance and repairs, propane autogas has the lowest cost of any energy source for the lifetime of the vehicle, making achieving these significant emissions reductions attainable for delivery fleets.
Click here to hear more about renewable energy in the supply chain: