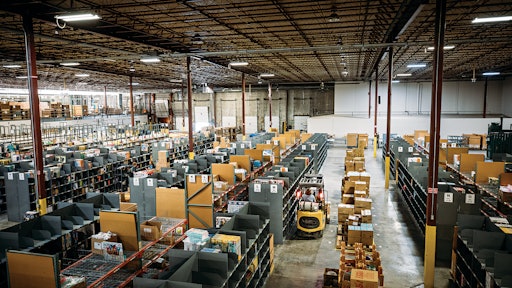 Propane Education & Research Council (PERC)
Maintaining a sustainable food chain both upstream and down comes with a host of challenges and opportunities. On one hand, doing so protects people, product and plant, reduces waste, encourages a green economy and ensures the freshest of foods are transported in the safest, most efficient manner possible. Plus, it's just good business practice.
On the other hand though, an aging infrastructure, a rise in grocery e-commerce and an influx in globalized sourcing continue to stress today's cold chains.
So, how can companies continue to keep sustainability top of mind amid a global pandemic and continuous supply chain disruptions?
In Food Logistics' June 2021 issue, editor-in-chief Marina Mayer talks with several industry experts about why sustainable food chains matter and how companies can obtain the supply chain visibility needed to effectively maintain a sustainable food chain.
Here's an interview with Matt McDonald, director of off-road business development for the Propane Education & Research Council (PERC), with excerpts publishing in Food Logistics' June 2021 issue. [CLICK HERE to read the article in full].
Food Logistics: From your vantage point, what are some of the main sustainability-focused challenges today's cold food chains face?
Matt McDonald: One challenge green-minded businesses may face is how to strike the right balance between clean and efficient. At the Propane Council, we've noticed that the trend toward sustainability has lent itself to electrification solutions across food and beverage operations, but what businesses may not notice initially is the productivity they sacrifice with this choice.
Businesses need equipment with the power and reliability to efficiently move materials day in and day out, ensure uninterrupted operation and protect their bottom line. Electric forklifts require downtime for recharging, expensive, heavy batteries and strict battery management by employees. Propane-powered forklifts, on the other hand, offer 100% power throughout operation, indoor/outdoor usability and quick, easy refueling. Additionally, propane offers the versatility to handle any size job, anywhere, whether moving pallets from deliveries or operating to and from cold storage — all without sacrificing environmental impact.
Food Logistics: To piggy-back on this, what are some of the solutions, efforts or initiatives in place to promote sustainable food chains and mitigate waste, etc.?
McDonald: There are countless ways for a business to become greener or more sustainable, one of which includes the equipment and energy sources used to move materials day in and day out. Businesses can set themselves up for success and take pride in their environmental impact by selecting an energy source that's clean, efficient and reliable — like propane.
Propane helps food and beverage operations decrease their carbon footprint by offering low-emissions equipment that's often the workhorse of their operation, like forklifts and fleet vehicles, for example. According to a comparative emissions analysis from the Gas Technology Institute (GTI), propane can reduce SOx emissions by 76% compared with electric forklifts. The truth is, propane is a cleaner choice than electric equipment when site-to-source emissions are taken into consideration, including those produced in the manufacturing, transportation and disposal of electric forklift batteries. The GTI study also revealed that propane engines produce 97% fewer hydrocarbon and NOx emissions compared with diesel forklift engines, without any drop-off in payload or power.
Additionally, businesses can benefit from operating propane autogas delivery and refrigeration trucks. Propane medium- and heavy-duty vehicles provide a lower carbon footprint solution in 38 U.S. states and the district and renewable propane vehicles provide a lower carbon footprint solution in all 50 states, except Vermont, when compared to medium- and heavy-duty EVs that are charged using the electrical grid. According to data from PERC, propane autogas vehicles reduce NOx emissions by up to 36% compared to diesel vehicles, greenhouse gas emissions by up to 22% compared to gasoline vehicles and up to 45% less particulate matter than electric vehicles throughout the full fuel cycle.
Food Logistics: Sustainability still matters, even in a global pandemic. Why is this? (Think ESG efforts, renewable energy/packaging, modernization, automation and more).
McDonald: Not only does sustainability matter during a pandemic, but I think the pandemic has significantly increased people's conviction with regard to environmental considerations. This recent BCG survey revealed that, since the pandemic, consumers are more concerned with addressing environmental challenges.
For example, studies have shown that NOx and particulate matter emissions, which are typically associated with vehicle emissions, have drastically dropped during the height of the pandemic's stay-at-home orders, and this has opened people's eyes to emissions reductions more than ever. Ensuring a sustainable and environmentally efficient operation is more important than ever, and while keeping everyone at home isn't a sustainable, long-term solution to our air quality issues, but this may be the inspiration businesses need to transition their fleet to alternative fuels. By switching to propane autogas medium- and heavy-duty vehicles, businesses can reduce harmful emissions and promote healthier air quality.
Food Logistics: What kinds of technologies/solutions (i.e., Internet of Things, automation, etc.) is your company investing in and why?
McDonald: Manufacturers and propane industry professionals are working to make propane forklifts cleaner and more efficient than previous generation models. Most notably, propane as an energy source is seeing innovation, and in the future, more propane will be made from renewable sources. The emerging energy source is a byproduct of the renewable diesel and jet fuel production process, which converts plant and vegetable oils, waste greases, and animal fat into energy. Because it's produced from renewable, raw materials, renewable propane is even cleaner than conventional propane and far cleaner than other energy sources. And, renewable propane can be used for all the same applications, considering its chemical structure and physical properties are the same as traditional propane.
Food Logistics: What are some things not addressed above that may be pertinent to our readers?
McDonald: Implementing green, sustainable practices can be an expensive undertaking for businesses. Fortunately, adopting propane equipment is one way for food and beverage operations to reduce emissions without breaking the bank. Notably, the capital cost of a propane forklift is almost 30% lower than the purchase price of an electric forklift and the life expectancy of a propane cylinder is three times longer than that of an electric forklift battery. Plus, businesses can secure a refueling contract with their local propane supplier, further enhancing its value proposition.
Propane delivery vehicles are a cost-effective solution too. Propane autogas provides the lowest total cost of ownership of any fuel, in part because of its reliable performance and low costs for fuel, infrastructure and maintenance. Propane autogas vehicles are typically less expensive to purchase than electric vehicles and natural gas vehicles and can save up to 50% on fuel costs compared to gasoline and diesel. It's also important to consider costs associated with refueling and recharging infrastructure, as there are drastic differences between propane autogas and electric vehicles.