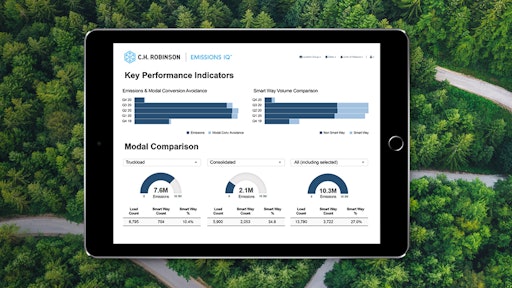 C.H. Robinson
C.H. Robinson released Emissions IQ, what is said to be the first free, self-serve tool to instantly show a company's carbon emissions across all forms of transportation globally.
C.H. Robinson collaborated with MIT and the U.S. Environmental Protection Agency (EPA) to provide a tool that standardizes the way companies measure the emissions of their partial truckloads.
In its pilot phase, Emissions IQ has already helped 125 companies reduce their carbon emissions by a total of 350,000 metric tons of CO2 equivalents. 
"You can only change what you can measure," says C.H. Robinson chief sustainability officer Angie Freeman. "Even companies committed to sustainability have struggled to capture their emissions across complex, multi-faceted supply chains. By putting useful technology and data at their fingertips, we're not only increasing the transparency of emissions in our industry, but we're surfacing the best strategies for customers to make meaningful carbon reductions right now."
From BusinessWire:
Emissions IQ

automatically calculates emissions and provides an easy visualization of a shipper's carbon output.

C.H. Robinson funded a project with MIT's Center for Transportation & Logistics and the EPA's SmartWay program to establish a national standard for measuring those emissions. Accounting for the extra miles and higher fuel consumption of a truck making multiple pickups and deliveries, C.H. Robinson is sharing this advanced data model with the EPA to incorporate into its online tools. Any company will be able to instantly get a calculation of its LTL emissions.
"We've helped companies improve how they transport their goods for decades – constantly looking to reduce waste and improve performance in the supply chain," says Freeman. "A more efficient supply chain is by nature a more sustainable one. As one of the world's largest logistics platforms and the largest mover of truckload freight in the world, we're in a position to create real impact on emissions now and in the future for our customers, our industry and our planet."