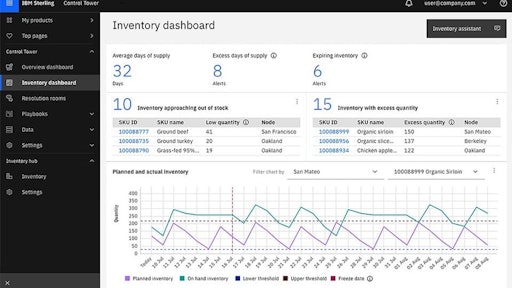 IBM Sterling
Maintaining a sustainable food chain both upstream and down comes with a host of challenges and opportunities. On one hand, doing so protects people, product and plant, reduces waste, encourages a green economy and ensures the freshest of foods are transported in the safest, most efficient manner possible. Plus, it's just good business practice.
On the other hand though, an aging infrastructure, a rise in grocery e-commerce and an influx in globalized sourcing continue to stress today's cold chains.
So, how can companies continue to keep sustainability top of mind amid a global pandemic and continuous supply chain disruptions?
In Food Logistics' June 2021 issue, editor-in-chief Marina Mayer talks with several industry experts about why sustainable food chains matter and how companies can obtain the supply chain visibility needed to effectively maintain a sustainable food chain.
Here's an interview with Shari Diaz, director of innovation, strategy and operations, IBM Sterling, with excerpts publishing in Food Logistics' June 2021 issue. [CLICK HERE to read the article in full].
Food Logistics: From your vantage point, what are some of the main sustainability-focused challenges today's cold food chains face?
Shari Diaz: It's in everyone's best interests that the food we produce be harvested, processed, transported and consumed while it's fresh. The trick is maintaining the temperature and humidity within acceptable ranges at all times and minimizing the energy consumption required to get it in the hands of the end consumer. Meeting these requirements are imperative to the business and to the planet. Supply chain and executive leaders are increasingly adopting this dual perspective. The storage and logistics sustainability challenge for cold food chains is a significant cost center and a major point of risk, making it also a tremendous opportunity for optimization. How do we optimize the design of the physical supply chain from Point A, B and C and securely monitor it from start to finish? How do we optimize our inventory packaging and positioning to ensure we have what consumers want where and when they want it? And, how do we ensure we're meeting all of these needs while minimizing energy consumption, carbon footprints and waste? It is the convergence of these interconnected challenges where we see how much of the cold food supply chain is siloed across functions and enterprises and how difficult it is to manage.
Food Logistics: To piggy-back on this, what are some of the solutions, efforts or initiatives in place to promote sustainable food chains and mitigate waste, etc.?
Diaz: As more industry players in the cold food supply chain space evolve toward becoming more sustainable, there is growing adoption of blockchain-based solutions like IBM Food Trust that securely enable multiple enterprises to share information about the state, condition and location of food from its origin through consumption. In the event of an issue with quality or freshness, products on IBM Food Trust can be easily traced and recalled if necessary. In addition, blockchain solutions are being used to authenticate the origin and integrity of products such as organic produce and can be used to track other important insights that help reduce environmental impact during the sourcing of goods from suppliers.
Second, artificial intelligence (AI)-powered control tower platforms such as Sterling Inventory Control Tower are being implemented to provide end-to-end visibility of inventory and enable better informed decisions on how to manage it. These capabilities are augmented by incorporating third-party data sources such as weather patterns and delays at the border to quickly predict disruptive events that could impact inventory freshness, alert inventory managers to the issues and help them take action. Third, we are seeing intelligent order fulfillment platforms such as Sterling Fulfillment Optimizer used to efficiently and quickly determine how to best leverage the inventory you have to maximize freshness, on-time delivery and through the use of an advanced analytics engine to identify eco-friendly shipping options to help further optimize carbon output.
Food Logistics: Sustainability still matters, even in a global pandemic. Why is this? (Think ESG efforts, renewable energy/packaging, modernization, automation and more).
Diaz: Enterprise sustainability has truly morphed into a business imperative, growing from its humbler roots as a corporate social responsibility initiative. This shift has continued not only in the wake of the pandemic, but also in the face of evolving policy mandates such as the recent Executive Orders around addressing climate change and revamping America's supply chains and as we see more consumers willing to pay higher prices for sustainably produced goods. Factors like climate change, dwindling natural resource, and growing demands on our energy and food supply have forced organizations to completely rethink their operations and refocus their priorities. Supply chains play an especially critical role where sustainability is a prominent consideration particularly in the context of mitigating disruptions and minimizing business risk. By improving this function, organizations can help achieve objectives such as driving decarbonization, meeting environmental regulatory requirements and more efficiently managing resource consumption. The pandemic didn't negate the need for more sustainable decision-making, rather it reinforced our interdependence on one another and on the planet and has forced us to make significant investments in supply chain capabilities and resiliency.
Food Logistics: How does the Biden Administration's Climate Change Action Plan and re-joining of the Paris Agreement impact the current and future status of sustainable food chains?
Diaz: Sustainable food chains will become the norm in time. In the face of ever-changing policy mandates whether here in the United States or more globally focused with the United States rejoining the Paris Climate Agreement, and in the context of the recent Executive Order on revamping America's supply chains, we can see this to be true. Businesses that have invested in sustainable supply chain capabilities will continue to gain a leadership position and competitive advantage by way of better business performance, higher brand loyalty and greater resiliency to changes in regulatory oversight. These developments will undoubtedly begin to manifest through the associated agencies such as the USDA and/or the FDA having responsibility for ensuring a safe, sustainable food supply. Similar to current labeling of food ingredient contents, it's quite plausible to presume we'll ultimately see such labeling denoting the carbon contribution for the items consumers purchase.
Food Logistics: What should companies in the cold food and beverage space do to achieve sustainable food chains? Where do they start if they haven't done so already?
Diaz: For many, supply chain sustainability starts with supplier selection, ensuring you are doing business with other enterprises that support your own sustainability objectives. Secondly, focus on the data. Ensure that you know what inventory you have where in real or near-real time, that it's fresh and when its freshness life cycle will end. This is the only way to enable optimal inventory management and to limit waste. Providing visibility of inventory across a global network that extends to suppliers can help reduce safety stock with its high carrying costs, while also avoiding logistics-related emissions and packaging due to unnecessary product shipments. Experimenting with smaller pilot projects with a specific set of business goals is critical to achieve success and then scale, particularly when incorporating AI or blockchain-based technologies. Another imperative specific to the CPG space is aligning product packaging with shifting consumer buying behaviors. For example, as online shopping has increased during the last year, elaborate in-store displays and packaging are no longer needed to catch shoppers' attention. Thinking longer term, there are opportunities to use recycled materials in manufacturing, design business and governance models that reflect sustainability-minded values and adopt packaging that minimizes waste and is easy to recycle.
Food Logistics: What kinds of technologies/solutions (i.e., Internet of Things, automation, etc.) is your company investing in and why?
Diaz: AI, blockchain and the Internet of Things have been critical to IBM's work to advance and improve the world's global supply chains. One area we're seeing customers across industries invest in as a way to encompass the capabilities of all these technologies is intelligent workflows. Intelligent workflows don't just execute serial steps as part of a pre-defined process map. Instead, they strategically apply advanced technologies like AI and blockchain all along the way in the supply chain to execute integrated, agile decision making in the moment given the current circumstances. Intelligent workflows are dynamic and data-driven operations with improved transparency and optimal outcomes.
Food Logistics: What does the future of sustainable food chains look like? Any risks/rewards?
Diaz: Supply chain sustainability has reached a tipping point. Fortunately, buy-in across industries continues to rise. So many are recognizing the need for action and what we all have to gain from re-evaluating our processes. This change can be scary and challenging, but it can also be quite advantageous. In addition to playing a role in safeguarding our planet and our future, the ones who do adapt to this changing landscape will benefit with a more engaged workforce and a healthier balance sheet. They will uncover new opportunities to lower costs, win customers, increase brand loyalty, and embrace new business models as the world continues to evolve. Done right, sustainability strategies drive the triple bottom line with benefits for people, planet and profits.
Food Logistics: What are some things not addressed above that may be pertinent to our readers?
Diaz: Given the broad swath that supply chain sustainability reaches across, having a common set of guiding principles or best practices is critical to success and scalability. Businesses are facing pressure to increase supply chain sustainability and the bottom-line benefits are real. These following best practices will help develop a plan that identifies key participants, sets short- and long-term goals, establishes a timeline, allocates funding, implements intelligent workflows and digital solutions to transform processes and measures progress:
· Baseline. Understand your own operations and supply chain and their impact on the environment.
· Educate. Discover peer standards and industry shifts. Know the relevant sustainable development goals, legislation, regulations and information sources for your industry.
· Benchmark. Since this is a collaborative process, find relevant peers, exchange learnings and goals, and work together to develop practices.
· Set BHAGs. Set big, hairy, audacious goals (BHAGs). Declare them and drive towards them without fear of failure. Aim for learning and progress.
· Measure. Use software and checklists to audit and measure results against goals. Publish results at regular intervals.
· Communicate. Stakeholders highly value supply chain sustainability, so the C-suite should take ownership for communicating the mission, championing the programs, engaging employees and sharing progress and learnings.
· Integrate. Sustainability is a journey. Achieve goals and make new ones that continue to stretch the value chain to reach new heights.