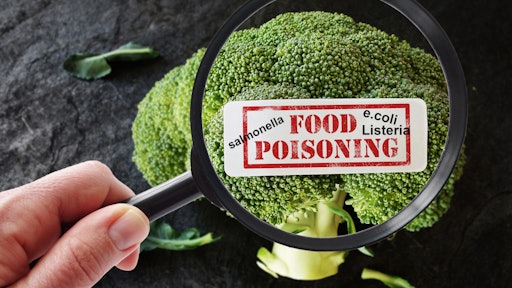 Getty Images
Food manufacturers, distributors and retailers have always had to ensure the food products that drive their business are healthy and safe. The food safety management industry relies on visiting manufacturing plants to conduct checks, ensuring that producers, manufacturers and providers follow strict regulations and standards. But, these days, as a result of the Coronavirus disease (COVID-19) and the global lockdown, many food safety auditors are prohibited from doing so.
The most important tool to assess risk to date has been on-site audits – something not fit for purpose to food safety and quality assurance experts in a COVID-19 world.
The evolving supply chain hazard landscape
COVID-19 has changed the food safety landscape for everyone. The pandemic is having a tremendous effect on the companies that buy food and agricultural ingredients, materials and products to then cook, package or sell to consumers. Supply chains have been disrupted with production cycles and transportation logistics facing delays or breakdowns. There have also been shortages in supplies, with availability or production reduced. And, some production, packaging, sales or service facilities have been locked down due to outbreaks, with localized lockdowns in the future bringing in additional complications as the mandatory checks will only be available in some areas and not others.
That's why many food safety professionals are seeking ways to understand, measure, monitor and prevent food safety risks during the context of a global pandemic, leaving the food logistics industry facing unprecedented challenges. With numerous hazards already present, it's important for food companies, manufacturers and suppliers to keep up to date with intelligence surrounding food safety, and monitor the hazards such as food recalls, border rejections and fraud cases, without putting themselves at risk of COVID-19.
Technology is the key to food safety
So, if food safety professionals are not able to assess risks on-site, how can they ensure the safety of food across the global supply chain?
Those working in the field must take a digital first approach, using emerging technologies available to gather information through remote risk assessment and abandoning on-site assessments to mitigate the spread of COVID-19. A robust remote risk assessment needs a combination of data management, analytics technology and predictive models. Accurate data about the supply chain, predictive models of pathogens growth, toxins and chemicals contaminants, awareness of continuously evolving microbial, chemical, allergen and fraud risks matter to food companies and require detailed information to enable them to assess risk effectively.
Forewarned is forearmed—better intelligence on the risks
Data collected on the hazards across the global supply chain can help those working in the food and retail safety industry to carry out these tasks online. There are a number of digital tools that helps companies manage product recalls for food and other products in the supply chain. In addition, it's essential that data is not just collected, but also enriched into food safety intelligence to improve the decision-making processes of food safety professionals, so they can act on important food safety decisions with confidence.
By using a comprehensive data platform, it is possible to generate historical insights and identify emerging trends related to specific food sectors or look at hazards for specific raw materials. Deep dive analysis allows food safety professionals to keep an eye on the potential hazards, and well organized and structured records with sophisticated taxonomies make it possible to extract tailor-made insights. Having access to data allows for predictive models and risk management tools that help enhance the safety and quality of food. This results in greater visibility across the global food supply chain, which makes for a better process and safer food.
The "New Normal"
It will take a while for food production and supply chain logistics to return to normal – if that's even possible. But, the technology that enables a radical digital transformation of the food supply chain is here to stay. There should be a global effort to ensure the resilience of our food systems – through this pandemic and beyond. The digital era of smarter food safety and a radical shift in the navigation of food supply chain combine to create a new landscape.
The best way to respond to the challenges brought about by a global pandemic is to collaborate and share what we know across the food system, connecting, mobilizing and empowering all food supply data stewards. Data and information comes from a number of different sources, including official organizations, publications and announcements. It is about collecting, translating, combining and enriching this information to identify trends, patterns and risks. This is a time-consuming and error-prone task if done manually. Case in point: technology saves time and decreases the chance of mistakes.
In addition to this, the integration of the Internet of Things across the global supply chain enhances the automation of data capture, enabling modern businesses to thrive in an uncertain environment while staying ahead of the potential risks and hazards.
Everyone should have access to clean, healthy and nutritious food produced in a sustainable and ethical way. In the context of a global pandemic, the combination of data and food safety remote technologies have never been more relevant to address global food supply chain challenges.
Emerging technologies across the supply chain make it possible for food safety professionals to collect, analyze, orchestrate and interpret large amounts of data to help companies manage the associated risks and build resilient food systems that work for everyone.