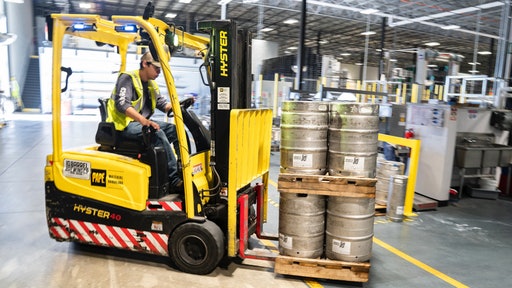 Superior material handling equipment is vital to any successful food and beverage operation. And, because the food and beverage industry is constantly evolving, to stay competitive, businesses have to ensure a timely, uninterrupted flow of materials. Unreliable equipment can cause spoiled products and lost productivity.
A large part of selecting the best material handling equipment — whether it be forklifts in a warehouse or trucks on a delivery route — involves choosing the right energy source to power it. And, fortunately, there's an energy source available that can check many boxes pertinent for successful food and beverage operations—propane. Compared with other energy sources, propane offers a number of key advantages in a wide variety of applications, including forklifts and delivery trucks.
Here are four reasons businesses should consider propane-powered equipment:
1. Propane is a clean, low-emissions energy source.
Over the past several decades, there has been a shift toward cleaner business practices, and a growing number of companies are focused on a low-emissions operation. Because every operation is unique, their emission reduction efforts can look vastly different. There are countless ways to become "greener" or more energy efficient — one of which involves the equipment and energy source chosen to keep materials moving on a daily basis.
While the trend toward sustainable operations has helped give rise to electric equipment, propane is keeping pace because facility operators who do their homework know that it is a low-carbon energy source that boasts an incredibly clean emissions profile. In fact, propane can produce significantly fewer emissions than diesel and electricity in a wide range of applications.
The Propane Education & Research Council (PERC), in partnership with the Gas Technology Institute, conducted a comparative emissions analysis of forklifts where it analyzed full fuel-cycle energy consumption, greenhouse gas and criteria pollutant emissions (nitrogen oxide and sulfur oxide).
Results from the study revealed that propane can reduce SOx emissions by 76% compared with electric forklifts. Electric equipment produces zero emissions during normal operation, but its full emissions profile is often overlooked. It's important to take the emissions produced in the manufacturing, transportation and disposal of batteries into account too. That also includes all of the emissions produced at power plants where electricity is generated, many of which are still coal-fired, as well as the emissions during transportation to the facility.
Propane is cleaner when compared to diesel equipment, too. Best-in-class propane forklift engines can produce 97% fewer hydrocarbon and NOx emissions when compared with similarly-sized diesel forklift engines, and without any drop-off in payload or power.
Beyond moving products in the warehouse or distribution center, businesses can further extend their commitment to a clean, low-emissions operation by using propane autogas fleet vehicles. Propane autogas vehicles reduce NOx emissions by up to 36% compared to diesel vehicles, greenhouse gas emissions by up to 22% compared to gasoline vehicles and up to 45% less particulate matter than electric vehicles throughout the full fuel cycle.
Similar to electric forklifts, electric vehicles often claim to produce zero emissions. But, it's important to note that emissions may be created by the source of electric power generation or the fleet's choice for required auxiliary heating options, which should be included in the comparisons. Emissions include those produced in electric generation and its transmission to the final point of use, as well as during battery production, transportation and disposal.
2. Propane equipment provides superior versatility.
Food and beverage equipment needs an energy source with true versatility — like the versatility to handle various load sizes, operate indoors or outside and even on- and off-road, for example.
According to a survey conducted by PERC, most forklift users operate their equipment both indoors and outdoors. Because of its low-emissions profile, propane-powered material handling equipment has the versatility to operate anywhere. As long as the engines have been properly serviced and are operating in a well-ventilated environment, propane forklifts are perfectly suited to operate indoors. Well-maintained propane forklifts actually meet or exceed nationwide indoor air quality standards. Plus, propane forklifts are safe for outdoor use, operating in temperatures below zero degrees Fahrenheit.
Propane forklifts offer weight class versatility too. Having versatility when it comes to load capacity of their equipment is critical because crews don't want to worry about multiple energy sources to complete different jobs. Electric forklifts can't bring the power needed for larger jobs and diesel isn't suited for small jobs, but propane provides power for every size job and works for every weight class and application to match the job at hand.
Propane autogas delivery trucks are gaining popularity in the food and beverage industry, too. For example, companies like Nestlé Waters and Schwan's Home Service rely on propane autogas for product deliveries. Nestlé Waters has been running propane autogas vehicles since 2014 and expanded its fleet in 2017 to include nearly 600 delivery trucks, which make up about 30% of its total North American fleet.
The medium-duty propane autogas delivery vehicles used by both companies, and many others, are equipped with Roush CleanTech technology. New technology is even allowing for larger refrigeration trucks to also be fueled by propane autogas.
3. Businesses can say goodbye to downtime.
Downtime is something every material handling operation wants to avoid, especially food processing operations. Luckily, propane can keep businesses operating around the clock. Propane-powered forklifts provide 100% power throughout operation, pushing heavy loads at full capacity faster and longer than electric forklifts. One cylinder typically covers an entire 8-hour shift. In addition, propane forklifts maintain more consistent travel speeds and acceleration throughout a shift compared to battery-powered forklifts, according to data from PERC.
Operators using propane equipment can get back to work sooner and maintain high productivity standards vs. waiting on lengthy recharge times or challenging refueling needs. Whether used in large operations or smaller fleets, propane provides the quick refueling necessary to keep material moving. Swapping out an empty propane cylinder for a full one takes just a few moments, and eliminates the need for additional expensive, heavy batteries, downtime spent recharging or strict battery management by crews. Businesses can also set up a tailored refueling schedule with their local propane supplier to ensure that cylinder cages are always full.
4. Propane offers safety benefits to crews.
Experts agree that safety is a top priority in any food or beverage operation. By keeping safety top-of-mind, a business can ensure employee safety, accomplish its business goals and protect its bottom line.
Due to the nature of the equipment, forklifts introduce some workplace risks. That said, the energy source chosen to power the equipment does make a difference and propane helps circumvent some potential hazards for employees. For example, operators using propane-powered forklifts can avoid electrical hazards from electric forklift recharging equipment, hazardous spills from diesel-fueled equipment and chemical spills from lead-acid battery-powered forklifts. And, employees don't have to worry about handling heavy, messy forklift batteries. Instead, propane users simply swap out an empty propane cylinder for a full one and get back to work.
Plus, businesses operating with propane have a safety resource at their fingertips—their local supplier. Local propane suppliers can help by inspecting cylinders each time they're exchanged and removing damaged cylinders from service; ensuring all employees understand how to install propane cylinders on their forklifts safely; and some suppliers offer additional safety training opportunities for forklift customers.
Selecting the best material handling equipment takes time and careful consideration. As the industry continues to evolve and trend toward sustainability, it's critical for businesses to consider what equipment, and energy sources, are running day-to-day. Businesses operating on propane can decrease their carbon footprint, maximize productivity and enhance workplace safety.