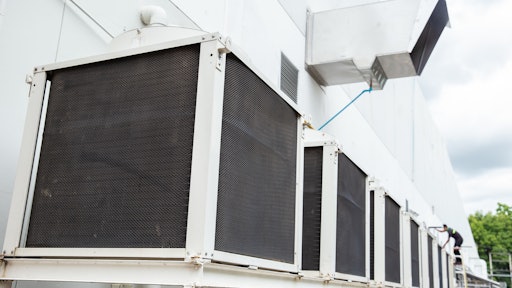 Getty Images
Grocers and food brands have largely flown under the radar when it comes to the fight against climate change, but that tide is now changing thanks to more socially-minded consumers and new technologies. Research shows that 73 percent of consumers gravitate to brands that care about the environment—shoppers feel good buying from companies that do good. But there's a more pressing reason for brands to act: the global warming-causing hydrofluorocarbons (HFCs) that are rife throughout the food retail industry due to antiquated and inadequate cooling technology.
Environmental Impacts
Today, a single supermarket emits about 875 pounds of HFCs annually, which is equivalent to the emissions of more than 300 cars. This is derived largely from its refrigeration and freezing systems, which contain thousands of pounds of HFCs that leak out over time. These chemicals are thousands of times more potent than carbon dioxide, making their environmental impact that much more detrimental. In fact, the collective impact of these pollutants across the United States' 38,000 supermarkets can equal as much as 45 million metric tons of CO2 a year.
The pervasiveness of these dangerous refrigerants has put a spotlight on refrigeration management, which several environmental organizations, including Project Drawdown, have called out as the No. 1 solution to global warming.
Given this, it's imperative that food retailers closely manage, if not completely eliminate, their use of HFCs across the cold chain. Companies like Aldi, Whole Foods, Target, Sprouts Farmers Market and Ahold Delhaize have already made significant commitments to cut back HFCs and foster energy efficiency—but the challenge comes in execution. Making an impact on sustainability has often necessitated sacrifices in other areas of the business that can impact a company's bottom line, stagnating many organizations' efforts.
Eliminate HFCs
This problem has been eliminated as a result of new technologies and initiatives, from recyclable packaging and cost-effective, energy-efficient lighting to advances in cooling solutions that don't just reduce but fully eliminate HFCs in favor of natural refrigerants. New cooling innovations, such as those enabled by solid-state technology, are critical to addressing global refrigeration management in a way that is truly sustainable. Specifically, these alternatives are creating a powerful value proposition for grocers and food brands, which can now meet sustainability goals while also creating new revenue streams and driving greater ROI.
By eliminating the compressor, an antiquated staple of refrigerators and freezers that relies on these harmful refrigerants to run, solid-state solutions offer a greener alternative that uses only low-pressure CO2 and water to cool and freeze. Furthermore, the elimination of the compressor enables near-silent operation, more even heat rejection and more compact designs than traditional cooling units—which have long been relegated to the back of the store due to their size and energy needs.
Profits and Rewards
This versatility is enabling grocers and food brands to redesign in-store layouts, improve product placement and offer a wider variety of fresh and frozen foods throughout the store, from mid-aisle and end-cap displays to checkout counters. The most notable impact is at the point of sale, a high-margin location prone to impulse buys.
It's imperative that food retailers reduce their environmental footprint, but it doesn't have to be an obligation. Today, there are more reasons than ever to embrace efficient technology—and the impact can be just as profitable as it is rewarding
Dana Krug is the vice president and general manager of the Food and Beverage Division at Phononic, a company that is using semiconductor chips to deliver sustainable cooling solutions across industries.