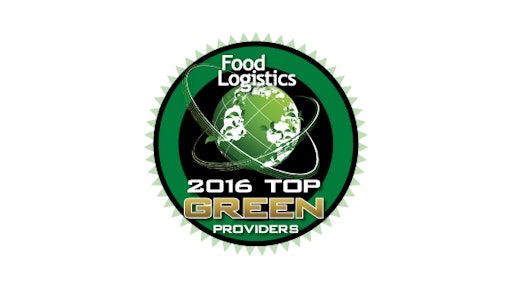 Sustainability continues to be a driving force for nearly every type of business today. For companies in the food and beverage sector, taking an active role in promoting sustainability throughout their operations is crucial considering the urgency to reduce the food chain's carbon footprint and preserve the already thin profit margins.
Food Logistics' annual Top Green Providers list offers logistics professionals a guide to the providers, manufacturers and software and technology companies that have found new ways to promote sustainability throughout their operations and those of their customers.
This year's list consists of transportation providers, 3PLs, cold storage providers, technology companies, pallet manufacturers and many others who have stepped to the front to become the leaders in supporting a more sustainable global food supply chain.
To see the entire list of all of the 2016 Top Green Providers and their capabilities, please click here.
The following are expanded profiles of some of the companies on the 2016 Top Green Provider list.
AFN, LLC
AFN, a 3PL headquartered in Niles, Ill., offers a solution that uses order consolidation, inventory planning, and demand forecasting to reduce the total number of shipping days per week from 7 to 3. This resulted in a significant reduction in the total miles traveled annually, the number of trucks on the road, as well as the overall CO2 footprint of the entire organization.
Mileage savings and CO2 emission reduction measures are measured on a weekly basis, comparing the old routing parameters against the new routing parameters. In as little as 12 months, AFN's solutions have helped their clients realize CO2 emission savings of up to 4,975 tons and a 62.9 percent mileage reduction totaling 2.2 million total miles.
Alliance Shippers Inc.
Alliance Shippers has placed an emphasis on the use of intermodal for truckload dry and refrigerated shipments. Their continued expansion of their 53-foot refrigerated trailer fleet to 2,100 trailers includes 200 new units coming into use in 2016. These units are equipped with full control authority over the temperature control system and satellite tracking for location monitoring and shipment status. They also include the latest technology in mobile refrigeration capability and offer reduced fuel consumption while operating. Unique cargo net restraint devices are attached to each trailer's interior that are fully adjustable for cargo size and displacement. They also incorporate the latest interior air chute designs to offer even temperature control and higher stacking heights of cargo.
Alliance's ongoing efforts to reduce fuel consumption and recycle material company-wide includes energy-efficient solar array panels installed on their Keasbey, N.J., warehouse and cross-docking facility to remove or minimize our use of local grid service. Alliance also insists on the use of EPA SmartWay certified carriers for highway pickup and final mile service, and they are also an active participant in the SmartWay program and certification. They are an annual participant in the CDP certification program and obtained Eco-Vadis certification in January 2016.
Americold
Americold knows that refrigeration is a power-hungry activity, but they've made it a company-wide goal to conserve energy consumption and their efforts have resulted in over 220,000,000 kWh of saved cumulative electricity since 2010. This translates to the reduction of more than 180,000,000 pounds of CO2 equivalents into the atmosphere.
Americold monitors facility-level energy consumption from a desktop application, and has implemented standards at each one of their sites to indicate exactly how much energy a facility should be using based on a given occupancy level, product and season. Out-of-tolerance readings trigger alerts to local management and their energy management team to ensure that rare issues can be resolved quickly to maintain efficient operations and continue to conserve energy.
Americold participates in every available demand response program offered by local utility companies in the United States. Their connected sites also initiate energy load shedding to support local utility companies and their commitment to avoiding power blackouts during demand spikes.
CHEP
CHEP is achieving sustainable goals as a company and is making its consumer packaged goods customer companies more sustainable at the same time through its Better Planet initiative. With its 2015 and 2020 sustainability targets, CHEP is moving toward becoming a zero-deforestation, zero-emissions, zero-waste company. In addition, CHEP's Value Stream Mapping Solution has saved its customers $13 million with efficient, sustainable solutions since June 2015, eliminated 4.5 million empty truck miles and eliminated 23.6 million pounds of climate-change inducing C02 gas.
CHEP's sustainability goals are aligned with the United Nation's Sustainable Development Goals because, when companies and organizations around the world collaborate and focus their joint effort on shared goals, the result is even more impactful. CHEP sustainability progress is measured by the Global Reporting Initiative's G4 reporting framework, and results are audited by KPMG.
The Ellen Macarthur Foundation, a prestigious British not-for-profit organization dedicated to achieving a circular economy, recently singled out CHEP and their parent company, Brambles, as visionary companies that contribute to global sustainability through their pooled pallet and reusable plastic container offerings.
DSC Logistics uses a steering committee to oversee initiatives in a three-pronged approach focused on opportunities in warehousing, transportation and network redesign. Working with representatives from across their 40-plus logistics center locations, the steering committee provides support for pilot projects and network-wide rollouts, sustainability education throughout the organization, and metrics and benchmarking efforts. Each year, DSC sets goals for reducing consumption of electricity, natural gas, water, propane and waste tonnage. Additionally, goals include increasing DSC's alignment of goals with their customers' sustainability initiatives, keeping in mind that there needs to be a return on investment.
Each DSC logistics center reports its measurements on a monthly basis, and results are tracked throughout the network. Their metric tracking (electricity, natural gas, water, propane, recycling and waste tonnage) enables them to keep a close eye on the performance of each location, identify the most promising pilot projects for network-wide rollout, and set holistic goals for consistent reduction of the entire company's carbon footprint. DSC is certified as both a logistics provider and a carrier partner in the SmartWay Transport Partnership, and its Roanoke, Texas, logistics center was honored with an EPA Energy Star Award.
Elemica
Elemica helps food and beverage customers improve and achieve their measurable sustainability goals through the automation of manual processes to reduce their usage of paper, lessen greenhouse gas emissions, and lowers water and energy usage. Manual approaches are costly, time-consuming, and fraught with errors, so by automating business processes for sourcing, procurement, order management, inventory, and logistics not only streamlines operations and boosts efficiencies, but also helps customers lower costs while driving sustainability.
By utilizing Elemica's integrated cloud-based logistics and transportation products, customers have lowered their carbon footprint and energy usage by optimizing shipments and loads. Shippers and carriers can collaborate on shipments to find capacity, avoid disruptions and penalties, and optimize loading/unloading times to save on fuel and lower emissions. Since 2004, Elemica has delivered approximately 300 million messages, equating to savings of 3,000 cubic meters of landfill space, 33,000,000 liters of water used in paper production, 31,500 trees, and 345,000 kilograms of CO2 emissions.
Flexspace/Storax America
Poweracks, by Storax, is a high-density, mobile racking solution that is providing the food industry around the world a more environmentally friendly, efficient storage alternative. Their mobile racking solution can increase a facilities storage capacity by as much as 100 percent, while it reduces the footprint required to operate by as much as 50 percent to allow for a multi-faceted benefit to food warehousing companies. Reduced space results in perpetual energy savings and requires far less energy demand to refrigerate these energy intensive environments.
Poweracks maximizes space utilization and provides operators direct, unobstructed access to products, a rare anomaly in distribution centers and warehouses. Through use of a moving access aisle, conventional static aisles are eliminated and replaced with revenue generating, cost saving product storage. The moving aisle can be placed wherever egress is desired, offering immediate, easy access and product visibility to every storage location.
With installations in over 60 countries, Storax has a rich history of helping organizations maximize utilization of space, land, reduces energy demands while lowering their impact on our Earth's resources. It also increases labor productivity and operational benefits because there is no double handling, which reduces equipment hours and mileage and keeps operators tasks confined in a smaller footprint with less distance to travel.
FST Logistics
FST Logistics' sustainability efforts in the past 12 months have not only continued to contribute to the food and beverage industry's vision of reducing our carbon footprint, but also their customers efforts, many who demand an increased effort each and every year. In 2015 FST became a member of the Green Power Partnership, an EPA sanctioned sustainability program, by matching our annual energy usage of 1,200,000 kWh by purchasing an equal amount of Renewal Energy Credits (RECs) to be used all over the country on projects that will offset that energy usage. The purchase of the RECs is measured by matching the usage of our annual electricity with sustainable projects taking place all over the country. So when FST purchased the equivalent of 1.2 kWh of energy, that funding may go to a clean water project in New York, or even a wind turbine program in Iowa.
In addition, FST added additional CNG trucks and new fuel efficient refrigerated trailers with features such as the latest reefer units that are CARB compliant, iBright telematics for precise monitoring, Stemco trailer skirts to cut the drag on a trailer and reduce the fuel usage by five percent, Stemco trailer tails and all aluminum wheels with Smartway approved tires. All of these efforts have helped to reduce our footprint and our overall costs of doing business.
Full Circle Catering
Sourcing locally for 14 years through one-on-one with farmers and local composters, Full Circle Catering has been certified green for 10 years. They are the smallest caterer to be certified green, and one of the first three caterers certified by the Green Restaurant Association). Full Circle Catering also offers both an on- and off-site recycling and composting program.
Full Circle Catering uses only reusable rentals (food serviceware) or biodegradable, compostable disposables. They also offer incentives to clients to recycle and compost. Full Circle Catering does not use a restaurant supplier, everything is bought or sourced locally. They also offer a weekly meal delivery program that features recyclable containers which clients can recycle or reuse.
Henningsen Cold Storage Co.
Henningsen Cold Storage Co. is focused on using alternative energy, facility design, lighting, reclamation/recycling programs, and our refrigeration technology to enhance their sustainability efforts. Both of their facilities in Portland, Ore., are utilizing rooftop solar panels in order to offset the electricity required to maintain the temperature at our facilities. Henningsen is also enhancing sustainability efforts through facility design features, including reflective "cool roof" systems, upgraded insulation panels, high-speed freezer doors, and sealed loading docks. Lighting is another area in which the company is striving to improve, with many of the facilities using fully controllable, smart motion-sensing LED lighting systems with varying brightness to reduce energy usage. Henningsen's alternative energy efforts to date they have supplemented more than 1.4 million kW hours combined, reducing our CO2 output by over 1000 tons.
All Henningsen warehouses operate using computer controlled variable speed compressors and fans to drive the ammonia-based refrigeration systems, which are being constantly monitored, both on and off site, to ensure that everything is operating at maximum efficiency. Henningsen Cold Storage Co. is also working to reduce our carbon footprint through recycling and reclamation by decreasing the amount of waste that goes into landfills by recycling pallet wood, shrink-wrap, cardboard, paper, and oil. Other programs include irrigating with reclaimed water from the condensers, and utilizing waste heat from the refrigeration process to warm the ground under our warehouses.
iDriver Solutions
iDriver Solutions signature product E-COPILOT provides meaningful fuel savings and reduction in greenhouse gases (GHG) with an unseen, non-intrusive, solid-state device that lasts beyond the life of the truck. The E-COPILOT device requires no maintenance, and results are measured in real time and are continually reported over the life of the truck. The reporting is available in a variety of different formats and provides fuel and emissions savings that will also reduce driver aggressiveness over time for a better safety record for all food and beverage vehicle fleets.
The E-COPILOT uses GSM technology which allows the fleet owner to access reports and make vital adjustments via the iDriver Solutions portal real time, anytime. E-COPILOT has garnered international recognition as a past winner of the top Canadian Energy product, which is now subsidized by the Canadian Government.
Kane Is Able
Kane Is Able has many sustainability initiatives, but their most recent initiative is the installation of new lighting at select Kane distribution centers that serve multiple food and grocery companies. Kane replaced fluorescent lights with safer, more energy-efficient LED, high-bay lighting at two of their Scranton, Pa., distribution centers, covering 1.2 million square feet of space resulting in a reduction of 2,022,756 kWh (kilowatt hours per year) of fossil fuel power generation at the source. This lighting project alone has the impact equivalent of 294 passenger vehicles being taken off the road, 500 tons of decomposing waste being removed from landfills and 156,500 less gallons of gasoline consumed.
Kane is also a leading practitioner of collaborative distribution, a green-friendly strategy that pools the inventory and shipments of middle-market consumer goods manufacturers so common retail customers can receive the same volume of goods using fewer trucks. They are EPA SmartWay certified and recently purchased seven compressed natural gas (CNG)-powered Class 8 trucks, which produce up to 20 percent fewer greenhouse gas emissions and significantly less smog-producing pollutants than petroleum-fueled counterparts. Kane also recently updated their diesel-powered tractor fleet to save $1.3 million dollars and 343,000 gallons of diesel annually. In 2015, Kane recycled five tons of paper, 42 tons of plastic and stretch wrap, 3,399 tons of cardboard, and one ton of cans/bottles.
Kenco
In 2015, Kenco completed lighting upgrades at three facilities in Allenton, Pa., Portage, Mich.,, and Chattanooga, Tenn. The lighting systems are anticipated to produce an annual savings of over $227,000. Kenco also installed air dryers in one facility's restroom reducing towel usage and savings $2,100 annually, as well as installing low-flush and hands-free equipment on commodes and urinals saving 52,000 gallons of water and $1,150 yearly.
Kenco also employed new sustainability dashboards on key sustainability metrics to track usage of electricity, natural gas and water. Plus they monitor labor costs and measure the output of both landfill waste and recyclable materials. Baseline data on each metric is monitored against set goals toward lowering costs, reducing energy use, and producing less waste in customer warehouses managed by Kenco.
Kenco utilizes hybrid automobiles in their company fleet and offers training to drivers on progressive shifting techniques. They also use all-electric APUs (auxiliary power units) to reduce idle time and fuel consumption, and employ alternative fuel research and development for Kenco's OTR tractor fleet. Kenco's material handling solutions use green power, solar panel installations to produce alternative energy to offset power consumption and conduct network optimizations often to reduce transportation and labor redundancy waste.
Penske Logistics
Some of the technology Penske Logistics uses to ensure their food and beverage customers receive the best service for their time-sensitive products include real-time tracking using GPS technology to ensure accurate temperature monitoring. They also utilize barcode inventory tracking systems and RFID devices embedded into pallets or individual items. Penske employs warehouse management software to track the product movement of important perishable grocery items in the warehouse to measure and analyze data on how often and where the SKUs are moving and re-engineer the warehouse layout to ensure the flow is at maximum efficiency.
Penske performs annual greenhouse gas (GHG) emission inventory for all of their global operations and disclose their GHG emissions information and energy usage/reduction efforts to the Carbon Disclosure Project (CDP). They also participate in the EPA's SmartWay Partnership, which helps the supply chain move goods in a cleaner, more efficient manner; and participate in the EPA's Green Power Partnership and support clean energy by voluntarily purchasing renewable energy credits (RECs).
Reverse Solutions, LLC
In the past, end-of-life product or ingredients were sent to a landfill, creating an expense, filling up landfill space and failed to support Reverse Solutions' sustainability initiatives. Now they repurpose these items by diverting them into animal feed, and recycling all packaging by commodity type.
Before product is released it is weighed and recorded so that it can be reported on pre-determined reporting periods. Data is also kept to compare periods against periods to gain a better understanding of what created these volumes. Another feature of Reverse Solutions' carbon footprint program is their Waste Stream Management program to support sustainability initiatives in a client's headquarters, DC's or other administrative areas. These weights and data are submitted to clients in order to establish a strong reduction in their carbon footprint, which is a vast improvement over previous initiatives.
RLS Logistics
RLS Logistics is continuous in its effort to reduce its overall carbon footprint. Their newest facility in Newfield, N.J., is equipped with energy-efficient lighting and a 257-kilowatt solar array on the roof to provide cost savings and reduced their dependence on grid power from a clean, renewable source. The array produces over 300,000 kilowatt hours a year, enough electricity to power 25 typical homes in the United States. The corresponding reduction in greenhouse gas emissions (200 tons per year) is equivalent to taking 40 cars off the road or avoiding 70 tons of landfill waste each year. In addition, the RLS corporate office will soon be going through an extensive solar project where 90 percent of the facility's power will be generated by solar.
To reduce our environmental impact and improve the quality and quantity of light for employees at our Pittston facility,RLS upgraded to fluorescent and sensor-controlled LED lighting fixtures by replacing T-12 fluorescent and metal halide lighting fixtures with T-8 fluorescents throughout the office space and LEDs throughout our freezer warehouse and loading dock areas. In addition to improving working conditions, the lighting upgrade has enabled them to shed 127.24 kWh from the Pittston facility, resulting in the CO2 reduction equivalent to planting 117 acres of trees, saving 48,235 gallons of gas, and removing 75 cars from the road. RLS has also improved their green efforts by reducing printed materials throughout the organization. The result has been a 70 percent reduction in paper waste.
Ryder
With nearly 1,000 natural gas vehicles operating within our fleet across a number of customer segments, Ryder is the leader in natural gas vehicle solutions for the commercial transportation industry. Ryder has more than 50 million miles of experience, 18 natural gas vehicle maintenance facilities, and more than 6,000 natural gas vehicle trained maintenance and support personnel. Ryder has deployed compressed natural gas (CNG) and liquefied natural gas (LNG) vehicles into the fleets of Ryder customers in Arizona, Arkansas, California, Florida, Georgia, Louisiana, Maryland, Michigan, New York, Texas, Utah, Wisconsin, and Quebec, Canada. They also operate liquefied to compressed natural gas (LCNG) fuel stations at its Fontana and Orange, Calif., service locations. By leveraging Ryder's deep knowledge regarding natural gas vehicle specifications, the maintenance programs required to support natural gas powertrains and fuel storage systems, as well as our strong supplier relationships and buying power, fleets within the food and beverage industry continue to utilize their natural gas vehicle lease offerings to mitigate many of the unknowns around uptime, maintenance, performance, and residual values.
Ryder was one of the first movers toward natural gas in our industry. Natural gas is part of an energy diversification strategy that will drive continued evolution to more advanced fuels and Ryder will continue to be a key player in this evolution in support of our customers' long-term needs.
The Raymond Corporation
The Raymond Corporation makes sustainability efforts for their customers more feasible with solutions contributing to reduced energy costs and battery usage, more efficient space utilization and more pallet moves per shift. Their Eco-Performance design philosophy reduces energy consumption while increasing productivity on every truck.
With iWAREHOUSE, Raymond offers food and beverage fleet and facility managers the ability to track key performance metrics, energy consumption and cost savings such as lift truck uptime, battery performance, kilowatt usage, operator productivity and throughput. It makes access to the data easy with a unique, single view Web portal accessible from any PC or mobile device. The solution is a powerful tool that lets managers correct for inefficiencies, identify opportunities to operate more sustainably, track progress against select sustainability goals and can help inform sustainability initiatives with integrated and comprehensive reports to help lower their carbon footprint and reduce kilowatt usage. Available on any brand truck, iWAREHOUSE provides a comprehensive view of warehouse operations and helps warehouse managers improve elements of operations that support sustainability initiatives with actionable insights, such as labor and equipment productivity, fleet utilization, industrial battery management and warehouse optimization.
TMW Systems
According to TMW Systems, "going green" means expanding awareness about waste and sustainability across the entire company culture, not simply making spot fixes to fuel consumption or packaging sustainability. Fleet operations should also focus on eliminating waste and inefficiency through the route planning process to help reduce overall fuel consumption and increase asset utilization.
TMW Systems' Appian route management software can compile information about customers, orders, products and geography and plan optimal routing and scheduling solutions to achieve service and operating goals within unique business and time constraints, minimize wasted driving miles and idling time, and right-size the fleet to efficiently serve distribution or delivery commitments. When measured on an annual basis, fleets can see reductions of 10 to 25 percent in total road mileage after implementation route planning software. Such results are achieved by creating shorter, more efficient routes and by putting fewer vehicles on the road because of more efficient delivery planning.
Companies that invest in Appian route management software from TMW Systems demonstrate to their customers that reducing total fuel consumption through smarter fleet routing and planning is also integral to improving the levels of service and responsiveness provided to those customers. A green technology that improves customer service and satisfaction makes the best business and environmental sense possible, precisely because it makes that investment sustainable for the business.
Transportation Insight
(www.transportationinsight.com)
Transportation Insight's solutions help food and beverage clients achieve green supply chain results through optimal mode and carrier selection, comprehensive data management and logistics reporting and "what-if" supply chain analytics that help clients streamline supply chain networks based upon simulation with historical data to reduce energy costs, mileage and fuel usage. By analyzing supply chain networks to optimize locations of DCs and warehouses to reduce last-mile deliveries, Transportation Insight clients meet their green supply chain and sustainability goals by removing waste, resulting in lower operating costs, reduced energy usage, optimized inventory levels and diminished packaging.
Transportation Insight performs LEAN supply chain assessments to determine where to cut waste such as eliminating expedited shipments, optimizing transportation loads and modes, gaining control over inbound and outbound shipments and improving communication and collaboration with transportation partners, vendors and customers. Transportation Insight is also a SmartWay Transport Partner, working with the U.S. Environmental Protection Agency to increase energy efficiency while significantly reducing greenhouse gases and air pollution.
Tyson Foods, Inc.
Tyson Foods is committed to respecting and conserving the environment and natural resources everyone depends on because it's where our food comes from. This commitment is essential to doing business in a sustainable way and is one of their core values - "to serve as stewards of the animals, land, and environment entrusted to us." As part of this commitment, Tyson continue to be a proud partner in EPA's SmartWay program. In fiscal 2015, EPA named us a SmartWay Excellence Semi-Finalist, a selection based on the environmental performance they demonstrated via the Partner Tools and use of SmartWay carriers to move freight. In addition they continue to work on minimizing their environmental impact with initiatives designed to reduce truck miles on our nation's highways, such as installing ultra-light equipment, using direct ship to customers, and partnering with rail carriers.
Tyson's private fleet continues to research innovative ways to reduce emissions, lower fuel consumption and decrease greenhouse gases, while improving their miles per gallon performance. These efforts saved over 412,000 gallons of fuel. By altering order patterns and volumes to allow direct shipping, Tyson has saved more than 3.48 million truck miles and eliminated over one million over-the-road truck miles.They have also saved more than 48-million truck miles by using rail to ship food and other products to customers.
Union Pacific Railroad
Union Pacific Railroad is committed to enhancing sustainability within the food and beverage industry. 100 percent of UP's refrigerated boxcar fleet contains Carrier brand, tier-4, high efficiency, CARB-compliant units and includes the acquisition of 875 new refrigerated boxcars since 2012—more than any other transportation company. Each unit is continuously checked with infrared technology to assure there are no voids in the foam, promoting greater fuel efficiency. UP has also created an expedited food train network from West to East coasts, resulting in a faster, more reliable, and sustainable supply chain with a lower overall fuel burn (www.up.com/foodtrain).
Union Pacific continues to set the standard for railroads nationwide in locomotive technology and research. Since 2000, UP has invested $7.5 billion to purchase more than 4,100 locomotives that meet the U.S. EPA's Tier 0, Tier 1, Tier 2 or Tier 3 Guidelines. As a corporate environmental initiative and in response to customer requests, UP developed a tool that allows customers and employees to estimate greenhouse gas emissions for shipments and the difference in emissions between rail and truck transportation. Using this tool, a combination of UP's refrigerated and boxcar food and beverage shipments in 2015 amounted to a carbon footprint reduction within the food transportation industry of approximately 116.6 billion tons, the equivalent to recycling 41.7 billion tons of waste.
WSI
WSI prioritizes sustainability for their loyal food customers by recycling large amounts of their cardboard and dunnage materials, manufacturing dunnage materials for the clients from previously used wood, using recently installed energy-efficient lighting and increasingly using electric forklifts in our facilities to handle product. Wooden pallets are reused and repurposed frequently, where applicable. Additionally, green landscaping outside of their warehouses is friendly to the environment, helping to reduce the effects of storm water runoff and save costs on overhead by eliminating the need for lawn mowing.
WSI recycles, reuses or repurposes nearly 100 percent of our top three largest facilities' recyclable waste, based on weekly recycling dumpster loads, facility pallet reuse statistics and repurposing programs in effect. At their high-volume Chicago facility and large Central Wisconsin facilities, nearly 100 percent of the wooden pallets used for storing product are reused. Mandatory requirements in the offices of our facilities result in 100 percent of office paper and cardboard waste being recycled. One large paper products customer asked them to scrap/landfill roughly 70 tons of tissue in 2015, but WSI worked with Waste Management and discovered the product could be recycled, saving 70 tons of landfill space in Wisconsin. At one of their largest Wisconsin facilities, WSI receives wood in rail cars, which employees have used to build picnic tables and storage sheds, line garages and use as firewood.
Companies in this article