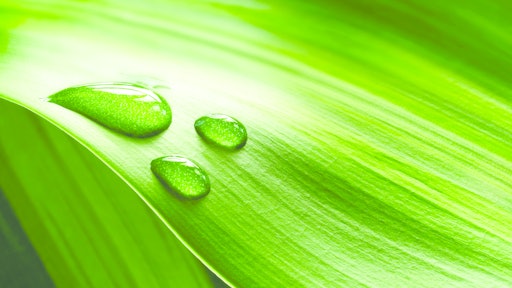 The following pages are devoted to interviews, observations and real-world examples of sustainability's influence on the global food supply chain. Setting the scene is Don Reed, managing director in PwC's sustainable business solutions practice. Next, we talk with Bill Michels and Scott Sturzl, senior executives with the Institute for Supply Management about the correlation between chain of custody and sustainability. Then for some historical perspective on sustainability in the manufacturing world, we check in with Gloria Bernard, a veteran in the design industry, for her thoughts.
From there we get down to the nitty gritty for a look at sustainability on the road, in the warehouse, and at the end of the food sup­ply chain, where the focus is to literally keep food out of the landfills.
Don Reed-- PwC
"We're really seeing a lot of activity around responsible supply chains, sustain­able supply chains," begins Reed, whose work involves identifying the environmental, social and economic components throughout the entire value chain and helping the vari­ous players see and understand their com­bined commercial impact.
For example, when it comes to consumer packaged goods companies, "there are lots of them that have very valuable brands and they want to deliver good results for society, broadly speaking, as part of their brand promise." Yet, many of them have been chal­lenged by consumer groups about certain aspects of their supply chain and they want to address that, says Reed. However, they're operating very complex, extended supply chains that face multiple risks. Therefore, the attractiveness of a more sustainable sup­ply chain is that it helps companies uncover opportunities where they can make improve­ments and drive positive environmental and socio-economic results, he explains.
But, controlling a supply chain halfway around the world is not always easy, espe­cially when it involves different jurisdictions and multiple parties and suppliers. "With all the various layers, it's difficult for many CPG companies that have production in more than one country to always know who the ac­tual growers are [of the ingredients] for your particular products," says Reed.
The collapse of the Bangladesh garment factory in April that killed 1,129 workers comes up. Reed says that a number of major apparel manufacturers have worked hard to improve conditions in overseas factories, "but it's a huge industry and it's by no means universal, so you still have these big punctu­ation events that will ideally drive significant changes." It's very similar for global food companies, that although have made good progress, still face challenges, he says.
It seems that global companies would be able to leverage their size to guide industry changes, but that's not always the case. "There's a distinct line between controlling a supply chain and influencing a supply chain," Reed explains. More success has occurred with apparel and footwear manufacturers who have worked together to enact industry-wide changes. "The Sustainable Apparel Co­alition is one example that really grew out of the banding together of a number of apparel companies," he says. It's a good model for other industries, including food companies, who to their credit have created sustainable certification standards for commodities like palm oil, cocoa, coffee, soy and sugar, Reed notes.
The certification of sustainable commodi­ties is just the first step though, he says. The second is "building capacity among small holders in those particular commodities. For instance, training farmers and improv­ing their economic situation, which in turn strengthens a company's relationships fur­ther up the value chain."
Bill Michels, Scott Sturzl—ISM
Given the nature of its products, the pharmaceutical industry has invested heavily in tracking and tracing their product through the supply chain. And while the U.S. Food and Drug Administration has very rigorous processes in place for approval and inspection of drugs, the same cannot be said for food, says ISM's Bill Michels and Scott Sturzl.
The food companies share a part in the complacency, believes Michels. Overall, "They really don't have a way to track lots and they haven't invested in people to manage lot tracking. It takes investments in people, processes and systems, and you're not seeing that level of investment, especially in the food business where it's a low-margin business."
But there are some positive developments, according to Sturzl, particularly in the beef industry where they're able to track from the individual animal to the grocery store to the dinner table. New technology is making it easier for farmers to keep track of animals and to better manage their farms. "They've really begun embracing the concept of using hand-held devices out in the field," says Sturzl. "This allows for automatic updating of information rather than requiring the farmer to have to manually input data. It's a great example of how technology is helping to facilitate chain of custody and identify where potential problems are and how to address them."
Supporting a chain of custody in the food supply chain means everyone needs to work together, emphasizes Sturzl, not just the farm, but the federal government and coordinated it would go a long way in helping to insure a safer meal on the table of every consumer."
Speaking of food safety, Michels says the industry would be better off it invested more in preventing food safety problems rather than responding to them. "People are investing in the wrong place," he explains. "Instead of investing in the front end and trying to create a chain of custody, they're investing in making sure they have the right recall technology in place so they can get it all back."
In fact, the food industry could learn a lot from the pharmaceutical industry, which is able to track down to the individual pill level, says Michels.
Like PwC's Don Reed, Michels sees real benefits for food companies who build relationships with the growers and producers, particularly when it comes to enhancing sustainability and social responsibility in the food supply chain. Starbucks and others who have made it a point to visit the small farmers have an opportunity to train and educate, he says, which indirectly adds value to the process and the product.
He should know. Michels worked for Campbell's earlier in his career and site visits were routine. "We had our won agricultural department and we visited farmers every day. You've got to go out and see your suppliers," he says. "They are the eyes for you at the field level and they can be educated to help you address issues like food safety."
A green road ahead
Maines Paper & Food Service, Inc. is one of the country's largest independent foodservice distributors with annual revenues close to $3 billion. Recently, Maines equipped 35 trailers with Carrier Vector 6500 refrigeration units and Cascade Sierra Solutions' plug-in systems at two locations: Maines Darden Direct in Conklin, NY, and Maines in Terrell, TX.
The company has realized considerable savings using plug-in solutions to power reefer units, compared to diesel. At the Conklin location, the company currently has 17 units in operation and is saving over $3,700 per week, while the 18 units operating at the Terrell location are saving Maines over $2,000 weekly.
Establishing a network of plug-in power throughout the U.S. is the goal of the federally funded Shorepower Truck Electrification Project (STEP), administered jointly by Shorepower Technologies and Cascade Sierra Solutions.
New reefer units can burn up to a gallon of diesel an hour and older units even more, but plug-in solutions can cut that $4 per gallon of diesel fuel bill in half and do it with less noise and greenhouse gas emissions.
"The infrastructure [for eTRU] is slowly making its way across the country," confirms Alan Bates, vice president of marketing for Shorepower Technologies. "But what will transform the concept to reality is reefer fleets stepping forward and asking for the power, then detailing where they want it. At $2 an hour for electric power, a refrigerated trailer could save up to approximately 50 percent on energy costs versus diesel, not to mention maintenance savings. It is a very straightforward technology and benefit."
Witte Bros., a provider of nationwide temp-controlled truckload service, custom refrigerated LTL distribution and cold storage has 225 reefers with Carrier Vector diesel/electric hybrids and another 20 units on order. Eventually, the company's entire fleet will be hybrids and able to run on electric power when parked, according to Charla Whalen-Mueller, marketing director for Witte Bros.
"At our home base, we use 460-volt, 3-phase electric plug-ins for our reefer units," says Whalen-Mueller. "Plug-in power means that even when our drivers go home during the week and on weekends, there's no idling of trucks or trailers to keep perishable loads cool while parked at the company's yard."
Naturally, companies like Witte Bros. are also anxious for truckstop electrification to expand. "We've been encouraged to see some truckstops putting in power pedestals, and that includes 460-volt power for our eTRUs reefer plug-ins," she says. "We can't yell loud enough that we want power at truckstops for not only our cab comforts, but for our reefer units. It makes so much economical and environmental sense and we hope that our voice, and others who run hybrid reefers, will help make that call to action a reality."
Whalen-Mueller estimates that, "With 170 of our power units going out weekly, we potentially could plug in at truckstops for an average of 31.5 hours per week, per unit. Multiplied by our fleet number, that's 1,071 gallons of fuel we could save per day over idling the reefer at a truckstop, or 5,355 gallons per five-day workweek. That's around $20,000 a week we could save in fuel costs."
According to Shorepower Technologies' Bates, "We do have the Interstate 5 corridor well connected with seven truckstops now offering eTRU plug-ins, and at strategic stops throughout the country nearly 30 total. There is more to come. We just need flagship, large reefer fleets to work with us to zero in on what's next. Some day, I firmly believe that many reefer fleets will be able to conveniently enjoy the cold silence of plug-in power at truckstops most everywhere they travel."
Sustainability inside the four walls
Warehouse automation and forklift technology are evolving to keep pace with sustainability demands, yet maintain high-level performance standards.
Jim Hess, national accounts manager for Raymond, says electric-powered forklifts have been central to the company's product offerings for years.
"Raymond invented the narrow aisle lift truck back in the 1950s. Ever since, Raymond has introduced many space-saving model designs," he says. Electric lift trucks offered space-saving benefits over gas- or propane-powered versions, says Hess, and made it possible for Raymond to take a customer's aisle from 12 feet down to 7 feet. From there, Raymond began designing lift trucks that could go higher than gas-powered counterbalanced lift trucks, which enabled customers to better utilize vertical space in their facilities.
Over the years, the growing number of frozen food facilities prompted Raymond to install a freezer in its own lab to perfect its cold storage lift trucks, explains Hess, making Raymond synonymous with reliable cold storage products for freezer environments.
"The challenges that many cold storage providers faced were mostly related to cold temperatures and condensation negatively affecting electrical components. Raymond met this challenge by utilizing heaters and channeling condensation away from electrical elements," he says.
Q& A With SSI Schaefer
Gregor Baumeister, head of international sales operations at SSI Schaefer, recently shared how his organization sees sustainability in the food chain…
FL: What is your perspective on sustain­ability in the food supply chain?
Baumeister: Sustainability is an integral pillar of the corporate strategy of SSI Schaefer. We are a family owned business, so "Green Logistics" for us includes not just ecological and economical aspects, but also the social component that focuses on human resources in the food supply chain.
FL: From a holistic view, what areas are working and what needs to be improved when it comes to sustainability?
Baumeister: SSI Schaefer, as a general contractor for logistics automation projects, has a long track record of innovative solutions for the food and beverage industry. In the bev­erage industry, for example, continued weight reduction in packaging and SKU proliferation negatively affect warehouse cube utilization and productivity. In response to these chal­lenges, SSI Schaefer has developed solutions such as the Schaefer Lift&Run System that provide high density storage while delivering high performance and accessibility to a wide range of SKUs.
Meanwhile, compact and highly energy ef­ficient storage and order fulfillment solutions are of particular importance in deep freeze environments. SSI Schaefer is following a two-pronged approach by minimizing the cooled warehouse cube by solution design as well as minimizing heat emission into the warehouse by utilizing highly energy efficient equipment, such as the Exyz storage and retrieval ma­chines and intelligent controls concepts.
Optimized, truck cube utilization and delivery sequencing in the grocery retail industry are supported through SSI Schaefer's patented Matrix solutions in combination with auto­mated high density, mixed case palletizing or certified ergonomic palletizing stations like our "ergonomics@work!"
FL: How are you and your organization contributing to a more sustainable food sup­ply chain?
Baumeister: At SSI Schaefer, we are imple­menting holistic "Green Logistics-Processes" both internally as well as externally. Internally, our lean design and manufacturing processes for serial production drive sustainability. Externally, the focus is clearly the energy efficiency and productivity of the overall solution.
Over the next few years, we will see further advancements in the utilization of natural and regenerative energy sources such as geother­mal and solar energy. Optimized material flows and storage strategies as well as advanced technologies will continue to reduce opera­tional energy consumption.
In addition, SSI Schaefer's software solu­tions WAMAS and SAP EWM with 100 percent tracking and tracing capability enable sophisti­cated quality control of the supply chain.
Simple solutions, yet utterly sustainable
If you're involved with reusable packaging, by definition you're in the sustainability space, ac­knowledges Bob Klimko, director of marketing and sustainability at ORBIS Corporation. But, sustainability really isn't where ORBIS first saw its value to the customer. Rather, "We had an economical lens on it," says Klimko.
Over the years, the sustainability aspects or ORBIS' products started to become more important as companies like Nestle, Coca- Cola, Kraft and others embarked on a journey towards zero waste, he says. These companies began by looking at their primary packaging— the packaging that ended up in consumers' hands. Eventually, the food and beverage man­ufacturers turned their attention inward to see how they could green their own operations.
To meet these companies' demands for quantifying their own environmental impact, ORBIS developed a lifecycle assessment questionnaire based on ISO 14400 data and methodology.
However, Klimko says that being green isn't out of reach for small companies that may not have the resources of their larger competitors.
"There are a lot of companies out there that aren't Fortune 500 companies, yet are doing an excellent job when it comes to sustainabil­ity," he says. "Things like the Carbon Disclosure Project (CDP). We've been doing the CDP since 2009 and it helps us continually get better; it's a resource."
He adds that, "Sustainability really makes good business sense. You save energy, solid waste, and you save carbon. It drops right to the bottom line."
Sustainability Best Practices
An overall corporate sustainability program includes people, planet and profits, according to Inmar. Unsaleables and returns impact all three. Therefore, consider following these best practices that incorporate a reverse logistics facility to assist with achieving your organization's sustainability goals:
1. Eliminate/alleviate landfill costs and potential fines by shipping returned product to a returns center for value-added disposition: recycling, liquidation and donation.
2. Reduce carbon footprint by shipping to regional distribution returns centers rather than one central location.
3. Leverage the scale and volume of a returns center to maximize recovery on secondary sales through cross merchandising programs.
4. Utilize value-added services such as repacking and refurbishing of product to return to stock, prepare goods for donation or recoup value on the secondary market.
5. Delegate the recycling of secondary packaging to a returns center as part of its overall program (for example, cardboard, plastic shrink wrap, paper, plastic bottles and plastic bags).
6. Collect important data on returned product to understand root cause and to develop returns prevention programs that lead to improved profits.
7. Monitor the impact of sustainable packaging changes on damages and returns by collecting data at the returns center.
8. Make the most of product that must be incinerated by participating in returns center programs for converting waste to energy. This process recently generated enough energy to power 48 homes for one year.
9. Protect the consumer during a recall by quickly and efficiently returning product to a returns center for quarantine, evaluation and proper disposal—including witnessed incineration, thus ensuring full compliance with government regulations.
10. Incorporate a "back stream" component to your up- and down-stream sustainability program for a holistic, sustainable supply chain approach.
Q& A With Fabri-Form
At the Fabri-Form Company, sustainability is at the heart of its operations. President Rob Zachrich tells Food Logistics how his company is helping elevate sustainability in the food supply chain…
Zachrich: Over the past two decades, there has been a trend in the packaging market to use increas­ing proportions of recycled plastic content. At this point, most of the market is at 100 percent post-industrial recycled content for reusable plastic ther­moformed products. We have pushed the envelope a little bit and now produce a major component part for the heavy truck industry made out of 100 percent post-industrial recycled plastic. That would have been unheard of 10 years ago.
FL: How have your customers' perception and understanding of sustainability evolved over the decades that Fabri-Form has been in business?
Zachrich: It seems to me that the emphasis on sustainability with our customer base has gone up and down. There was a lot of activity and focus just prior to the recession of 2008/9. Then it took a back seat to survival. Coming out of the recession, the approach tends to be very practical. The strategy in regards to sustainability is tightly synced with economics. Fortunately, those two items fit very well together. The objective of our customers to decrease solid waste going to landfills is good for the environ­ment. A great alternative to expendable packaging that goes to landfill is reusable plastic packaging. That conversion also happens to have a very strong payback in most cases.
FL: On the topic of sustainability, what is the most exciting from your perspective, and what's the most challenging?
Zachrich: The most exciting opportunity for Fabri- Form to impact sustainability is to help a large (For­tune 500) manufacturer convert from expendable packaging to reusable packaging. It's exciting because, for those large velocity shippers, it always makes excellent busi­ness sense with a short payback. It is challenging because it is a substantial multi-functional effort for a company to make that conversion. They have to be committed at a high level in the organization to go down that path. Fortu­nately, supply chain and logistics leaders can look at mature supply chains, such as the automotive manufacturing world, to see that it can be done successfully. There are no wheels to reinvent here.
FL: Regarding reusable packaging in general, and Fabri-Form in particular—what does the fu­ture hold?
Zachrich: Reusable packaging will expand as supply chains become more mature. I expect high volume shipping applications to increase conversion over the next decade. This might include markets such as food, beverage, appliance, paper, chemi­cals, minerals, and building materials. Fabri-Form is constantly developing new reusable plastic solutions that are intended to replace whatever expendable items that the high volume shipper is purchasing over and over and throwing away at the other end.
Uncovering green opportunities
Inmar's Steve Dollase, president of supply chain, says that while the food industry has made "major strides" in achieving more sustainable supply chains, many opportunities still exist.
"Here at Inmar, we're helping our manufacturer and retailer partners collaborate and capture those opportunities. Through our expertise, benchmarks and insights, we're able to highlight the opportuni­ties and then leverage our capabilities to capture them," he says.
A lot of those opportunities center around reverse logistics, Dollase remarks. "Some of the areas we're focusing on include reducing the rates of damaged and expired products, reducing food waste, reducing transportation and optimizing packaging."
In fact, Inmar ranks as one of the largest reverse logistics providers in the food sector, he says. "We have extensive insight and expertise into opportu­nities for improving the sustainability of the food supply chain. We're using that to help our brand and retailer partners make their supply chains more sustainable.."
Sidebars:
Central Grocers Teams Up With Yale
Wholesale food distributor Central Grocers teamed up with Yale Material Handling Corporation to find a solution for its 970,000 square-foot distribution center in Joliet, IL—more specifically, the wholesaler wanted to reduce the amount of time spent changing and maintaining batteries for its fleet of lift trucks.
During the course of a year, Central Grocers tested a fuel cell powered fleet of 234 vehicles ranging from reach trucks to center control pallet trucks. The impressive results convinced Central Grocers to make an additional investment in fuel cell powered lift trucks.
Hydrogen fuel cells convert the energy produced in the hydrogen fuel cell into electricity via a chemical reaction with the only by-product being water and heat.
In addition to its sustainability aspects, the main reason that warehouse operators are drawn to fuel cell technology is the cost and efficiency savings. A single "fill" of the cell can power a truck through a long shift, with each refueling taking anywhere between three to ten minutes.
At the same time, fuel cells have another advantage over lead-acid batteries because they do not require battery-charging stations. The life of a fuel cell can be up to ten years or more, and furthermore, fuel cells can be a better choice than lead acid batteries in refrigerated workplace applications as their performance is unaffected by low temperatures.
The Designer's Point of View
We recently caught up with veteran designer Gloria Bernard to get her perspective on the evolution of sustainability. The conversation starts with the influence of Ray Anderson (died August 2011), founder and former chairman of global carpet and textile manufacturer Interface.
"Anderson was a great inspiration in his industry, which years ago was a major source of waste in the manufacturing process as well as the aftermarket," says Bernard. "Equally important, he was a strong factor in raising awareness in the design and manufacturing communities about their responsibility relative to sustainability."
Although manufacturers generally recognize the benefits of sustainability, are consumers willing to pay more to be green? "They like the idea and support its mission," says Bernard. "However, when the initial costs were high, they compromised. Supporters who wanted to make a statement, paid the higher costs," she says. "Today, there are more products on the market and costs have been reduced. However, the average consumer and homeowner who wants to be 'green' may not know how to implement it on their own. It's up to the design community to educate and qualify resources for their clients, and by specifying these products, manufacturers will respond to demand." What about your students? "They are entering the trade with knowledge-based information about sustainability so that as designers they can impact the industry at a greater level."
How CEOs in the US View Sustainability
Recently, PwC conducted a survey of CEOs in the U.S. Their views on sustainability in­cluded the following:
• Energy is on the radar for U.S. CEOs, with 41 percent (and 52 percent for global CEOs) concerned about rising energy costs as a threat to growth prospects.
• Global energy demand is set to grow more than one-third between now and 2035. Environmentally, that's unsustainable. On this path, not only will greenhouse gas emissions soar, but energy will be thirstier. Water needed for energy production is set to grow at twice the rate of energy demand, due to more diversity in the energy supply. Add a trend toward greater interactions between fuels, markets, and prices and the result is little immunity from global energy market fluctuations.
• Thus, CEOs are intent on securing natural resources now, including energy, water and raw materials. In the next three years, 35 percent of developed-market CEOs plan to increase investment in securing natural resources and 52 percent of emerging-market CEOs say the same.